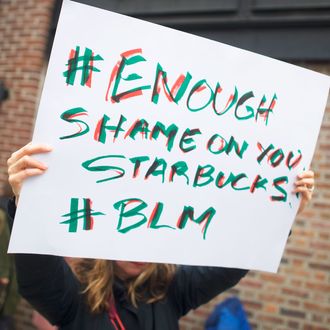 One of the many protesters in recent weeks.
Photo: Mark Makela/Getty Images
Starbucks needs a hard reset on more than just the occasional racism seen at its stores. According to a new study by a respected polling outfit, the coffee giant's standing among customers has also fallen to its lowest point in a decade.
The so-called YouGov BrandIndex is a consumer-perception survey that polls nearly 5,000 people every day. Each time, respondents are asked how they'd currently feel about working for various major companies, Starbucks included. On a scale from +100 ("proud") to -100 ("embarrassed"), Starbucks's score hasn't climbed above 5 all month, and almost hit zero two weeks ago — the chain's "lowest level in at least 10 years," and also a number YouGov describes as "a difficult blow for a company that has been well-known for its employee benefits and culture."
Starbucks is likewise not performing well on the group's "Purchase Consideration" index, which measures potential sales revenue. About a week after two black men were wrongly arrested in a Philadelphia store, on April 20, just 28 percent of consumers said they'd consider visiting a Starbucks the next time they felt thirsty or hungry. Since then, that number has only fallen further, down to around 24 percent. On something YouGov calls the "Buzz Score," Starbucks is also doing poorly: Public sentiment has gone from almost +15 before the arrests to nearly -10, the worst since releasing ombré-red holiday cups in 2015. As YouGov explains: "Starbucks' recent guest policy changes — allowing even non-coffee buyers to sit in their stores while forbidding drug use or sleeping — don't seem to have encouraged any more positive sentiment."
Executives have been clear that yesterday's half-day training session wouldn't be a cure-all for Starbucks's race-related ills. But for something they spent a good chunk of change on nonetheless, both customers and baristas have doubted the payoff. Some critics told New York that focusing on the historic causes of racism would've made for a better curriculum than the Howard Schultz–led soul-searching, while baristas told our colleagues at the Cut that having to "sit through a four-hour training on 'how not to be racist' is kind of ridiculous" if a store's staff is majority nonwhite, and that Starbucks also failed to "give specifics of how to approach certain situations, or how they planned as a company to include everyone."