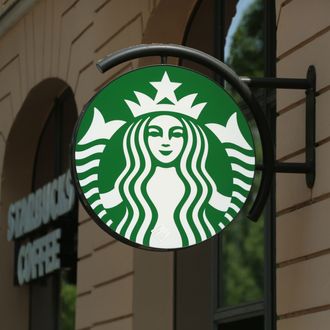 Laptop loafers and table hogs, your day has come.
Photo: Alexander Pohl/NurPhoto via Getty Images
Howard Schultz has spent years trying to sell the idea that Starbucks cafés are society's "third place," a (he no doubt hopes daily) hangout space that isn't work or home, but is equally welcoming and familiar. A Philly store's decision last month to call 911 on two black customers who were waiting on a business associate threw a serious wrench into this concept — a lesson in how it takes more than comfy chairs, a Spotify playlist, and free Wi-Fi to make an atmosphere inviting. Following the incident, Starbucks promised to address this shortcoming, and over the weekend it officially tweaked one of its most controversial policies so that cafés will, in theory, impart more of "a culture of warmth and belonging."
Going forward, the chain says that "any customer is welcome to use Starbucks spaces, including our restrooms, cafes and patios, regardless of whether they make a purchase." Employees are instructed to still follow protocol if a customer "behav[es] in a disruptive manner that does not maintain the third place environment" or "interferes with the Starbucks Experience for others," and that includes calling police in the event of an "immediate danger or threat" to people in the café.
In the past, store managers largely decided whether to let people sit at tables or use the bathroom without buying something first, but the new law of the land is that people can just stroll in, kick up their feet, and chill, no purchase necessary. A company rep says customers can expect this to be in effect "across all of our U.S. company-operated stores."
Starbucks already relaxed its bathroom policy in response to the fallout from Philly, and next week on May 29, all 8,000 company-run stores will close for the afternoon so that the chain can give racial-bias training to about 175,000 employees.