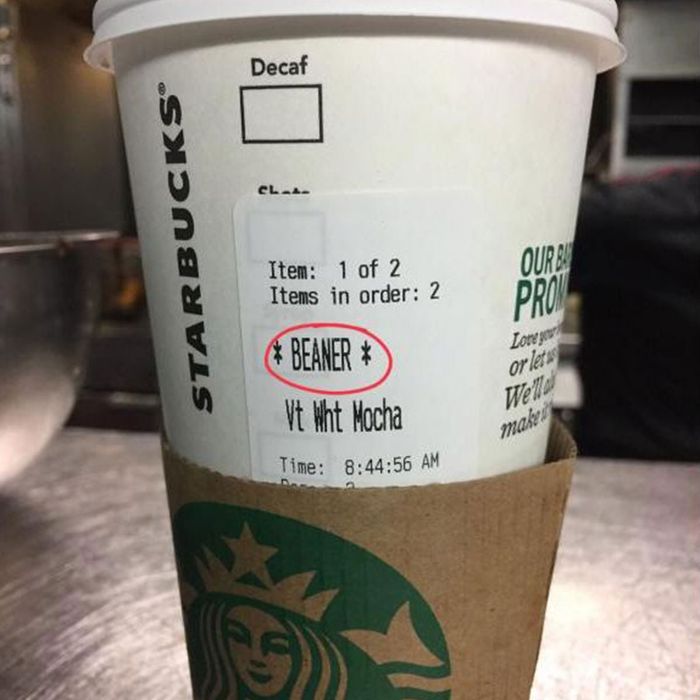 Photo: Priscilla Hernandez via Twitter
Eleven days from now, Starbucks will close all of its U.S. stores for the afternoon to give nearly 175,000 employees racial-bias training. But the head honchos at corporate are probably wishing they'd done it sooner.
This week, an employee got the chain in hot water again after printing "Beaner" on the cup of a Latino customer on a coffee run. According to CNN, when the customer, Pedro, returned to the nearby restaurant where he works, colleague Priscilla Hernandez noticed that the racial slur had been printed on his cup.
"I asked him if he realized what they had put on his cup," Hernandez told CNN. "He said no. So I was really upset about it, because that isn't OK."
When Hernandez called the café to complain, she was told that "their employee couldn't understand what Pedro had told them," then offered her a $50 gift card. (Hernandez notes that they apparently understood him enough to get the coffee order right.) In response, Hernandez sent a tweet to Starbucks, which set her and Pedro up with a meeting with a district manager to discuss the incident on Thursday.
Honestly, May 29 can't come soon enough.