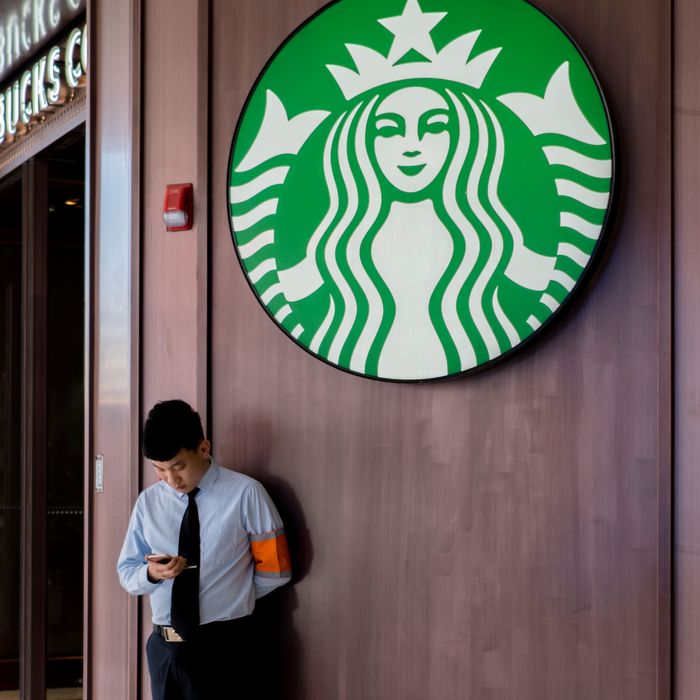 A step forward for society, but probably a longer wait when you gotta go.
Photo: Zhang Peng/LightRocket via Getty Images
Starbucks is revising its bathroom policy in light of last month's incident in Philadelphia — the fiasco during which Rashon Nelson and Donte Robinson were denied use of a café's restroom then, literally moments later, arrested. Executive chairman Howard Schultz announced that, moving forward, the chain's bathrooms will be open to anybody who needs to use them, regardless whether they've bought anything yet. (They will likely not, however, be any cleaner.)
Schultz explained that the chain's "loose policy" until now has been — theoretically, at least — that "you should be able to use the bathroom if you buy something," but then added that it's "really the judgement of the manager," and the manager of the Philly store, in particular, "made a terrible decision to call the police." However, he did go on to say that ultimately it's "the company that's responsible," not one store, which is why he and Starbucks's other execs "flew en masse to Philadelphia," "stayed there for days," and "did everything we could to demonstrate contrition."
Whatever the case, Schultz says in order to prevent a repeat of a decision that was "absolutely wrong in every way," Starbucks will adopt a totally open-door bathroom policy, and discard the quasi-official, but rarely-if-ever-enforced, one of giving the bathroom key only to customers who make a purchase. He adds that the company would prefer the words "public bathroom" not become synonymous with "wherever your local Starbucks café is," but it's a risk they're now willing to take if it proves everyone is welcome.
For fuller context, here are the complete remarks Schultz made about their policy change during the talk:
In terms of the policy, the first thing we want to make sure is that regardless of your station in life, the color of your skin, your sexual orientation, your gender, your ethnic background — everyone is welcome at Starbucks. And in terms of the bathroom, we're going to have to make sure that — we don't want to become a public bathroom, but we're going to make the right decision 100 percent of the time and give people the key, because we don't want anyone at Starbucks to feel as if we are not giving access to you to the bathroom because you are less than. We want you to be more than.
Starbucks hasn't offered any additional info yet on the details, but the nationwide afternoon-long shutdown of 8,000 locations for racial-bias training is still happening May 29.