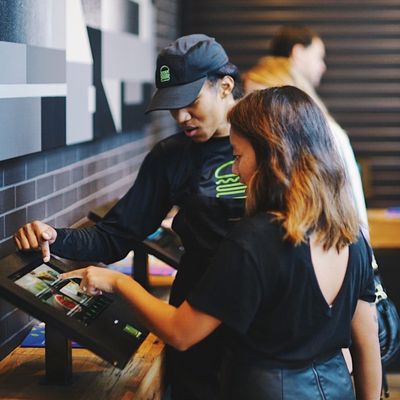 A customer wishing she could just hand this nice employee her legal tender and be done.
Photo: Shake Shack
Good news: Robots' attempt to overthrow society by controlling our restaurants has failed. At least, that's the case at Shake Shack. The chain's newest location — an outpost in Astor Place that opened about seven months ago — was touted as a "cashless environment" optimally arranged to "eliminate friction time." It was to be a tech frontier where customers could zip in, order via kiosk, then get pickup alerts on their cell phones. Shake Shack actually dedicated an entire press release to these talking points, arguing that there would be a big future in an all-digital ordering format, since it would streamline the dining experience and help the kitchen crank burgers out more smoothly.
It didn't take long for complaints to arise. A month after the store opened, one Yelper blasted it as a significant downgrade from other Shacks:
This location is the worst shake shack location I've been to. I've had a pleasant experience at other locations in the city. I hate that you are only able to use a credit card through the automated machine.
Another person was not a fan of the human-free ordering:
The new kiosk ordering system is the worst. It makes this Shake Shack "card only" and you can barely customize your food the way you can when you order with an actual human being. The kiosks are also supposed to make things go quicker, but the wait is even longer … I understand it's 2018 but that doesn't mean at all that everything has to be computerized and automated.
Meanwhile, others complained that the card-only payment system was, in a weird way, sort of hurting the very young people it meant to impress:
I placed my order and only had cash at the moment. Come to find out, they do not take cash. Only debit and credit cards. This is bad for high school kids and people that do not have a debit card or credit card. I think they need to have a better pay system.
But this assumes that the kiosks were even functioning as intended:
Our kiosk didn't work. It took the order but the card wouldn't read through over and over again. The employee tried helping us but he was either new or unaware of the system and could not help us out. Employee took our order separately which he misconstrued.
Yesterday on the company's earnings call, CEO Randy Garutti told analysts that they've apparently seen these reviews, too, and have since come to the realization that customers "do often want to pay with cash." As a result, Shake Shack has decided to abandon the cashless system for now; the Astor Place store will now include the normal register setup you'd expect to find at a Shack out in quiet suburbia.
Garutti adds that assuming guests hate using cash so much was sort of their bad. "In the first rollout at Astor Place, we did not accept cash at all," he said on the call, "and there are people who have told us very clearly, 'We want to pay with cash.'" The company also says this new kiosks-and-registers combo will be popping up in four or five more Shacks by the start of summer.