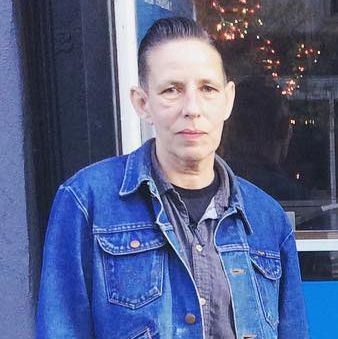 Rebecca Clare Collerton was 53.
Photo: Mr. Curry via Instagram
On April 27, Rebecca Clare Collerton, one of the founders of the recently shuttered and instantly missed Saltie, died from cancer at the age of 53. More detail has not been given about her illness, but according to an official obituary, she was surrounded by friends and family, and is survived by her wife, Greta Elizabeth Dana; siblings Jen Harding, Joe Collerton, Nick Collerton, and Patrick Collerton; and nieces, nephews, and a great-niece. An open-house memorial was held yesterday at Achilles Heel, the Greenpoint bar owned by her former boss Andrew Tarlow.
"She was sick for about 1.5 or two years, but she didn't want to let anyone know. She didn't want people to know what she was going through," Dana says.
Raised in Birkenhead, England, she came to New York in the late '90s by way of London and landed at Tarlow's Diner and Marlow & Sons. That's where she met Caroline Fidanza, Diner's first chef, whom she'd open Saltie with alongside Elizabeth Schula. For its eight-year run, Saltie was one of New York's most enthusiastically celebrated places to eat. Eccentric, small, and accessible, it was known for using oddball ingredients and serving excellent food from a menu that never got stagnant — but also its sense of place. There was only one Saltie, and Collerton was an essential part of that.
As a chef-owner alongside Caroline Fidanza and Elizabeth Schula, she created one of the shop's most famous sandwiches in the Scuttlebutt. When New York named Saltie the city's fifth Best Cheap Eats restaurant in 2014, it called out that "pickle-palooza" of a sandwich. Along with Saltie, Collerton also cooked food closer to home with Mr. Curry, a pop-up that celebrated the British-Indian cooking of her home. Started in 2014, the pop-up ended abruptly two years ago. When this news was shared on April 21, 2016, it was also announced that Collerton was leaving Saltie.
On her Instagram account, Fidanza posted an old photo of her and Collerton, whom she called "my culinary soul mate and all around badass. I miss you and those days, Rebecca." The photo, fittingly, captures the boisterous spirit of Saltie and two of the people behind it.
"I think Saltie was so unique because they didn't take a formula that had been done before. Rebecca was extremely uncompromising, especially when it came to quality," Dana says. She explained that Collerton fell into restaurants (and subsequently for the "discipline" of it) because the economy in her native England was in rough shape at the time. "Rebecca was such an awesome, creative person, and you wanted to see what she would do next. Now, there's no next — well, besides whatever's next. She may not have realized it, but she was living her best life. Really living."