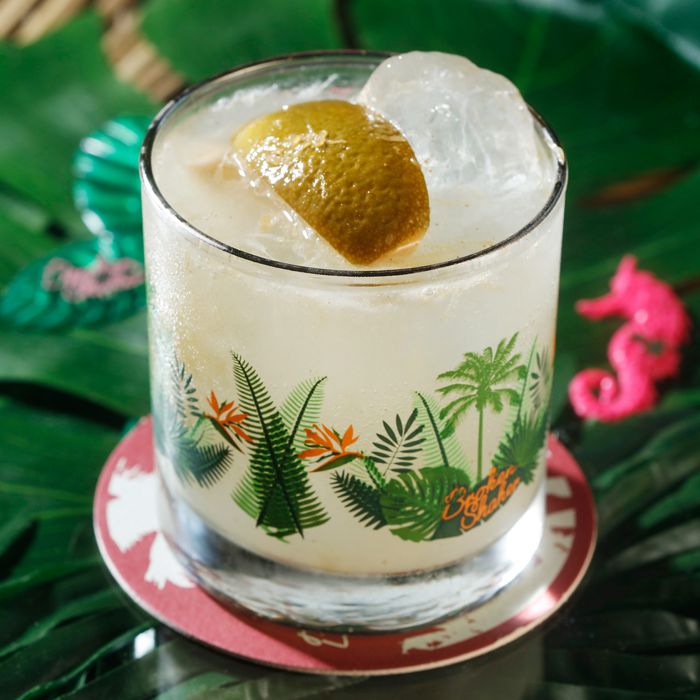 The easy-drinking caipirinha is given a Middle Eastern bent with preserved lime. Mexican chili salt, jícama, and cane syrup also go into the cachaça drink.
Photo: Melissa Hom
The world keeps getting weirder: Tonight, a new rooftop bar will open in New York and — unlike many other high-priced, wholly mediocre open-air drinking destinations — this one promises to be really, really good. In fact, Broken Shaker, one of the biggest names in mixed drinks today, is the New York cocktail world's most exciting opening so far this year. First started as a pop-up in 2012 at the original Freehand in Miami, it became a permanent fixture there and one of the most celebrated bars on the international cocktail circuit. As one bartender and Miami native recently put it to Grub, "It's the bar I wish I had when I lived in Miami. It created something that was entirely its own thing."
Founders Gabriel Orta and Elad Zvi have since exported their South Beach–rooted, Middle Eastern– and Latin American–inflected tropicality to the Freehand in Chicago, then Los Angeles, and at long last, Manhattan. Both barmen have moved to this city for the opening, and brought in Evan Hawkins (formerly of Mother's Ruin and Basik) to help run the show. The bar is outwardly laid-back, but this belies Orta and Zvi's meticulousness. "We don't care how much money you have; we don't care where you're from; we don't care about none of that," Zvi says. "What we are very, very picky with is our product. With the food, with our drink, with our service, with our music, with our décor."
Many of the drinks pull from the tropical pantry, but they're a mishmash of influences with an emphasis on the Middle East and Latin America. Sometimes those converge, as in their
caipirinha with preserved lime. Food, and especially savory food, also serves as a main source of inspiration for drinks: In the past, they've created cocktails like the Fish and Rye, a Sazerac made with fish sauce. (It's not on this menu.) "We want to make something that's fun and outside the box, but not trying too hard to be way outside the box," Orta says.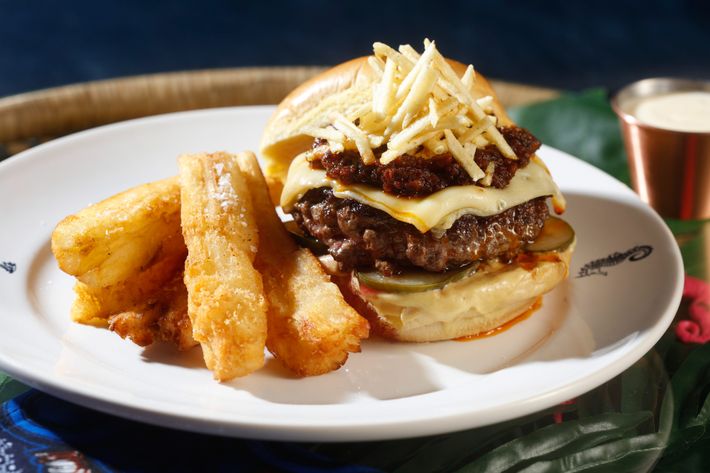 Here in New York, there is a Strawberry Rye Tai, which incorporates a strawberry-vanilla-oat-milk orgeat. It's as much inspired by classic tiki mai tais as it is by the current oat-milk moment — so hot right now! — that the bartenders have come to love. More overtly, there's the Poppyseed Bagel Fizz from the "Lost in New York" section of New York–specific drinks. "We love Black Seed Bagels, we love everything bagels, so we were like, let's make a bagel Gin Fizz," Orta says. Other drinks in that section have more abstract inspirations, like Curry Hill and Upland chef Justin Smillie.
The grab-bag mentality carries over into Jimmy Lebron's food menu, which places the Yemeni fried bread malawach alongside Florida's Cuban frita burger and Haitian griot and pikliz. If you're looking to splurge, the dish to get is the uni tray — which will be sold at "market-price," so be careful with your credit cards after a couple of drinks — with furikake chicharrón, sour orange ponzu, and egg-yolk custard.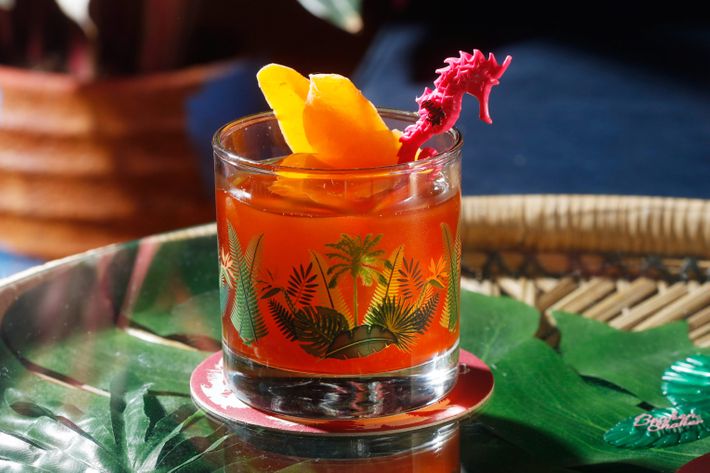 The Freehand occupies an entire city block, and Broken Shaker makes ample use of that real estate. There are four bars and two distinct indoor rooms — one meant to feel more like a living room and the other outfitted with a DJ booth — each flanked by an outdoor space. Those outdoor areas have cloistered tables for large groups, and are linked by a long terrace that has more intimate and date-night-appropriate tables.
Don't expect an Epcot Center version of Miami décor, either. Outdoors it's all brick walls and potted plants, and inside it's an eclectic mix of fake plants, wood-paneling, and decorations that pull from three years of collecting and traveling. Still, an attention to detail is evident, including the care that's been given to the soundtrack: The funky, R&B-centric soundtrack (think Isaac Hayes's "Walk on By" and Shin Joong Hyun's "Moon Watching") comes from the audio experts at Chicago's Uncanned Music on custom tape reels with names like "Cosmic Cocaine Comedown."
"The music is just such an important part of the design," Orta says. "The music is also your doorman."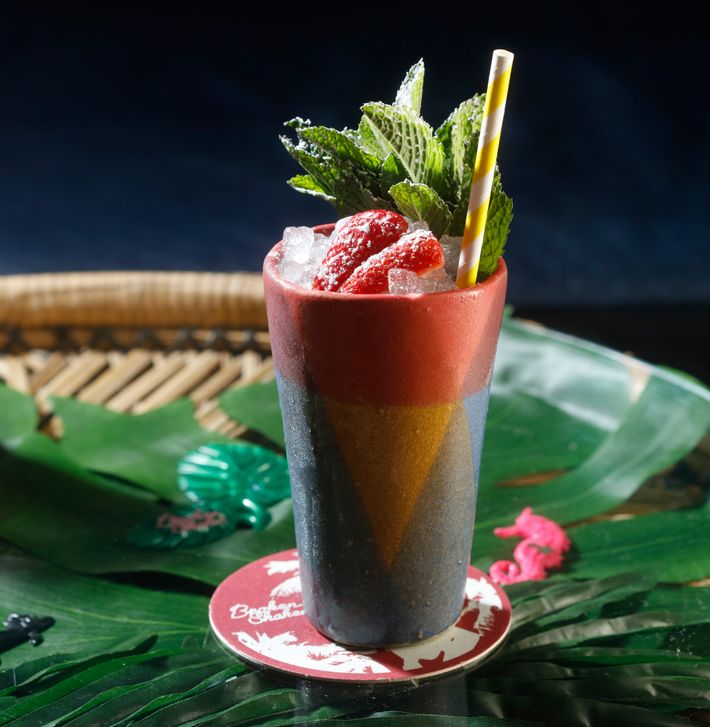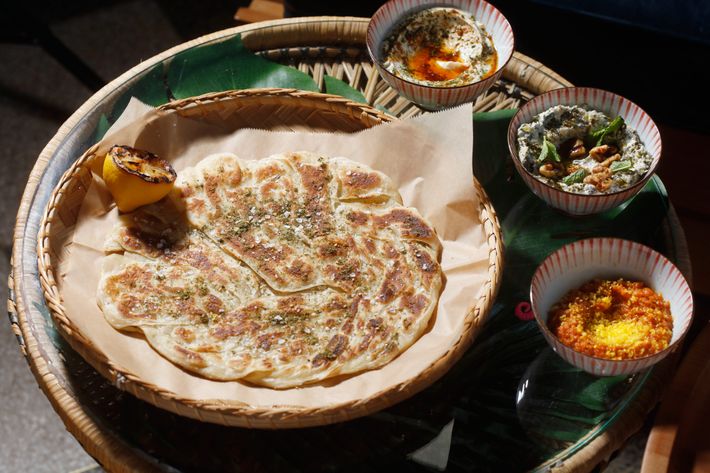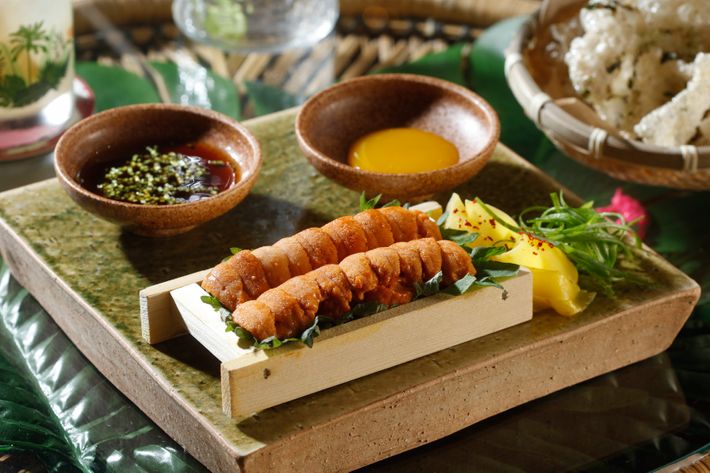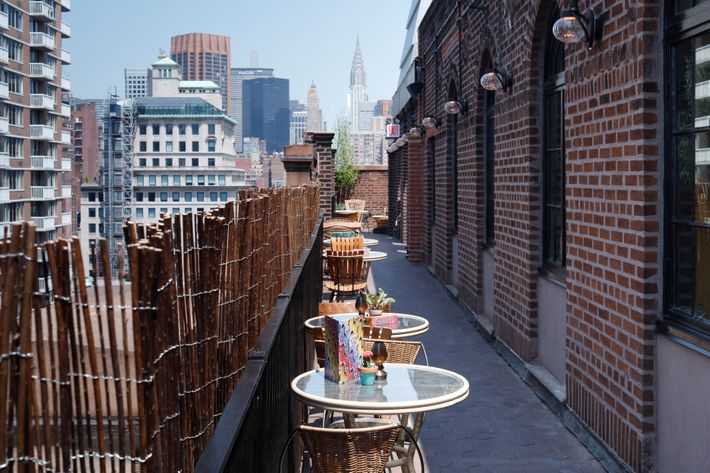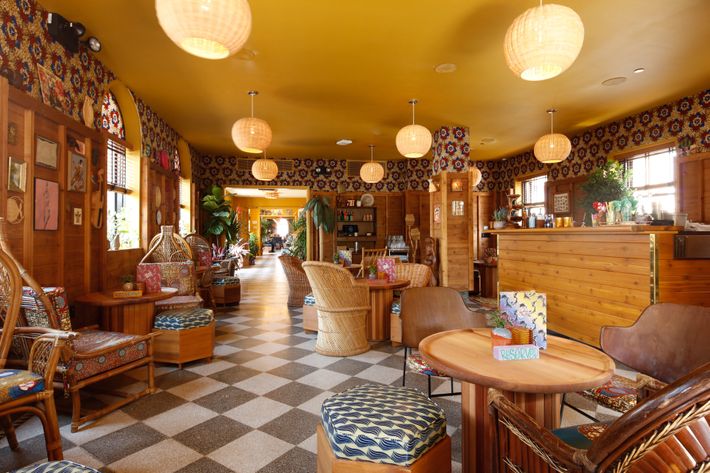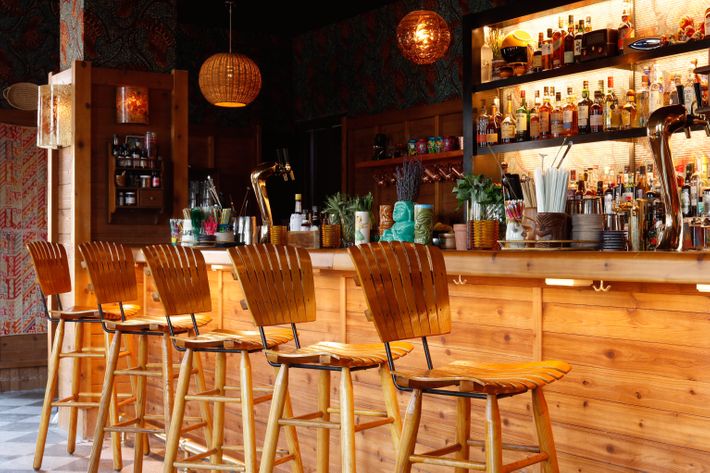 Broken Shaker, in the Freehand Hotel, 23 Lexington Ave., nr. E. 23rd St.; 212-475-1920