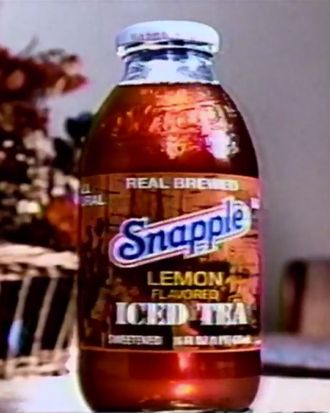 It's cold-brew season — the palate-accessible caffeine hit is back with the advent of warm weather. When it jumped from every trendy local café to the roster at Starbucks in 2015, Reuters found that it far surpassed regular iced coffee and became a means of increasing consumer demand for coffee (which, apparently, worked). According to the New York Times, its stable flavor makes it prime to be bottled, canned, and sold on the go, which millennials are wholeheartedly embracing.
But as cold brew increases in popularity, demand for another summer beverage looks like it's dropping: Iced tea, to the likes of familiar bottles of Snapple and Nestea, is slowly falling off of millennials' radar.
In a study by YouGov BrandIndex, 23 percent of adults in the 18-34 bracket said they might buy iced tea in January 2016. Since then, the number's dropped to 18 percent. The report noted that brands with higher sugar contents and artificial ingredients are becoming more unpopular with younger American customers, leaving iced tea — with the exception of cult favorite Arizona Iced Tea — out in the cold. Meanwhile, kombucha sales went up 34 percent last year, marking the fermented tea as a trendier alternative to a simple Snapple.
Big Iced Tea might just need to step it up with the offerings: While older generations in America prefer coffee to tea, millennials like each beverage just about the same, according to another survey by YouGov. The Tea Association of the United States says that 87 percent of millennials drink tea, so it's not like the youths have just abandoned it. Tea is starting to appear more frequently in cocktails — it's in every last one at Los Angeles' Rudolph's Bar & Tea — so perhaps the future of cold tea is at the bar.