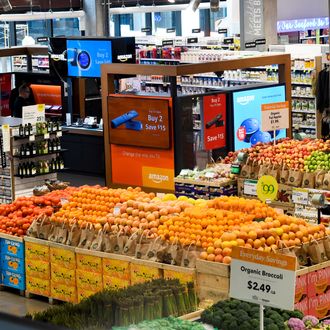 Whole Foods: Soon to be your first stop when Echos go on sale.
Photo: Aaron Ontiveroz/Denver Post via Getty Images
At the end of March, Prime account holders got reason to breathe easier about the fact that Amazon keeps jacking up the price of their memberships: Bezos & Co. appeared to be toying with giving them exclusive Whole Foods grocery discounts. At the time, CNBC retail reporter Lauren Hirsch got tipped off about two banner signs advertising "an extra 10%" savings on "hundreds of sale prices" for Prime members inside at least one Austin store. Whole Foods, however, denied that they were testing any such program, and the signs disappeared the next day. But now, sources tell Hirsch that the grocery chain is in fact set to imminently roll out that discount nationwide. Her report doesn't say when, only that Whole Foods "will begin offering" the perk, definitively.
Last month, the company announced that it was summarily killing its rewards program (it ended yesterday), and has insinuated that Prime will pick up the slack. Whole Foods already started testing out other perks like free grocery delivery to Prime members in a handful of cities, a 5 percent cash-back reward if they use the Whole Foods Visa rewards card, and exclusive Prime deals like sales on Valentine's roses or Thanksgiving turkeys.
All of these benefits are part of the plan to make Prime (which now has 100 million subscribers) synonymous with "the best deal in retail." But Amazon also seems to finally be throwing a bone to Whole Foods' mom-and-pop vendors, who've been in an uproar over new policies that leave them cast aside, cost them more money, and favor the onetime anti–Whole Foods–y large food behemoths: CNBC's report adds that to "bring the might of Amazon's membership program" to bear on the broader grocery industry, it will start giving vendors of all sizes "special access" to Amazon's massive online shopper base.