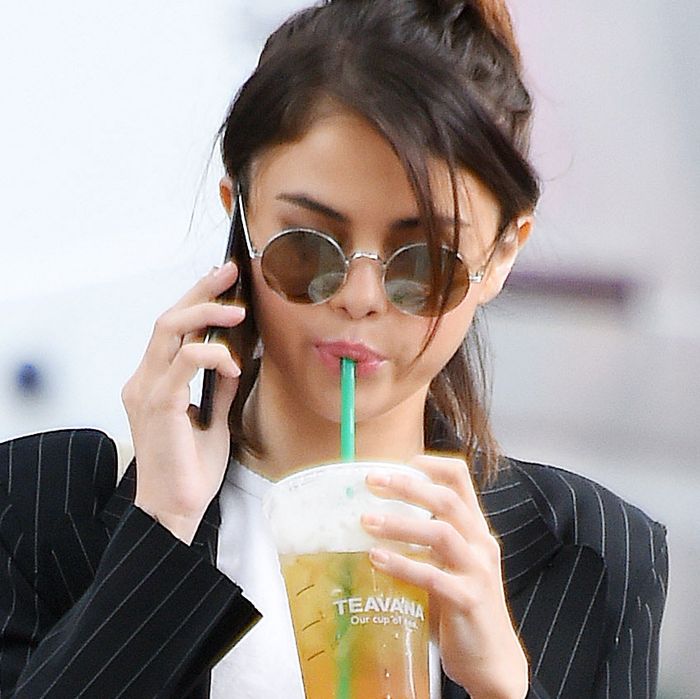 Selena Gomez doing her part to ruin the planet.
Photo: Josiah Kamau/BuzzFoto via Getty Images
Consuming your morning cold brew on the train could soon be a far trickier affair. A bill being introduced today by New York City council members would ban the use of plastic straws at restaurants, cafés, bars, stadiums, even the street's food carts. The measure, whose lead sponsor is councilman Rafael Espinal, seeks to outlaw disposable straws and even those little coffee stirrers, arguing that, like the environmental scourge of plastic bags, they're hard to recycle, humans have done fine without them for millennia, and they ultimately end up as beach detritus or floating hazards for sea life.
Talking to today's New York Times, Espinal encourages New Yorkers to think of the plastic straw as "more of a luxury" — a luxury that's "causing great harm to other environments." In many ways, the bill is just the latest strike against enviro-unfriendly items commonly found in America's restaurants and convenience stores. Plastic bags, plastic utensils, disposable water bottles, and Styrofoam packaging have been phased out in a growing number of cities. The battle against straws is already in full force too; they've officially been banned by Seattle, Malibu, and England. Even McDonald's is letting shareholders vote this week on whether to prohibit them outright at the chain's 37,000 locations.
New York's bill would still allow straws made of paper, along with other kinds the sponsors say are "much safer for our environment." For example, Espinal suggests switching to aluminum or bamboo straws, "to name just a few."
The bill's sponsors don't foresee "any huge obstacles" to passing it, Espinal says, adding that "it's not like plastic bags, where consumers felt it was important for them to carry out their groceries." (Although try telling that to committed Frappuccino-, Juice Press–, or boba-drinkers.) It's a move city officials have been debating for a while regardless, but apparently took on "added urgency" after a sperm whale washed ashore last month in Spain with 64 pounds of trash in its guts, enough to kill it.
A campaign by the Wildlife Conservation Society called Give a Sip has now convinced over 60 New York businesses to quit using straws — Eataly, Sixty Hotels, and Daniel Boulud, Andrew Tarlow, and Tom Colicchio's restaurants are all among the partners. If passed, the ban could carry fines of $100 or more for violators.