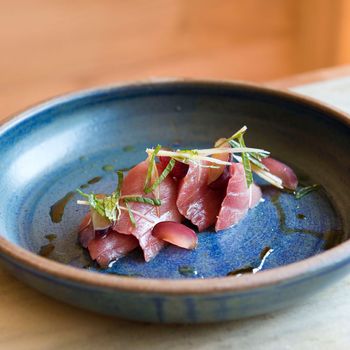 Big-eye chutoro sashimi with mint, grape, and ginger.
Photo: Liz Clayman
Yuji Haraguchi loves seafood. At his first Williamsburg restaurant Okonomi, he serves a fish-centric Japanese breakfast during the day and uses the leftover bones for broths when the restaurant transitions into the equally seafood-heavy Yuji Ramen. The success of that restaurant led him to open the nearby Osakana, a Japanese seafood market that also offers classes and to-go food like yakizakana donburi. Haraguchi's plan, it seems, is to create his own Little Japan in this corner of South Williamsburg, where he's now opened his third restaurant, Okozushi.
While Okozushi isn't a change of pace for Haraguchi, it is for New York's sushi scene: He's serving Kyoto-style sushi, which emphasizes cured and pickled fish, whereas most restaurants in this city do edomae-style. But an even bigger break is the price. He'll only offer three set menu options priced at $25, $35, and $45 — relatively affordable prices, when it seems everyone opening a notable sushi restaurant in New York right now is at war to have the highest prices.
"We're trying to create like a $200, $300 omakase-quality fish, but casual and affordable by incorporating local fish," explains Haraguchi. "There's very cheap all-you-can-eat sushi and very, very high-end restaurants, all the fish came from Japan, that kind of thing. But there's no middle ground."
At Okozushi, the lowest price will net you six pieces of hakozushi and two pieces of temari, while the highest yields sashimi, six pieces of hakozushi, two pieces of temari, and two pieces of temaki. For sashimi, you might get big-eye chutoro with mint, grape, and ginger, while the temari could be whitefish salad with a sesame dressing. Haraguchi has become somewhat obsessed with bluefish since moving to New York, and he's using a lot of it here. Think kombu-cured bluefish hakozushi with ingredients like salted orange and ginger and dill and olive. It's creative, unusual stuff. But not unexpected for a guy who earned attention for salmon and cheese mazemen ramen.
The idea for the restaurant came out of his experiences eating in Kyoto, where he opened Lorimer Kyoto this spring. It's, as he sees it, a logical conclusion to using local seafood, which he's built his other businesses around. Local fish isn't as consistent, but curing and pickling solves that problem. "The only way I thought I could be affordable and accessible was with local fish, and Kyoto-style was the best option for that," he says. As for drinks, the restaurant serves Konacha green tea but is BYOB, which Haraguchi says is to keep prices down. With just nine seats, it's very small and, if Okonomi is any indication, will be very popular. It helps, though, that it opens starting at noon on weekdays and 11 a.m. on weekends, leaving you ample opportunity for a sushi lunch, minus the power.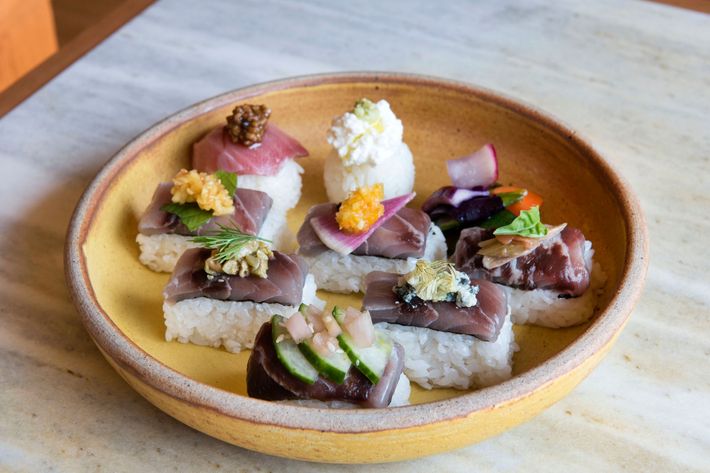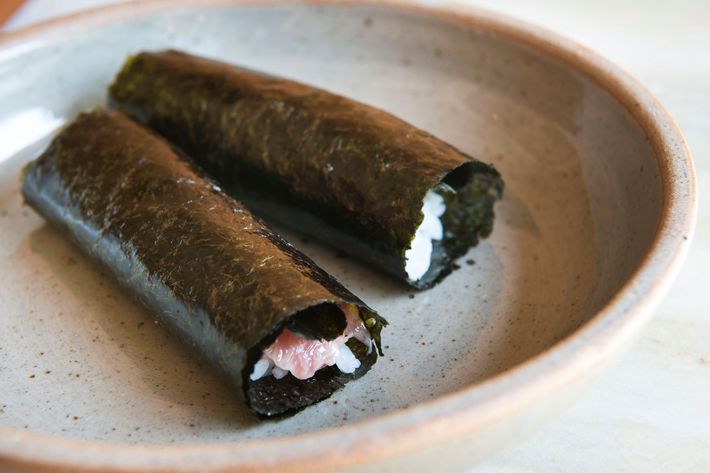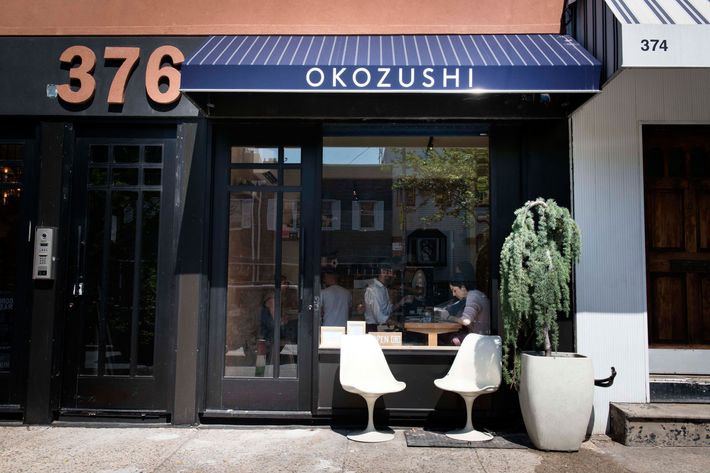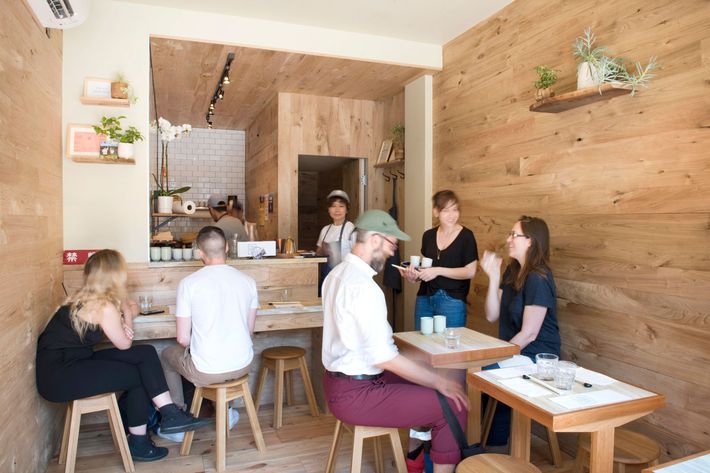 Okozushi, 376 Graham Ave., nr. Skillman Ave.