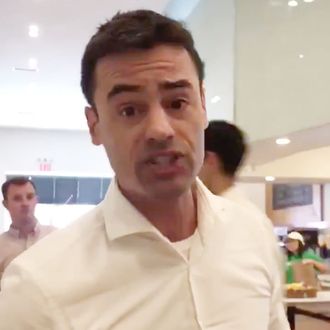 Aaron Schlossberg.
Photo: Twitter/Shaun King
Every once in a while, the city comes together to collectively shame someone for doing something incredibly stupid. This week, that honor went to Aaron Schlossberg, a New York City lawyer, identified by Forward, who lost it when he heard an employee at Fresh Kitchen in Manhattan speaking Spanish to a customer.
Of course there is video, and you have likely seen it: In it, Schlossberg tells an impressively calm and collected manager how offended he is to be hearing Spanish in midtown Manhattan.
"Your clients and your staff are speaking Spanish to staff when they should be speaking English," he tells the manager. "My guess is they're undocumented, so my next call is to ICE to have each one of them taken out of my country. If they have the balls to come here and live off my money. I pay for their welfare. I pay for their ability to be here."
The video went viral instantly, appearing on Gothamist before being picked up by BBC News, the New York Times, and USA Today. But all of those pale in comparison to a rebuke from the Daily News, which put a still from the video on its cover today along with the words "¡Jódete, idiota!" ("Screw you, idiot.")
Meanwhile, Mayor Bill de Blasio indirectly commented on the incident by tweeting his support for the many people who speak different languages throughout the city. "They're all New Yorkers and they're all welcome here," de Blasio wrote yesterday afternoon.
Earlier today, de Blasio was joined by other politicians: Representative Adriano Espaillat, a Democrat, filed a grievance with the local court system against Schlossberg with a co-sign from Bronx borough president Rubén Díaz Jr. "We are sending this grievance to say that you cannot engage in xenophobia, bigotry, hate and get away with it," Representative Espaillat said in an official statement. "Such behavior should never be tolerated." A spokesperson for the representative, however, clarified that there is no plan to get Schlossberg disbarred.
In the meantime, eagle-eyed observers have pointed out that this isn't the first time Schlossberg has made his hateful views public. Last May, he was filmed shouting epithets at pro-Palestinian protesters, and the internet also dug up a video from October 2016 where YouTuber Willie Morris had the unfortunate pleasure of meeting Schlossberg while walking up Fifth Avenue. In the video, the lawyer runs into Morris and then accuses him of being a "foreigner" before threatening to call the police on him.
Accordingly, the fallout continues for Schlossberg: Google users have taken to reclassifying his law firm as a Mexican restaurant while on Yelp, hundreds of one-star reviews have flooded the firm's page. In response, the review site is scrubbing these newer reviews because they were "motivated more by the news coverage itself than the reviewer's personal consumer experience with the business."
New York's roving paparazzi also appear to have caught up with Schlossberg:
Tonight, Luis Magaña, a member of Millennials for Bernie, will host a "Latin party" outside of Schlossberg's Manhattan apartment. According to The Guardian U.S., there will be taco trucks, a Jarritos margarita truck, and a live mariachi band starting.
"Assuming all Spanish speakers are undocumented is not only ignorant but a little sad," Magaña wrote on Facebook. "It's also a little sad that Mr. Schlossberg thinks all Hispanics are on welfare. However, Hispanics are not sad people and we will gladly educate you on our culture and language by throwing a big fiesta."
This story has been updated to include new information.