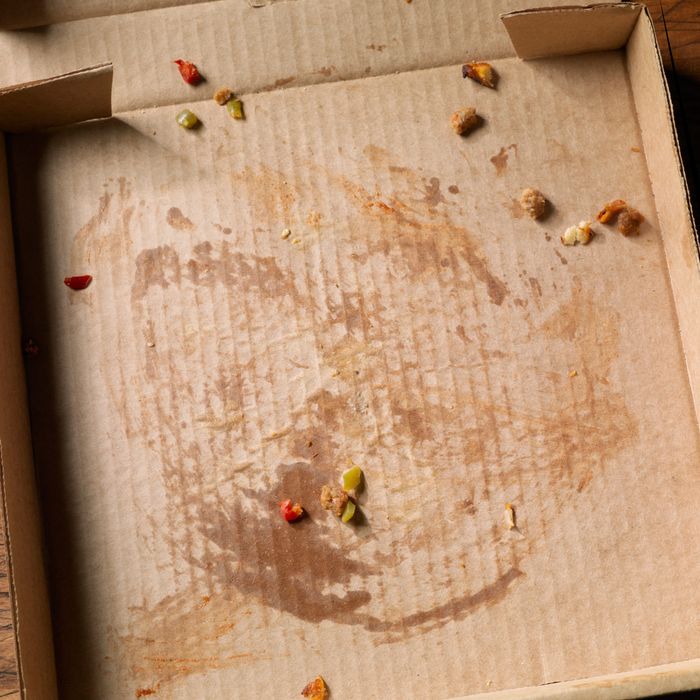 A "pizza for every palate" it was not.
Photo: Todd Patterson/Getty Images/iStockphoto
"Luxury lifestyle experiences" curator Bellmonte Life hyped the Notting Hill Pizza Festival this past weekend as a two-day-long extravaganza in London where a mere £15 scored attendees "unlimited amounts of pizza." And this wasn't gonna be some dollar-slice buffet either. Instead, the group promised: "Finding the perfect pizza can be an elusive pursuit. Luckily, there's the Notting Hill Pizza Festival … there will be pizza for every palate."
You can guess what happened next: The Notting Hill Pizza Festival ended up running out of pizza. Guests complain that they ended up waiting in hour-long lines at the event space — a fancy venue Bellmonte Life decorated with Italian flags, a couple red and green balloons, and a papier-mâché fountain — to get single slices. They were quick to document the event's shortcomings on Twitter, and also tell media that what meager amount of pizza was available looked "like something that had already passed through a cat's digestive system":
Bellmonte Life has countered that it was dealing with a broken oven — which indeed sounds problematic for a pizza fest — and it also blames attendees' "overzealous appetites" for the screw-up. It posted a sorta, kinda apologetic letter yesterday to event-goers:
It grants that the "flow of pizzas was slower than intended," but denies that there was a pizza shortage. "In contrast to claims that there were not enough pizzas, this was not the case," it claims, adding that the "professional pizzaiolos" it flew in from Italy "ensure[d] that everyone was able to sample pizzas." But, alas, the line grew "due to some overzealous appetites, preventing others to be able to enjoy the food." Once people started getting ticked, Bellmonte Life says it then "dispatched £2,000 worth" of complimentary wine.
Attendees looking for a refund say that organizers have pretty much ignored them so far, though:
However, if there's anyone who ended the weekend wanting not a second slice of pizza, but more "luxury lifestyle," the BBC reports that Bellmonte Life says it's willing to give angry attendees VIP passes to a barbecue fest it's throwing later this summer: