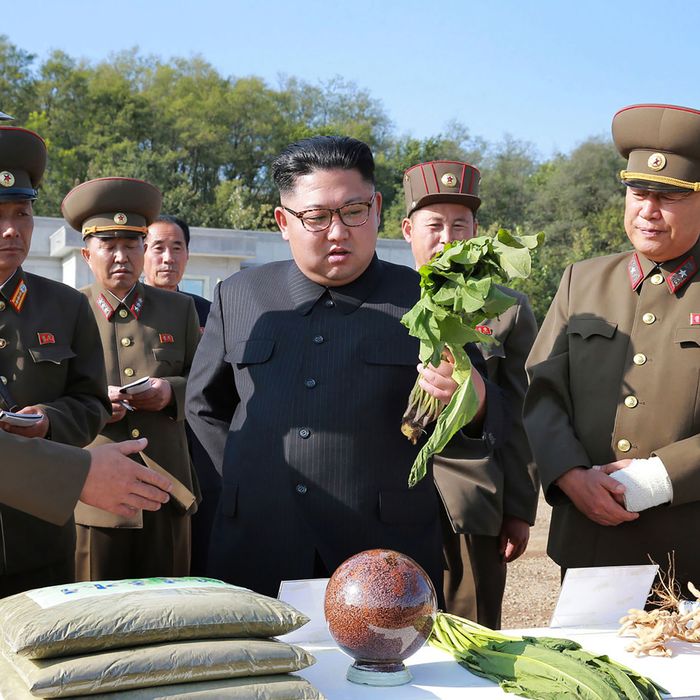 I dare one of you to tell me that this isn't the perfect Big Mac topping.
Photo: KCNA/AFP/Getty Images
As it turns out, North Korea's Kim Jong-un may not be all that serious about destroying his nuclear weapons, but a new CIA report obtained by NBC News says the Supreme Leader is mulling a consolation prize of sorts: In what the story declares "an odd twist," rather than agreeing to no nukes, North Korea might apparently pledge to "open a Western hamburger franchise in Pyongyang."
Kim apparently thinks the Trump administration will see this concession — that is, welcoming the first U.S. fast-food chain — as "a show of goodwill." However, the CIA's report "does not specify which fast-food brand" Kim might welcome to North Korea's capital, but per the agency, Kim envisions this new franchise as the same spot that'd cater any potential summit with Trump (even though, should it even occur, the meeting site is in Singapore), and we all know Trump has a penchant for McDonald's. Grub would, of course, go with Shake Shack — if anyone can broker peace, it's Danny Meyer — but perhaps it's just a matter of time before "McPyongyang" is the Golden Arches' next new market.