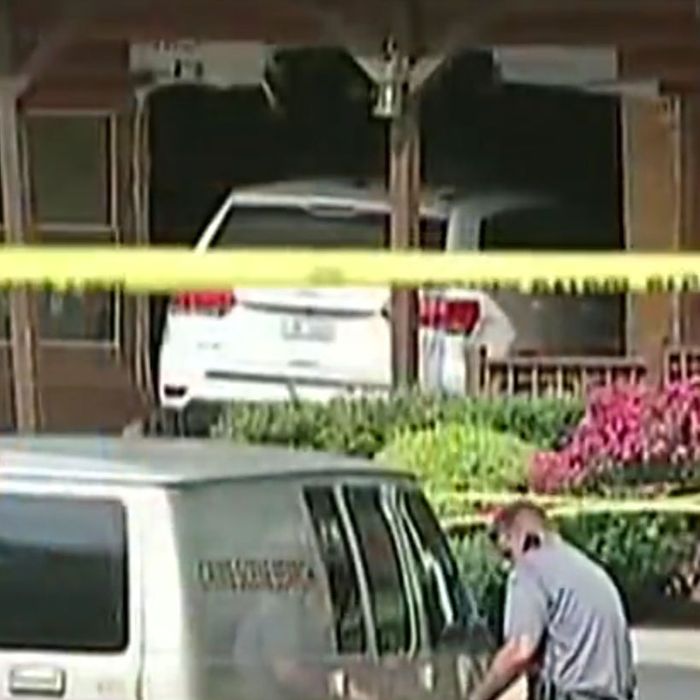 It "sounded like a tornado," one server said.
Photo: WSOC-TV via Twitter
A North Carolina man is at the center of a bizarre, tragic incident at a steakhouse outside of Charlotte. Roger Self — a 62-year-old former cop turned businessman — took his family to lunch yesterday at the Surf & Turf Lodge in Bessemer City. According to the Gaston Gazette, Self had started his meal at a table with his wife, daughter, son, his son's wife, and their 13-year-old daughter.
When he got up suddenly, the family reportedly figured it was to use the restroom, but police say a couple moments later, Self's white Jeep came careening through Surf & Turf Lodge's exterior wall, and crashed into the table where his family was seated, killing his daughter (Katelyn Self) and daughter-in-law (Amanda Self), and injuring his wife, son, and granddaughter.
Staff say Self was a regular at the restaurant, but the Gazette reports that he'd been wrestling with mental illness that "left him almost unrecognizable to those closest to him" in recent months. One server tells the paper that he was en route to refill the Selfs' drinks when the vehicle blasted through the wall. "I saw a white Jeep just fly right past my face," he says. "I saw chairs and tables and cups just flying everywhere. It just sounded like a tornado." He says he wanted to help, but "there wasn't anything I could do." Another server says people got pinned underneath pieces of debris, as well as the Jeep itself. He adds that it wasn't easy seeing the teenage girl unresponsive on the ground, or watching one woman pass away "in my manager's arms."
Katelyn was a deputy in the local sheriff's office, which put out a statement saying, "Our hearts are broken." Bessemer City's police chief also called it a "tragic, tragic loss of life." Self was booked last night on two counts of first-degree murder. He's set to appear in court later today, and officials are reportedly trying to get him psychiatric help.