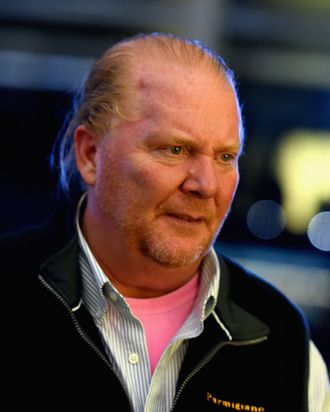 Mario Batali.
Photo: Dave Kotinsky/Getty Images for NYCWFF
As the NYPD continues its investigation into allegations that celebrity chef Mario Batali drugged and raped two women, accusations of sexual misconduct continue to roll out from more women.
Eater reports that Batali's inappropriate behavior didn't just affect the women who worked for him or in the hospitality industry, but would-be fans, too. A handful of women, many of whom describe themselves as former fans of Batali, have come forward to share sickening stories of the chef that include groping, forcible kissing, and propositioning them when they met him.
Natali Tene, a 28-year-old from Boston, says Batali "[pushed] my face into his, kissing me, rubbing my breasts, my body and saying, 'One more pic, one more'" in April 2017 in a Boston bar. Another woman, 31-year-old Sarah Watson, met Batali in New Orleans in 2016 and says "he put his tongue in my ear, he licked my face, he grabbed me, touched me all over." Their allegations are joined by that of 60-year-old Rebecca Marshall, who says Batali "stuck his tongue in her mouth" in January 2017. Two of the women shared videos with Eater. In all, nearly 20 women have accused Batali of sexual misconduct.
In a new statement, B&B Hospitality Group said that it has had anti-sexual-harassment policies for a decade, and that, once again, Batali will fully divest from the company by July 1.