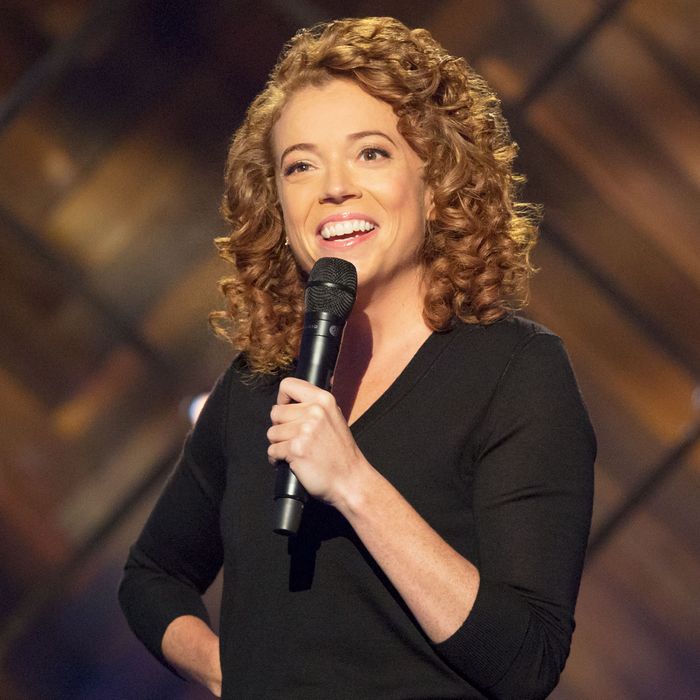 Michelle Wolf.
Photo: Cara Howe/Netflix
This weekend, Netflix premiered the first episode of its new series The Break With Michelle Wolf. In it, the comedian — perhaps you remember her White House Correspondents' Dinner set? — ripped into the disgraced chef Mario Batali. She first took aim during her monologue:
Speaking of beautiful people, Mario Batali, do you guys remember when he was like, 'hey, I made some mistakes but here's a cinnamon roll recipe. So we're good, right?' Well, apparently that wasn't enough because now the NYPD is investigating Mario Batali for sexual assault. Yeah, according to the police report he's been charged with a pinch of misconduct, two tables of making women uncomfortable at work, and three cups of having a ponytail but not playing the jazz saxophone.

I gotta be honest, I love when someone like Batali finally gets caught for justice reasons, but now we can also make fun of the way he looks because no one's gonna come to his defense. Like, 'Hey! That's sexual predator shaming!'

So here it goes: The NYPD investigation is mostly to find his neck.

Mario Batali looks like what happened if the Macy's Parade had a #MeToo float.

I know his food is good but he doesn't have to eat all of it. He looks like what a tuba sounds like.
Wolf wasn't done. Later in the show, she invited the very funny comedian and Late Night With Seth Meyers writer Amber Ruffin on for a segment about why they don't want children. One of their shared reasons: your kid could grow up to become Martin Shkreli … or Batali.
Wolf: I think people would want kids less if you didn't ask, 'When do you want a baby?' But instead asked, 'When do you want a future adult?'

Ruffin: You might have a baby that grows up to be cool or your baby could grow up to be Martin Shkreli. Shkreli? Shrelly?

Wolf: He's a piece of garbage, it doesn't matter.

Wolf: Or, your baby could turn out to be this. [Shows a photo of Batali with a giant fork and picnic-table cape.] Nooo, I guess I'm a spoon person now.

Ruffin: He looks like the pig escaped by pretending to be the chef.

Wolf: He looks like he's about to eat Papa John.

Ruffin: He looks like a superhero whose superpower is having all of the diabetes.

Wolf: Diabetes, diabetes, diabetes.

Ruffin: More, more.

Wolf: Both of those people were once babies.

Ruffin: And now they're like a new kind of centaur, where the top half is a man and the bottom half is just a piece of shit.

Wolf: Uhhh, so stinky.