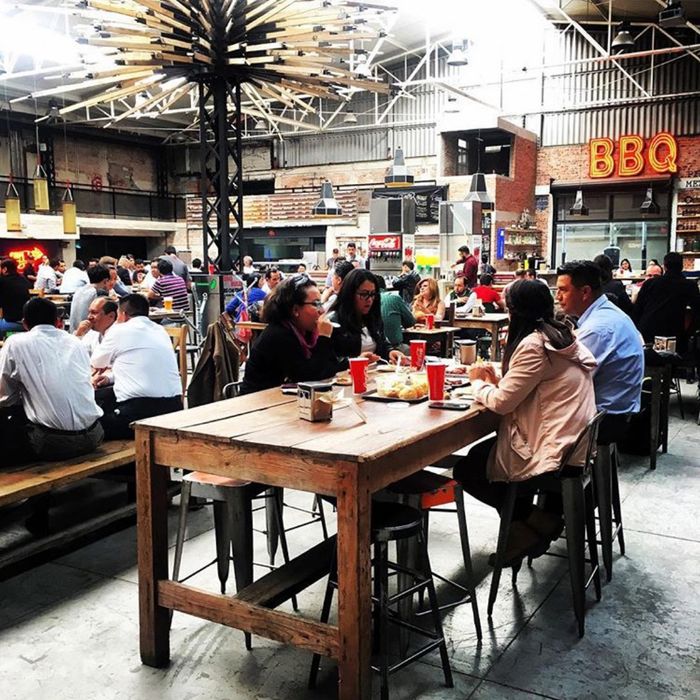 Looks right out of Texas Hill Country.
Photo: Pinche Gringo via Instagram
The Trump administration's eagerness to deport Mexico's supposed "bad hombres" means that every month, some 11,000 more undocumented immigrants are sent back across the border. Many have been Stateside for decades — they own successful U.S. businesses, are respected members of their communities, have American kids, and sometimes even had the government's explicit permission to stay. That makes their return to Mexico, where they land jobless and potentially thousands of miles away from family and friends, a little difficult, to say the least. Angered by this situation, an American expat who runs a barbecue restaurant in Mexico City is trying to do his small part to hook deportees up with honest work at a restaurant whose shtick also happens to be classic Americana.
The spot's name is Pinche Gringo (essentially Mexican slang for "dumb American"), and it was founded in 2014 by native New Yorker Dan DeFossey after getting a firsthand intro to barbecue and the nation south of the border while teaching high school in Texas. Pinche Gringo's 50-person staff now boasts seven workers who were either deported back to Mexico, or repatriated for personal reasons. At first, DeFossey says he wasn't expressly looking to hire people who'd been in America, but then he started watching President Trump ratchet up his anti-Mexican rhetoric, and felt ashamed. "That's our government. I feel responsible for it," he tells the L.A. Times, adding that he's since realized that Mexicans who return Americanized actually are the ideal job applicant at Pinche Gringo.
The restaurant is described as a spot where the air's thick with the smell of brisket, a humongous U.S. flag adorns one wall, country music is played live, and the bar stocks bottles of Bud — things the deportees working there admit to missing.
One of them is a 30-year-old cook who left for New York at age 14, then worked his way from washing dishes to running a higher-end kitchen in Boston. Another employee actually owned two barbecue restaurants in Oklahoma City, before returning to Mexico to apply for a green card that he never got.
A third sweated in Florida kitchens for a decade, but got deported following a DUI. Like many back-of-house staff in the U.S. these days, he tatted up both of his arms — but in Mexico, tattoos are often associated with violent gangs, so he struggled to find work. At Pinche Gringo, it was no problem, and the Times says he's ended up helping create two of the restaurant's most popular sides: mac and cheese and a coleslaw dish.