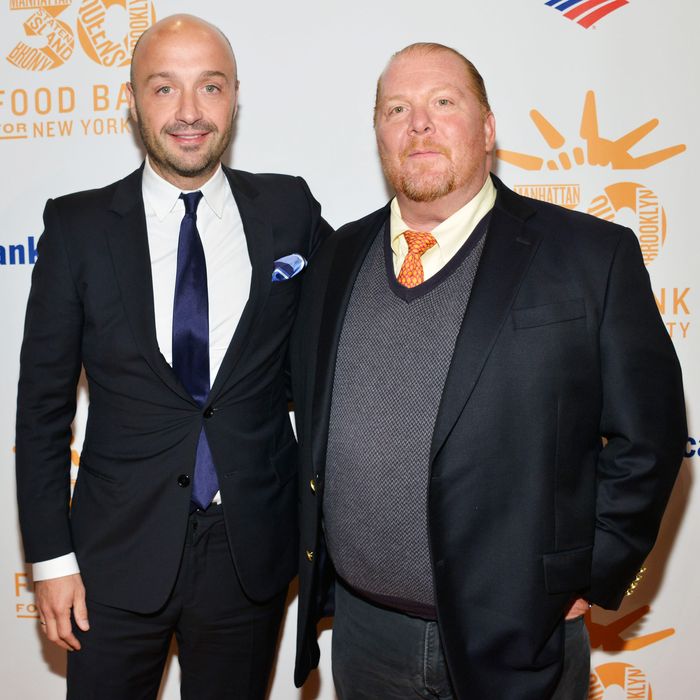 Bastianich and Batali.
Photo: Eugene Gologursky/WireImage
Restaurateur Joe Bastianich and disgraced chef Mario Batali have settled another labor lawsuit. The restaurateurs, Lidia Bastianich, and five of their restaurants have agreed to shell out $2.2 million in response to a former Felidia busser's class-action lawsuit, Eater reports. In the suit, filed in December 2017, Hector Jara says he was not paid properly from October 2015 to January 2017. Allegedly, he worked 55-hour weeks while only getting paid for 45-hour weeks.
As a result of the settlement, 1,300 dining-room employees at Babbo, Becco, Del Posto, Esca, and Felidia are eligible for compensation. The judge, however, hasn't given the settlement final approval yet. The attorney for Batali & Bastianich Hospitality Group and its fellow defendants, Carolyn Richmond, told Eater in a statement that the settlement was made "to avoid litigation costs," and that it "involves a deeply flawed statue that imposes $5,000-per-employees fines for paperwork violations that don't actually harm any employee."
Batali and the Bastianichs have a history of getting hit with labor lawsuits. In 2012, they settled a tip-skimming suit for $5.25 million. Lidia was also once accused of keeping an indentured servant in a $5 million lawsuit filed in 2011. Last year alone, B&B Hospitality Group was hit with two other lawsuits: One by a former Babbo pastry chef who alleged discrimination and harassment because of his sexuality, and another for wage violations. The latter was filed by Babbo busser Octavio Quinones and the attorney behind the 2012 tip-skimming suit, Maimon Kirschenbaum. Quinones does not qualify for a payout in this suit, which Kirschenbaum tells Eater they believe was "intended to shortchange the Babbo group." In her statement, Richmond argued that the attorney "is in no position to object" to a settlement his client was involved in.
Batali stepped down from his restaurants in December, after multiple allegations of sexual harassment became public in a detailed report. He was also named in another report that dealt with sexual harassment by restaurateur Ken Friedman. But last month, the New York Times published a story about Batali making moves toward a comeback. Bastianich told the paper then that he and Batali are negotiating a buyout, and that "it's about creating a post-Mario world." In another report, a former Del Posto manager said that hostesses would ask to be given different work when Bastianich showed up, and others described his behavior as "sleazy." Bastianich was also filmed making racist comments about Chinese people for a MasterChef! Italia segment, footage Grub Street resurfaced earlier this year.