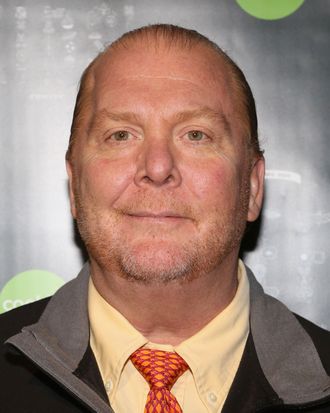 Yet more accusations have come out against Mario Batali.
Photo: Sylvain Gaboury/Patrick McMullan via Getty Image
Last night, 60 Minutes aired a report about disgraced restaurateurs Mario Batali and Ken Friedman, and the sexual harassment and abuse that took place at the Spotted Pig. Some of the segment included previously reported accusations, but the report also added some new information and allegations. Following it, the New York Daily News published a report with another allegation against Batali.
• An anonymous former Babbo employee alleges that in 2005 she was drugged and sexually assaulted by Batali at the Spotted Pig. She says she was drinking wine with him on the restaurant's second floor, when things got "completely foggy." She remembers little until waking up disoriented the next day. She describes her right leg as "deeply wounded," and seeing semen on her skirt. Batali allegedly wouldn't respond when she asked what happened, and she says she later spoke to a detective with the NYPD's SVU but didn't file a police report because she lacked resources.
• In response to the reporting, the NYPD confirmed to CBS News that there is an "ongoing" investigation into Batali. The chef denied the allegation, and B&B Hospitality Group released a statement, via crisis management firm Trident DMG, that called the accusations "chilling and deeply disturbing" while reiterating that the company is severing ties with Batali. B&B Hospitality Group has had a host of labor issues, and recently settled another wage lawsuit.
• Following the 60 Minutes segment, the New York Daily News reports that "a second woman has come forward with claims she was drugged and raped by celebrity chef Mario Batali after she blacked out drunk at his Greenwich Village eatery." Citing police sources, the paper writes that "the woman alleged she blacked out in Babbo's bathroom at 2 a.m. on January 29, 2004, and that when she came to Batali was having sex with her." She reportedly went to police on March 15, the New York Times reports. A NYD spokesmen confirmed to the Times that Batali is under investigation for this incident.
• A former Spotted Pig bartender named Erin Fein alleged sexual abuse by Friedman, saying he assaulted her outside the restaurant in his car in 2014. She describes Friedman lunging at her, grabbing her face, kissing her sloppily, and pulling up her shirt. She says he later asked her to send "sexy pictures," which Friedman denied.
• In a statement, April Bloomfield says she is "in the final stages of severing my partnership with Ken Friedman" and regrets not doing more to protect staff. After describing an incident with Friedman, former employee Carla Rza Beets told Anderson Cooper she didn't "trust [Bloomfield] with this either" and when asked if she felt Bloomfield had her back she said, "No. I know other people went to April, and she did nothing to make them feel safe."
The full 60 Minutes report is here:
This post has been updated with information from a second report about an alleged sexual assault by Batali.