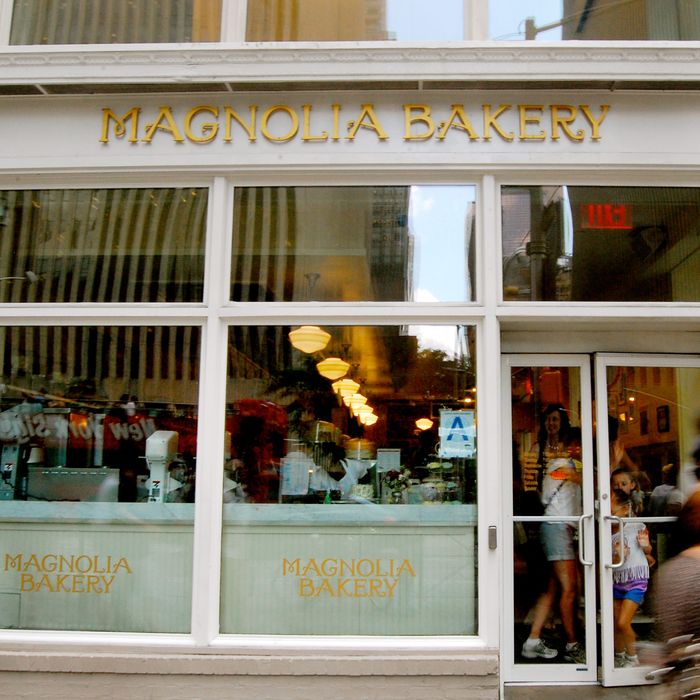 Maybe people in Milwaukee don't know the cupcake craze is over?
Photo: Liz Clayman
Magnolia — the little Manhattan bakery that, with Sex and the City's help, kick-started America's cupcake craze way back in the aughts — is ready to break out big. The company's CEO, Steve Abrams, tells The Wall Street Journal that Magnolia has developed an ambitious expansion plan in which the company will aim to add "as many as 200 franchisees across the U.S. over the next five years." The financial details are still being worked out, but Abrams says the goal is to put Magnolia in each of America's top 50 markets. (So, San Antonio, you may be getting a fancy Greenwich Village bakery outpost that makes pistachio cheesecake and $34 bread loaves.)
Abrams says that, in fact, they want to put "at least three locations" in each of those 50 markets. Magnolia has been cautiously expanding for a while under Abrams, ever since co-founders Jennifer Appel and Allysa Torey sold him the business in 2006, but you could argue that expanding full speed ahead right now feels odd. People just don't wait in hour-long cupcake lines anymore. In fact, recent years have brought the end of several cool-food moments — stunt pastries and novelty burgers, to name two.
The chef burger craze — perhaps the closest analog to cupcakes — actually got delivered a withering blow today, too: Umami Burger, the onetime bicoastal darling of gourmet burger–philes, is closing all but one of its New York locations. But the situation is arguably worse for the cupcake trend — a phenomenon that once threatened to morph New York into a pastel-frosted dystopia of cupcake ATMs and Baked by Melissas on every block. This trend was declared dead years ago, although maybe Magnolia thinks that by wading into Middle America, it will find a novel sweet tooth.
After all, expansion certainly isn't a new idea over at Magnolia HQ: In recent years, the company has grown to include 26 locations — nine domestically (six in New York, plus one each in Boston, Chicago, and L.A.) and 17 overseas (in Korea, Mexico, and the Middle East) — and the Journal points out that actual cupcakes only account for a third of Magnolia's sales. (The big money is in $55 tubs of banana pudding, apparently.) But the company insists that it's "still the big name" in cupcakes, and that particular baked good is "always going to carry weight," especially as Magnolia tries to push its cakes on a national level.