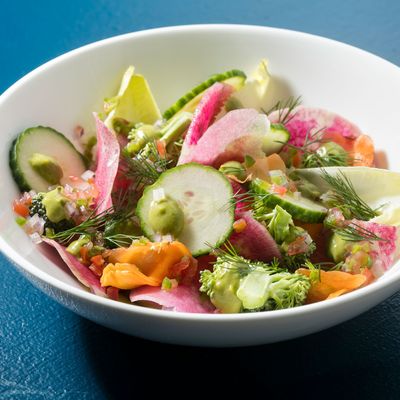 Madcap Cafe's veggie "nachos" are essentially crudités, but about ten times better and more efficient.
Photo: Melissa Hom/New York Magazine
There was a time, not so long ago, before the "all-day café" and its carefully honed, millennial-friendly brand identity dwarfed the dining scene, when establishments like coffee shops, luncheonettes, and diners dotted the land. These places were known to serve coffee in the morning, alcohol later on, and food whenever thirst or appetite demanded, but they didn't make a production out of it. Customers tended to become very attached to these places of business and the people who worked there and use them as their home away from home, rather than today's office away from office.
It is in this refreshing and somewhat antiquated spirit that Heather Fuller opened Madcap Cafe several weeks ago on a Carroll Gardens corner that loudly and somewhat confusingly advertises in one great cluster the presence of every adjoining business (a Pilates studio, a gym, a dentist's office, a real-estate agency, the Scotto funeral home) in addition to her own. Considering that its doors are open from 8 a.m. to 11 p.m. daily, Madcap is as all-day as cafés come. But it's such an anomaly in the category it doesn't even call itself one. The restaurant has no "concept" (as Fuller's husband, a food and beverage consultant, keeps pointing out to her), no "visual identity," no logo, only the most discreet of exterior signage, and, at press time, no website. It does have its chef-owner's charm and drive and a small staff that radiates warmth throughout the wide, shallow dining room, which is furnished simply with a bar, a slatted-wood banquette, and a row of metal stools lining a ledge where curtained windows look out onto Court Street. There's yellow wallpaper with a cherry-blossom motif on one side and a forest-themed tapestry on the other, and a mix of soul, rhythm and blues, and classic rock playing at a volume loud enough to induce a sigh of nostalgia but low enough not to drown out conversation.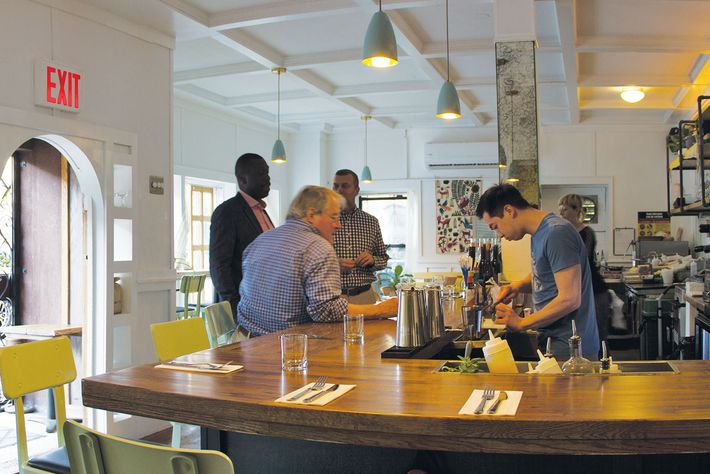 You wouldn't know it by looking at the comfort-food menu chirpily handwritten in five or six different shades of ink, but Fuller has as impressive a fine-dining résumé as any you're likely to come across. Still, when asked, the chef will cheerfully admit that although she appreciates the theater of the format, she's never had a fine-dining meal she's actually liked. All we can say about that is haute cuisine's loss is the café world's gain.
Of the nine dishes on the dinner menu, veggie "nachos" might be the most emblematic. The wordplay, the knife skills, the vegetable focus — all display Fuller's previous work in kitchens like Per Se, Momofuku Ko, and Nix. The genius of this dish, a cheeky take on crudités, is that it's about ten times better than what you usually get out of a bowl or a plate of raw veggies. With crudités, you take a vegetable, let's say it's a carrot, and you dip it into whatever dip it comes with. Then what? You either double-dip, which is a policy endorsed by no one except George Costanza and the Underground Gourmet's six-year-old nephew, or you joylessly munch the rest of your raw and undipped carrot like a melancholy rabbit. Fuller's nacho-size crudités (thinly sliced radish and cucumber, endive, and tiny broccoli florets), on the other hand, are so expertly dabbed and drizzled with Green Goddess dressing and what must be the city's most technically precise dice of pico de gallo that you get a flavor boost in every bite. They're just plain fun to eat.
Ditto the baked mac 'n' cheese, served in a hot cast-iron skillet and showcasing an unusual corkscrew pasta shape called cellentani (cavatappi, actually, rechristened by the manufacturer Barilla after a 1960s Italian pop singer known for his springy corkscrew dance moves). There is nothing to distinguish this rendition beyond its extra-cheesy creaminess — no bread crumbs, no crispy bits, no crunch — but sometimes unadulterated creamy cheesiness is all you need. The sandwiches, on the other hand, are elevated by their delivery system: puffy, housebaked flatbread reminiscent of what encases street-cart souvlaki. Furthering the resemblance, they arrive half-wrapped in tinfoil and stuffed with either good hoisin-sauced maitake mushrooms, or better chicken, marinated in coconut milk and turmeric and dressed with tahini, raw onion, and chopped tomatoes and cucumbers. Come for breakfast or brunch and you'll find that soft and squishy wrap swaddling beautifully scrambled eggs, cheese, and meaty bacon, should you choose. (You should.)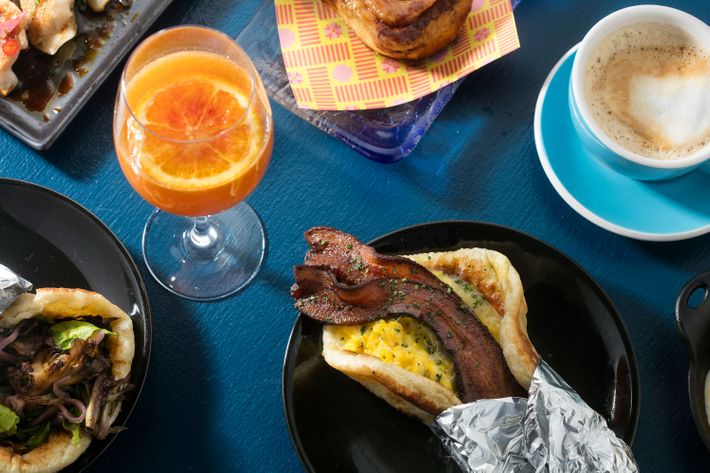 Dumplings and meatballs also occupy this ecumenical menu. The former are six hot and juicy pork-and-chive potstickers that hit the spot. Alas, the meatballs smothered in red sauce and sprinkled with Parmesan turn out to be a bit tough and dry, posing no immediate threat to the meatball-making nonnas in the historically Italian-American neighborhood. Salads, though, are just what the doctor ordered: a kale number with tahini massaged into its creases, scattered with raisins and sunflower seeds, and the Madcap Greens, a sprightly assemblage of oak-leaf lettuce, blue cheese, and spiced pecans, all well slicked in a sticky pecan-malt-vinegar vinaigrette. If the food has a theme, it's things that sound generic and slightly random on paper (and in variously colored ink) but taste unexpectedly great. In other words, as many a canny chef has said, underpromise and overdeliver. Fuller calls this her "favorite neighbor" approach to cooking. "I hope eating here is like eating at your favorite neighbor's home," she explains, and that sounds about right. There are few cafés where we'd rather spend all day.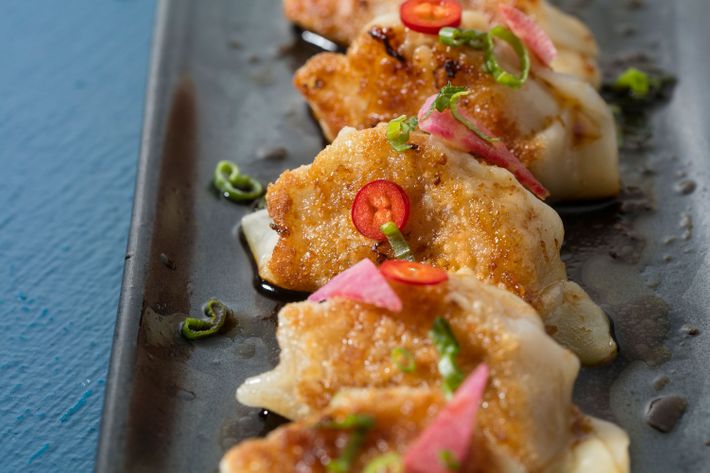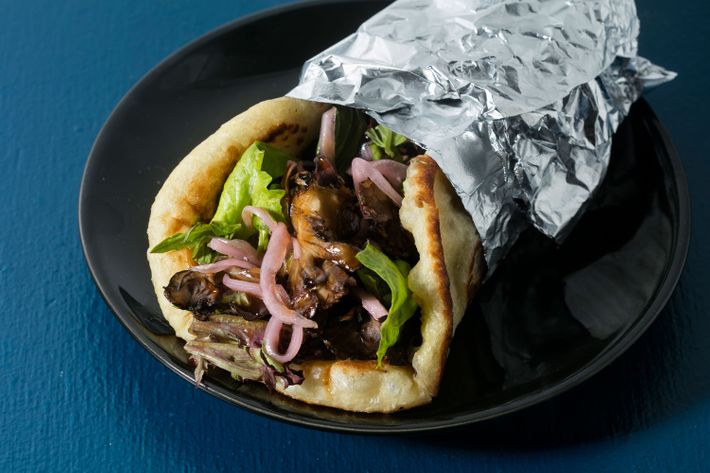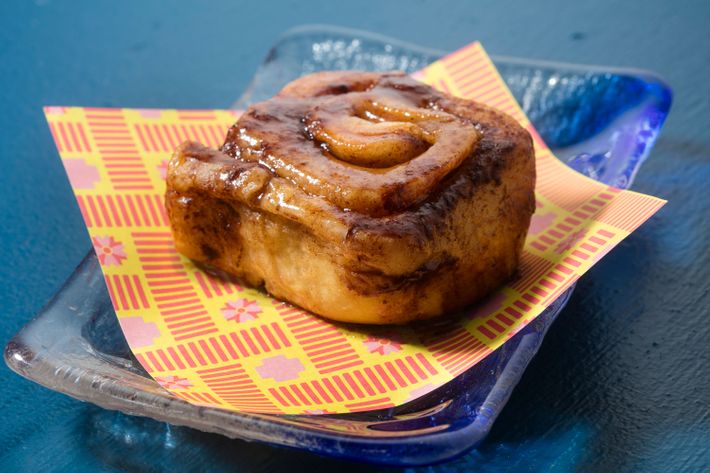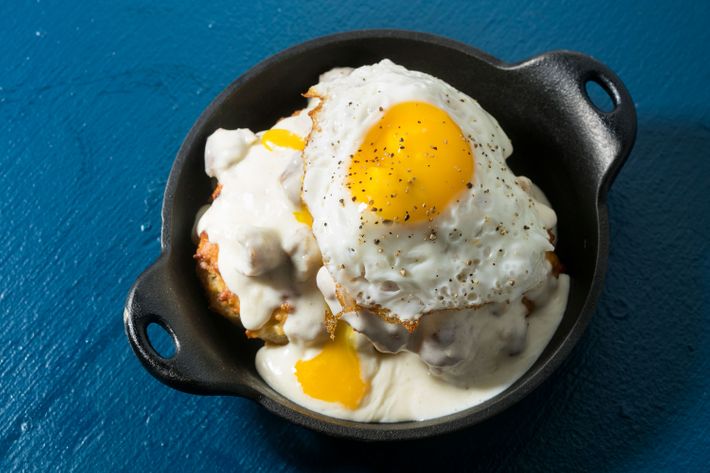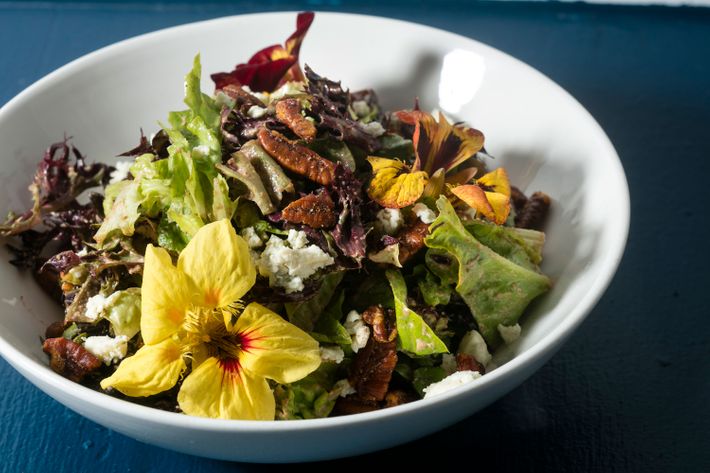 Madcap Cafe
387 Court St., nr. 1st Pl., Carroll Gardens; 929-337-6117
Open: Daily for breakfast, lunch, dinner, and weekend brunch.
Prices: $9 to $14.
Ideal Meal:  Madcap Greens, and baked pasta or coconut-turmeric chicken sandwich at dinner. Bacon-egg-and-cheese sandwich for breakfast; biscuits and gravy for brunch.
Note: Fuller chose the name Madcap partly because there's a "cap" in cappuccino and nightcap, both of which her restaurant serves, and partly because her husband said that she and her business plan were crazy. Another Note: Last summer, she launched the vegan-ice-cream brand Pineapple Express at Chelsea Market, where she served a tribute to Dole Whip, Disney's cult pineapple-flavored soft-serve. Scratchpad: One star for the generally delicious "favorite neighbor" cooking; two more for the old-school all-day service, well-made cocktails, and a sit-anywhere, instantly-a-regular vibe that feels refreshingly unmanufactured.
*A version of this article appears in the May 14, 2018, issue of New York Magazine. Subscribe Now!