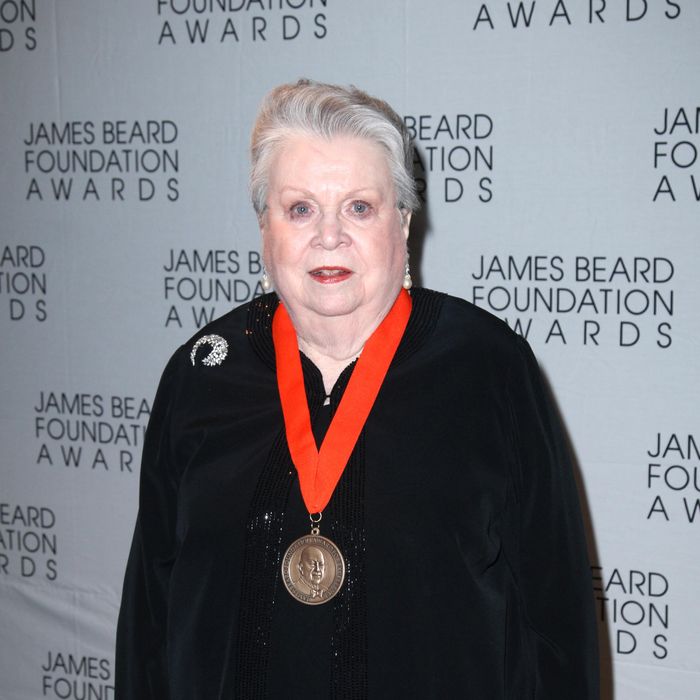 Ella Brennan.
Photo: Jimi Celeste/Patrick McMullan/Getty Image
Ella Brennan, the head of arguably New Orleans's most powerful restaurant family, passed away this morning at the age of 92 in her Garden District home, the Times-Picayune has reported. Her joie de vivre and approach to hospitality were evident when she declared, "I don't want a restaurant where a jazz band can't come marching through."
She and her sister Adelaide bought Commander's Palace in 1969, and turned it into an award-winning, essential part of New Orleans's fabric. She remained a fixture of the city's restaurant scene for six long decades — enough to help put New Orleans on the map as "the centerpiece of the whole American food movement," as restaurateur Drew Nieporent said in a New York Times profile of her last her. She was the matriarch of effectively a 1,400-person food empire that grew to include not just 14 local restaurants, but also a Houston outpost and a jazz-themed eatery at Disneyland. To top it off, she also cultivated some of America's greatest Creole and Cajun culinary talent, including chefs Paul Prudhomme and Emeril Lagasse. Their impact, like Brennan's, of course goes well beyond just their respective cuisines.
Brennan's hospitality career began when she was a teenager working in her older brother's Bourbon Street bar, the Old Absinthe House. Together, the family went on to open a large number of successful restaurants — spots like Vieux Carré and Brennan's — and made Brennan a crucial figure in the city's fine-dining world. She was known for passionately boosting anything New Orleans, especially her beloved hometown's regional foodways, and she did it at a time when the industry wasn't terribly welcoming to women. News stories described her as a "no-nonsense" restaurateur possessing a "uniquely refined palate" that could tell if any dish was "even the slightest bit off." She insisted diners call her "Miss Ella," but her other nickname was "Hurricane Ella," suggesting nobody in Brennan's male-dominated profession pushed her around. As Lagasse told the Times in 2017, "She was there to embrace and elevate, not just me but the entire staff."
At Commander's, Brennan made sure that meals were "events" — balloons and chef hats were always part of the décor, dishes got served simultaneously at every table, and on the weekends, jazz combos wound their way through the dining room.
She also threw extravagant dinner parties, but, as it turned out, never learned to cook. "I don't think she can boil water," Lagasse confided last year, but he added that her influence on America's hospitality industry "is endless" all the same. The celebrity chef was actually 23 when Brennan installed him in the 1980s as Commander's chef, following Paul Prudhomme's stint from 1975 to 1979.
Even before her passing, Brennan's family had made sure her legacy would be widely appreciated beyond New Orleans. Her daughter Ti Martin helped Brennan complete her memoir, Miss Ella of Commander's Palace, last year, and Netflix released a documentary last May called Ella Brennan: Commanding the Table that screened at festivals. In the memoir, Brennan complained she didn't like the idea of having a legacy, but did note she enjoyed thinking "our family's restaurants and all who have worked in them have helped to improve the quality of hospitality and service in New Orleans, and perhaps the rest of the country." Needless to say, they have.