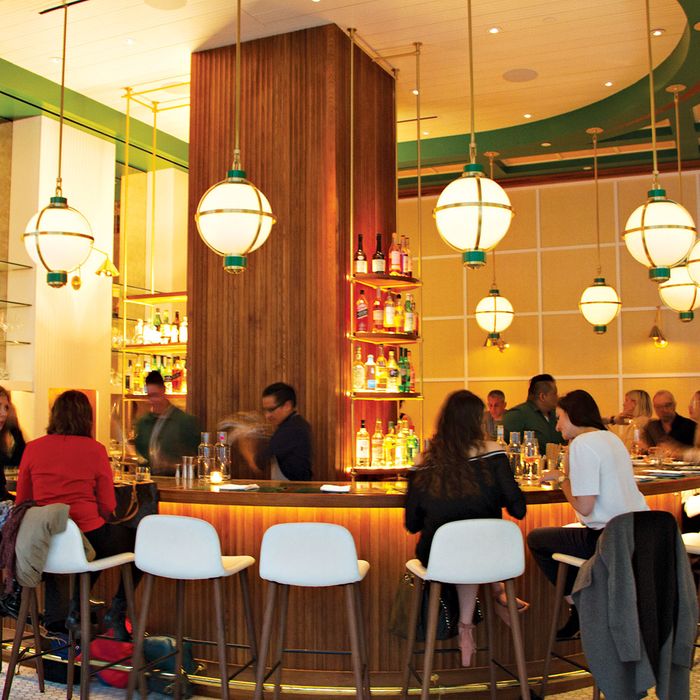 The Legacy Records bar is a beaut.
Photo: Jemma Hinkly/New York Magazine
Who knows why certain new projects whip members of the dining community into frenzies of ecstatic anticipation while others do not? In the case of Robert Bohr, Grant Reynolds, and Ryan Hardy's endlessly chattered-about new venture, Legacy Records, it's certainly not the location, which, in case you haven't made the long and wearying trek, sits on the far-western end of 38th Street, on the fringes of that Oz-like land of mostly unbuilt skyscrapers called Hudson Yards. It's not the one-page, Italian-accented menu, either, which includes the usual collection of locally sourced crudi, rusticated pastas, and farm-raised proteins for two. It's not even the impressive wine portfolio, which the team's lively downtown restaurants, Charlie Bird and Pasquale Jones, are also known for and which I perused while frantically clicking on my reservation app in a doomed attempt to obtain a table.
In the end, I never did manage to get a table on my own (mercifully, one of my guests had stayed up past midnight, clicking on her own reservation app), and once we were finally situated in the predictably crowded dining room, I still couldn't help wondering what all the fuss was about. Bohr, Reynolds, and chef-partner Hardy are known for curating a certain buzzy, idiosyncratic sense of style in their diminutive downtown restaurants, but this big and boxy room is divided, in familiar cookie-cutter form, into a large bar area up front and a slightly more cramped dining zone in the back. No expense seems to have been spared by the noted designer, Ken Fulk, on the décor (the grand, horseshoe-shaped brass-and-wood-clad bar, in particular, is a beautiful thing), but even in the middle of a loud dinner service, the space feels less like a destination dining spot than like the airy breakfast annex off the lobby of an anonymously posh hotel.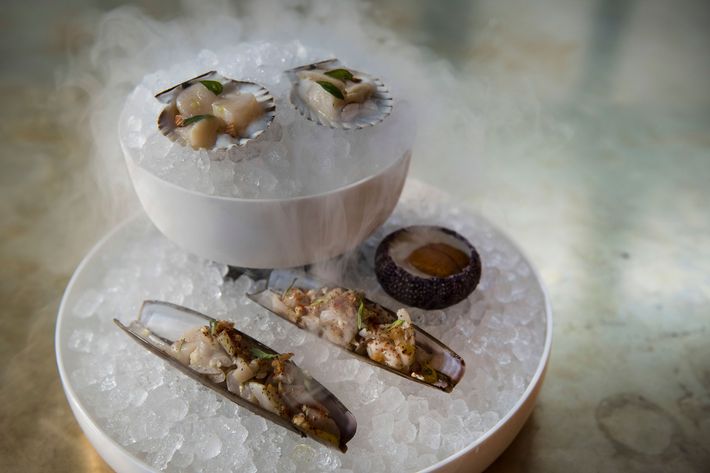 I've been a fan of Hardy's elegant yet accessible brand of Italian cooking, particularly at Pasquale Jones, but much of the menu here has a curiously underwhelming quality, and after more than two months in business, the kitchen still seems to be in a state of flux. The steady barrage of crudo items we sampled weren't very different from the thousands of other options available in this crudo-saturated town (the Montauk tuna belly got the best reviews), and, at roughly $20 per serving, none of them were cheap. We supplemented our shreds of raw fish with other familiar old favorites from the casual-Italian canon (hand-pulled mozzarella, sunchokes with anchovies, a single grilled octopus tentacle garnished with a minty salsa verde), and when an unremarkable but obviously fresh "farm greens" salad arrived at the table, my guests were horrified to see a tiny green farm bug emerge wriggling on the plate.
There weren't any spectacular mishaps like this to liven things up when the inevitable primi pasta portion of dinner rolled around, but if you're a connoisseur of squid ink, I can vouch for the salty, dense spaghetti and cuttlefish, which the kitchen makes with a thick, inky sauce and finishes with a bracing splash of lemon. The decorative hat-shaped cappellacci dei briganti looked much better than they tasted, however, and so did the weirdly sweet, candy-shaped raviolo doppio, which were stuffed with deposits of ricotta and leeks. If you have the necessary $50 in your pocket, the best of these starchy options by far is the house risotto, which was perfectly al dente on the evening I ordered it and served with sweet garden peas and a potent, umami-rich mix of melted Parmesan and smoky prosciutto fat, all on a generously sized platter for two.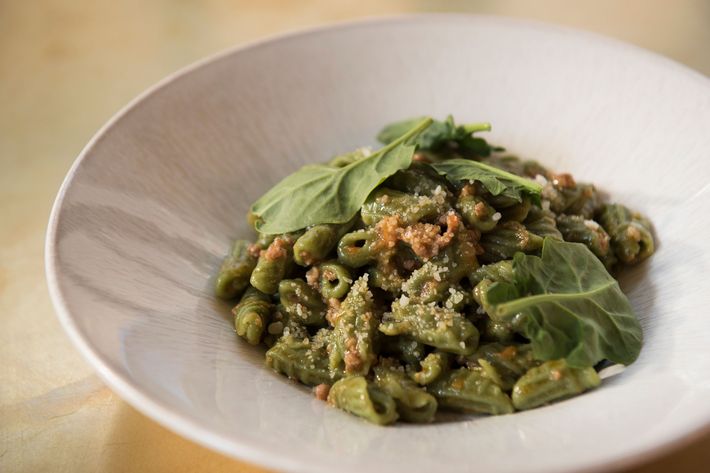 Fans of the pizzas at Pasquale Jones will be sad to hear that there are no puffy-edged margherita pies or great football-size calzones available at this far-distant outpost of the group's quickly expanding hospitality empire. But if you're pining for a taste of rustic, wood-oven-style cooking, the "Roasted" section of the menu includes professional, though not inexpensive, preparations of rib-eye steak ($45) and spring lamb ($46), along with a heritage-chicken breast and thigh served with a seasonally appropriate medley of asparagus tips and fiddlehead ferns. The real specialty of the house, however, is the duck for two, which is lacquered with honey on its shiny, fennel-seed-encrusted exterior and plated with hazelnuts and delicate little cubes of pickled rhubarb, which are designed to cut the crackly richness of the duck fat.
Do the grateful souls who live and work among the many newly built (or soon-to-be-built) towers and buildings around Hudson Yards have the same slightly world-weary view of Legacy Records as I do? Judging from the merry crowds who were gathered around the bar on my visits, I'm guessing probably not. Like at the downtown restaurants, the 12-page wine list is well curated, after all, and although some prices seem to be pitched to midtown expense accounts (I spotted a magnum of $1,750 Krug Champagne), many selections are available for sampling by the half-bottle. The three desserts are less interesting — my favorite was an elegant, faintly marshmallowy-tasting Italian version of the classic Pavlova called a meringata — but if you need a sugar fix the next time you're wandering in the vicinity of the Jacob Javits Center, they'll do just fine.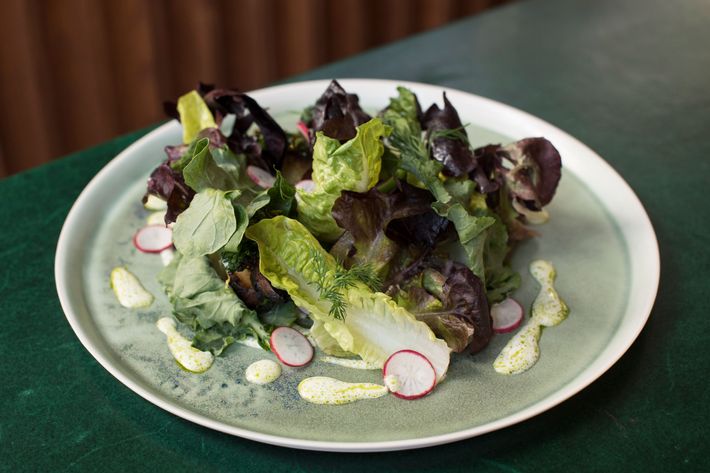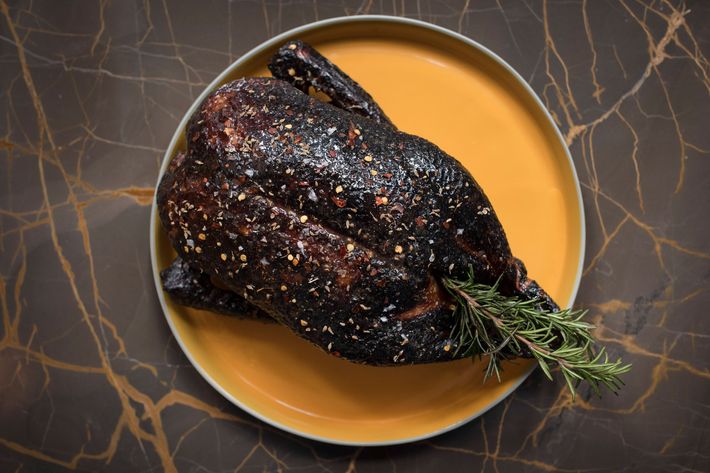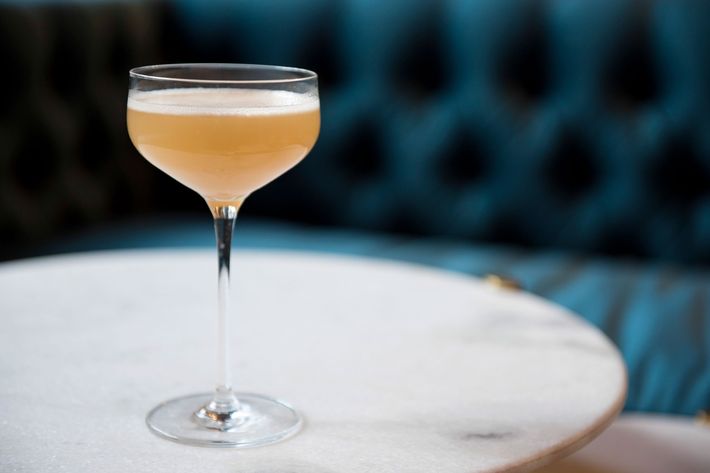 Legacy Records
517 W. 38th St., nr. Tenth Ave.; no phone; legacyrecordsnyc.com
Open: Dinner Tuesday to Saturday.
Prices: Appetizers, $7 to $25; entrées, $24 to $80.
Ideal Meal: Risotto for two, duck for two, meringata.
Note: Legacy Records is a no-tipping, "hospitality included" establishment.
Scratchpad: Half a star for the décor and another half for the best of the cooking, like the roast duck and that lovely risotto.
*This article appears in the May 28, 2018, issue of New York Magazine. Subscribe Now!