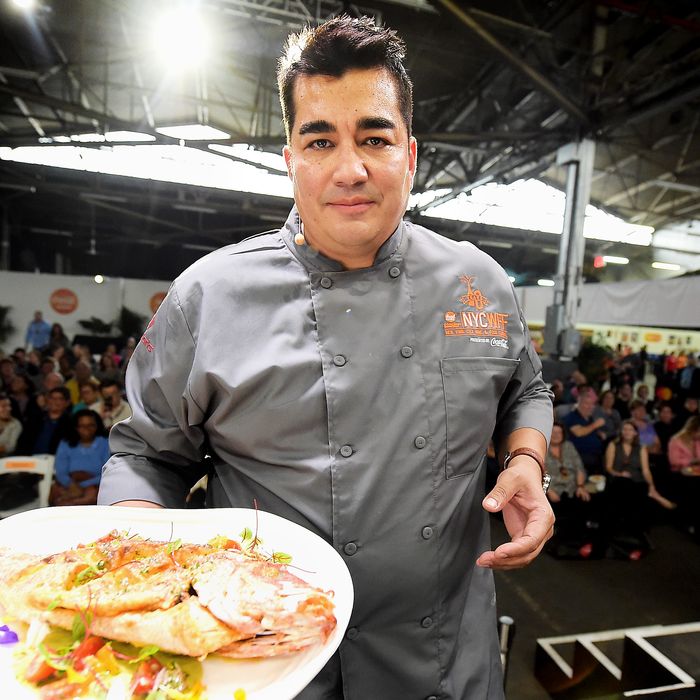 Garces's reps say that these investors "will clearly stop at nothing to impede our future."
Photo: Gustavo Caballero/Getty Images
Embattled celebrity chef Jose Garces can add a new lawsuit to the growing pile: His earliest investors — a group with a stake in his empire since Amada burst onto Philly's restaurant scene in 2005 — have now sued to kick him out of three of his original restaurants (Amada, Village Whiskey, and Tinto).
In the complaint filed Monday, a local food distributor and the Spinners, a wealthy couple whose chef son began his career under Garces, accuse him of squandering millions of dollars in cash and assets. Both claim that Garces — a chef who went on to achieve serious TV stardom and open 30 restaurants nationwide — assured them from the start that they were investing in a business "whose net profits would be distributed to investors without regard to Garces' other interests and whose assets would be insulated from Garces' personal, corporate, and other restaurant debts." They now say that they've lost tons of money, and that the word "bankruptcy" is now being tossed around thanks to Garces's mismanagement.
The lawsuit outlines several financial tactics: One is that the plaintiffs claim that Garces "deliberately and systematically breached" the agreements he signed "for his own benefit." Starting around 2011 (and maybe even before), he purportedly began conducting "routine, unauthorized cash sweeps." Elsewhere, they charge that Garces borrowed over $9 million to pay off old debts and expand his business empire further; mysteriously, nine months later, he'd allegedly withdrawn half of it and also maxed out a $500,000 credit card, yet reportedly justified shorting them their payments by arguing that he needed cash as "intra-company loans" — loans that carried no interest rate, they claim, and that Garces therefore made no payments on.
Back in January, after realizing that his "mismanagement was ongoing and would not stop," they also say they voted to remove him from his leadership roles at those three Philly restaurants. But according to the complaint, Garces simply ignored the vote.
A rep for the chef tells the Inquirer that the lawsuit's allegations are "false and erroneous." Last week, Garces himself told press that there's no doubt in his mind that these investors "were very aware that this company was operated as an enterprise," and that it's "illogical" for them to think they could somehow benefit from the restaurants "that do well, but not have to suffer any downside from the places that have failed."
Garces admits that things haven't gone swimmingly, but maintains that it's mostly just been bad luck — the result of suffering a quadruple business failure when Atlantic City's Revel Casino closed in 2014 (taking with it four of his most profitable restaurants), and also the "brutal monetary drain" of losing his New York spinoff of Amada earlier this year.