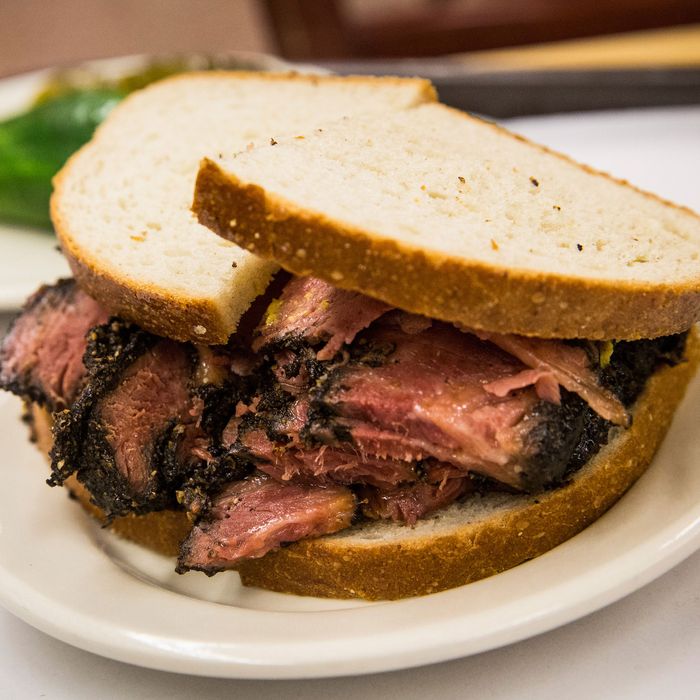 Photo: Andrew Burton/Getty Images
Leaving New York means leaving behind certain luxuries, like 24-hour bodegas, never having to own a car, and the world's best pastrami, some of which can be found at Katz's Delicatessen.
But those living out of state (or even out of the LES) can now sign up for Katz's new subscription service, launched yesterday to celebrate the deli's 130th anniversary.
Bloomberg reports that third-generation owner Jake Dell has been working for a while to figure out the logistics before finally landing on a plan that sends monthly packages to Katz's diehards wherever they may live. (The June package, for example, will feature one medium whole pastrami, one pound of sliced pastrami, a loaf of rye bread, one pound of mustard, a quart of new pickles, and a Katz's Deli T-shirt.)
The cheapest package starts at $150 for one month, climbing to $450 for a three-month subscription, $900 for six months, and so on until you reach $1,800 for one year of that juicy, slow-smoked pastrami. Each month is themed, with the July package focused on grilling, while the December package will feature all the fixings for a perfect Hanukkah get-together, including brisket, gefilte fish, mini-latkes, and full sour pickles.
For those who want to do it up even bigger, there will be a group of aptly named "Big Ticket" items, a wink to Katz's long-standing ticket system. On the lower end, there's a $995 Bronze Ticket package, featuring enough food for 50 people, while the $9,995 Platinum Ticket package will feature enough food for 150 people (100 pounds of pastrami, 30 pounds of corned beef, ten loaves of rye bread, etc.). Even better, Katz's will personally send two of its finest out to carve the pastrami and corned beef on-site for Platinum Ticket holders, while gifting these buyers a Golden Ticket that allows them to skip the deli line at Katz's for one year. And if that's not a good deal, we don't know what is.