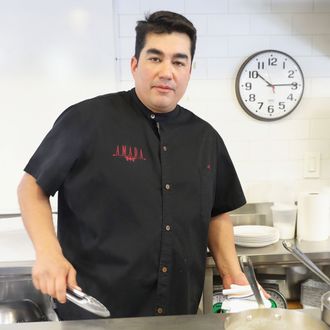 Graces says he's a "chef" and "visionary," not an "accountant" with "a master's in business."
Photo: Neilson Barnard/Getty Images for the New York Culinary Experience
It appears embattled Iron Chef and megarestaurateur Jose Garces has raised the white flag: The Philadelphia Inquirer reports that his Garces Group — a once 30-restaurant-strong empire now half that size that's caught in a swirl of investor lawsuits — will file for Chapter 11 to help it escape debt, then be sold for $5 million to a Louisiana-based hospitality company called Ballard Brands that mostly runs diners and coffee shops.
This is not likely the end that Garces imagined back in his prime, when he ran several dozen popular Latin, Spanish, and Japanese restaurants everywhere from Philly and Scottsdale to Chicago and Palm Springs. But his eatery count has since dwindled to 13 restaurants (he lost four in one fell swoop when Atlantic City's Revel Casino closed), and in the last eight months, he's faced at least seven lawsuits alleging business mismanagement.
Among the charges investors and food-service partners have leveled against the chef are that the Garces Group was "in substance and operation a Ponzi scheme," and that he owes as much as $848,000 to a single unpaid food distributor. Just a few days ago, investors filed yet another lawsuit seeking to remove Garces from Amada, Village Whiskey, and Tinto — the first three restaurants he ever opened as a chef. To justify their demand, they claim that he did things like secure a $9 million loan without anybody's knowledge, and ignored their request in January to step down.
The Inquirer adds that these investors are already preparing to file a court motion to block Garces Group from going into bankruptcy until they get paid. It also says in the actual Chapter 11 filing, Garces checked a box declaring he had "200 to 1,000 creditors."
In the meantime, it'll just be business "as usual" at his 13 restaurants, the paper reports. "Few, if any, reductions" are expected to the 750-person workforce once the sale goes through. Ballard Brands' portfolio includes such concepts as WOW Café American Grill & Wingery, PJ's Coffee, and the Original City Diner, which is apparently famous for making pizza-size pancakes. A Garces Group–wide employee meeting is reportedly scheduled for this morning to "boost confidence." The chef's reps say he'll "absolutely be very much involved" in the new company as a "full partner," though what that will look like in reality isn't immediately clear.