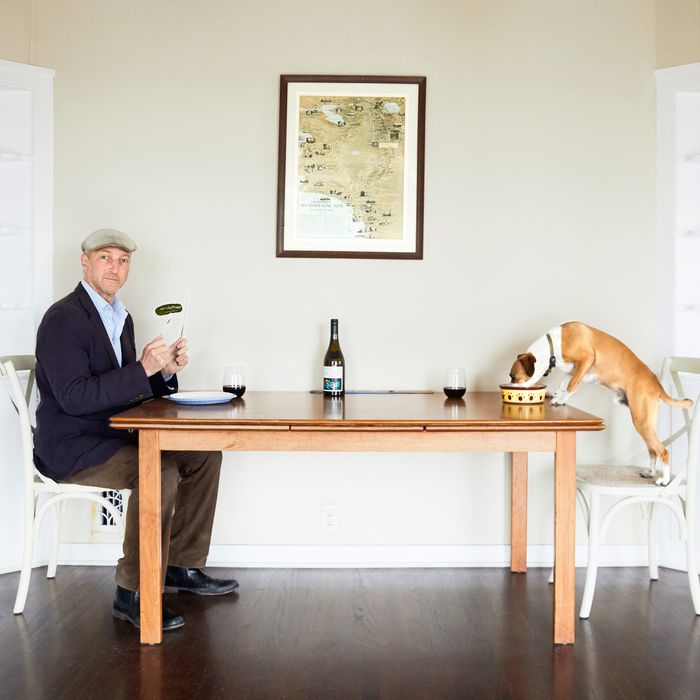 "As for what I eat, I would describe it as a 'carb-free, somewhat tormented Paleo, bourgeois bachelor,
Grey Gardens
' diet."
Photo: Yuri Hasegawa
Brooklynites continue to claim author and Bored to Death creator Jonathan Ames as one of their own, but in actuality, he moved to Los Angeles in 2014 to work on his Starz show, Blunt Talk. And then he just … stayed. Now anchored in the City of Angels by his lovable rescue Fezzik — whom he shares a very close relationship with — his days are spent working on the follow-up to his book You Were Never Really Here, which was recently adapted into a movie by Lynne Ramsay. This week, the former vegan snacked, wrote, and snacked again, contemplated the ramifications of plastic packaging, gave a shout-out to SoCal supermarket chain Gelson's, and enjoyed his L.A. lifestyle poolside. Read it all in this week's Grub Street Diet.
Thursday, April 26
1:08 a.m. I was told to start this diary of my ingestion on Thursday, the 26th of April. Following the instructions closely, I thought I should record what I consumed shortly after midnight on the day — night? Morning? — in question.
After a night of socializing at a local tavern, called fittingly enough the Hyperion Tavern, on Hyperion Avenue, I returned home rather hungry (at 1:08 a.m.). For once, there was food in my refrigerator. The day before, I had been shopping at the Gelson's Market, also on Hyperion Avenue. This is in Los Angeles, where I live. My arrondissement is known as Franklin Hills, and I rarely venture from its confines for food, or anything else for that matter. One way to avoid traffic in Los Angeles is to simply not go anywhere.
Anyway, I went shopping — on Wednesday the 25th — at Gelson's so that I would have some food in my house, which is a rare occurrence. I should shop more frequently, but my problem is that I put it off, even if I'm starving. I once had a character in one of my TV shows say something like: "I don't procrastinate! I just like to do things later."
Well, that's my problem. I always try to do things later. But it's not a healthy way to be. I forever feel like the student who's not done his homework, so I exist in a perpetual state of anxiety and dread, constantly anticipating punishment. Unfortunately, this is a way of life for me that actually predates the horrors of the current Trump dystopia. In fact, I've been upset since the Carter administration.
All this to say that at 1:08 a.m., on April 26, eager to plunder my supplies from Gelson's, I made a late meal for myself, and it consisted of a single Gelson's mini–vegetable quiche (crustless), Gelson's tuna with herbs placed lovingly on Edwards & Sons organic brown-rice crackers, Gelson's grilled baby artichokes in lemon aïoli, and Gelson's artichoke, fennel, and frisée salad with prosciutto. (All of these prepared items came from the excellent deli department at Gelson's; the placing of the tuna on the crackers, I did myself!)
For dessert, I found a piece of old chocolate in the cupboard and put that in my mouth with three Smarty Pants Adult Complete Fiber Gummies, which I love, and three Smarty Pants Men's Mo Complete Gummies, which I also love. I'm not a big sweets person, but I so look forward to my gummies at the end of each day. This night, feeling needy and decadent, I added the small square of chocolate to my vitamins, which I had never done before.
9:37 a.m. I made a single cup — I use one of those one-cup plastic filters — of Red Wagon Organic coffee, and I had a handful of organic blueberries, consumed over the sink, after rinsing. That's how I always eat blueberries. A lot of my intake of food is rather primitive. There was a time in my life when I would eat a fistful of blueberries — this was my breakfast — and then eat two or three herrings (in wine sauce) from a jar. I thought of myself as following a bearlike diet. First, like a bear, I grab some berries from a bush, and then I swipe my paw in a stream and come up with a salmon, and in my case a herring, but equally rich in omega-3 and those other essential fatty acids, though I can't tell you for the life of me what a fatty acid is or what omega-3 is.
9:46 a.m. I gave my dog, Fezzik, a handsome Chihuahua-and-cocker-spaniel mix, a cup of his salmon-and-trout dry dog food, which is made by a company called Zignature. I figure I should keep track of his intake as well, seeing how we are awfully close and are kind of like lovers. Minus any bestiality. Just a lot of affection and camaraderie and private baby talk.
11:30 a.m. I had a Gelson's crab cake and another Gelson's crustless mini-quiche. I should mention that as a writer, I work at home, which means I nap several times a day, look at my thousand or more unanswered e-mails, and, well, uh, that's about it.
As for what I eat, I would describe it as a "carb-free, somewhat tormented Paleo, bourgeois bachelor, Grey Gardens" diet.
1:58 p.m. Had a fruit called a tangelo, and it was quite delicious.
One thing that upsets me about shopping — and life in general — is the horrific amount of plastic packaging that is used, like the half-dozen tangelos I purchased, which came in a plastic bag with a handle. Recently, I saw a trailer for a documentary about this issue: For a month, the documentarian, an Australian woman, attached to her body all of the packaging waste that she came into contact with on a daily basis. By the end of the month, she was a gigantic ball of garbage. I think of this constantly.
2:45 p.m. For my lunch, I had half a slice of Monterey Jack cheese (manufactured by Applegate Organics and wrapped in plastic), a quarter of Gelson's breaded chicken cutlet (from a plastic container), Gelson's frisée salad (from a plastic container), a Manhattan whole kosher pickle from Sonoma Brinery (from a plastic jar), and two bites of Gelson's already-cooked poached salmon (from a plastic container). I ate this outside at my picnic table, reading the L.A. Times sports section, while Fezzik rooted about in the dirt, unburying and then reburying bones to keep himself busy.
5:06 p.m. Had another delicious tangelo and wished that it didn't have to come in a plastic bag.
6:25 p.m. To help me write, I had a slice of cheese and some popcorn and a cup of coffee.
6:47 p.m. Fezzik had a second cup of his dry food.
7:40 p.m. To help me write, I had Gelson's guacamole on the brown-rice crackers, some tuna fish on the crackers, and another half a slice of cheese.
8:41 p.m. I had some salted almonds.
9:19 p.m. I put some olive oil in a pan and fried up the rest of the breaded chicken cutlet. I put that on a plate with two pickles and the remains of the artichoke salad, and watched on television the third film in the Lord of the Rings trilogy.
10:48 p.m. Had another tangelo, and realized that on day one, I had already gone through almost all of the food I'd bought at Gelson's, which was supposed to last me at least a week.
Friday, April 27
9:03 a.m. Cup of coffee, handful of blueberries, and one Dole organic banana. I induced Fezzik to come outside and urinate by offering him two dog cookies from a company called Organix.
9:38 p.m. Gave Fezzik a cup of his dry food.
10:14 p.m. Had two slices of the organic cheese, before going to the dojo near my house for a jujitsu class.
2:06 p.m. Was starving and had a pickle before walking Fezzik.
2:17 p.m. The phone rang and I didn't walk Fezzik, so I ate some salted almonds and then walked Fezzik.
2:45 p.m. Cooked up the Gelson's poached salmon with olive oil in my frying pan, and then put together a plate of egg salad, tuna salad, guacamole, frisée salad, Mary's Crackers, and the salmon, and ate outside at my picnic table, and read the L.A. Times sports pages.
4:44 p.m. Woke up cranky from a nap and had a tangelo.
6:15 p.m. Had a cup of coffee, and gave Fezzik a mix of his dry dog food and half a can of his Zignature wet food, which is also a salmon-and-trout mix and smells terrible, but he loves it.
Every time I open a can of it, I think of the TV show The Walking Dead, which I used to watch a few years ago. One thing that didn't feel real in that show, besides the zombies, was that they all should have been emaciated and starving — there just wasn't enough canned food to go around, and they weren't very good farmers or hunters.
But I always imagine that if I were living in such a time that I would probably be happy to eat Fezzik's wet dog food, should I have come across it. But then I wonder if it would make a human being ill. And then I think about all the slaughtered trout and salmon in all the thousands of cans of Zignature dog food. And then I think of all the slaughtered animals everywhere, feeding the ever-burgeoning and increasingly insane human population. Like with plastic packaging, it's all so horrific. For the most part, other than Gelson's chicken cutlet, once in a while, and some salmon, once in a while, and some tuna fish, once in a while, and some meat, once in a while, I try not to eat animals. Except I do all the time! I hate myself!
10:07 p.m. Went with a friend to a nearby restaurant called Bowery Bungalow on Santa Monica Boulevard. It's a lovely place with a sort of postmodern take on Middle Eastern food.
We shared several vegetable dishes: the mini meze, which came with sumac-dusted radish, French Feta, and za'atar, spiced aubergine, and hummus. We also ordered the baba ghannouj, and that was accompanied by roasted shishito peppers. In addition to that, we had the roasted beets, which was paired with French Feta, hazelnuts, and sumac. Our final dish was fried cauliflower with toasted Egyptian dukkah, tahini, and cilantro.
We ate about half of what we ordered and I took the rest home, which is something I often do: order too much so that I can take home leftovers, which is a way to avoid shopping.
Saturday, April 28
11:09 a.m. Had breakfast at one of my usual breakfast haunts — the Mustard Seed diner, on Hillhurst Avenue. I sat outside and ordered the Greek scramble, which comes with Feta, spinach, and eggs. I was reading the L.A. Times and saw a headline that I think read as follows: Janelle Monáe Comes Out As Pansexual, Releases New Album. I had never heard of Janelle Monáe, but I thought the headline was savvy marketing.
For years I've wanted a character in something I write to say the following line: "I'm Peter Pan–sexual. I've tried everything and I refuse to grow up."
1:47 p.m. Some friends came over for a small pool party at my house and brought food. I ate two pieces of grilled chicken, which had been slathered with cinnamon, oregano, cumin, and salt. The chicken was quite tasty and had been purchased raw at the Whole Foods Market. My friend, who had done all the cooking, also brought grilled vegetables — zucchini, onions, and eggplant. All of which I consumed, and which had been seasoned with olive oil and salt. She also made what she called "Paleo Gluten-Free Bread," which was absolutely delicious. The ingredients were egg whites, coconut flour, ground flaxseed, fresh rosemary, salt, and pepper.
6:35 p.m. Had a bite of the leftover chicken my friend made, and gave some to Fezzik, who also had half a cup of his dry food.
7:33 p.m. Had a cold-brew coffee before giving a reading at the Last Bookstore in downtown L.A., which was hosted by the fabulous Bushwick Book Club. I read from my new book, You Were Never Really Here.
12:05 a.m. Came back from the reading and the post-reading socializing and ate all the leftovers from the Bowery Bungalow. There was also some chicken left, which Fezzik and I shared.
Sunday, April 29
9:09 a.m. Fezzik had half a can of his wet dog food, and I had blueberries and coffee.
10:45 a.m. Had egg salad and brown-rice crackers and watched the Cleveland Cavaliers defeat the Indiana Pacers.
5:15 p.m. Took my parents to see the film of my book — they hadn't seen it yet — and then we went out to dinner at a Lebanese-Armenian restaurant called Mantee Café, in Studio City.
My parents, who wore special hearing devices, enjoyed the film, and I was glad. At Mantee, I ate hummus, fattoush salad, falafel, and kofta kebab. And all of it was spectacular.
Monday, April 30
8:35 a.m. Had coffee and added coconut oil, which my sensei at the dojo suggested. It tasted good. He said the fat in oil is good for the brain and wakes it up in a genuine fashion, unlike the false waking up of the coffee. Something like that. Also, I had blueberries, and Fezzik had half a can of his wet food.
10:20 a.m. Did a photo shoot for this diary, during which time I consumed two Sonoma Brinery pickles.
12:55 p.m. Ate at a new, very charming spot on Hillhurst Avenue, which I've gone to a few times now. It's called All Time, and I had what is known as "The Good Ass Garden Salad," with two poached eggs on top. The salad had numerous ingredients, and I spoke to one of the owners of the restaurant, Ashley Ragovin, to determine what was in the salad. She informed me that it contained various lettuces (spigarello, gem, and red-frill frisée), radicchio, toasted pumpkin seeds, sun-gold tomatoes, and strawberries. It was seasoned with a lemon vinaigrette, and like everything at this restaurant, it was superb. Ms. Ragovin went on to tell me that they get all of their ingredients from the local farmers' markets, and that their goal is to present "California backyard food."
9:03 p.m. Went with a friend to Pine & Crane, a stunning Chinese restaurant in the neighborhood on Sunset Boulevard. The owners of Pine & Crane have their own farm, which provides its vegetables and meat. We ordered pea shoots, Chinese cabbage, steamed pork dumplings, three-cup Jidori chicken, dan dan noodles, and twice-cooked pork. I over-ordered so as to have leftovers for Tuesday.
Tuesday, May 1
7:47 a.m. Had coffee, blueberries, and Fezzik had half a can of wet food.
10:47 a.m. Had breakfast at the Beachwood Café on North Beachwood Drive. I ordered the Dell, which contains quinoa, brown rice, spinach, fingerling potatoes, nopales, tomatillo, and pico de gallo salsa. On top of that I had three fried eggs.
5:05 p.m. I heated up the leftover three-cup Jidori chicken from Pine & Crane and watched the Cavaliers game against the Toronto Raptors.
6:07 p.m. Fezzik had the second half of his can of wet food.
11:09 p.m. Had my usual complement of Smarty Pants Gummies.
And so this diary comes to an end. That's what Fezzik and I ate for the last five days. I imagine some people will find it disturbing. I know I do.