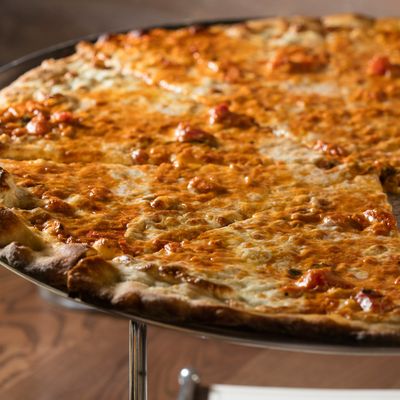 Joe & Pat's famous Vodka pie.
Photo: Melissa Hom
Unless you're a member of the pizza cognoscenti or grew up on Staten Island, you've probably never been to Joe & Pat's in Castleton Corners, one of the most popular parlors in a borough exceedingly proud of its homegrown pies. When its name comes up in conversation (or pizza debates), it's usually uttered in the same breath as rival Denino's, and island natives tend to be staunchly loyal to one or the other. But now that both businesses have spawned outposts in downtown Manhattan, forming your own opinion on their relative merits no longer requires a ride on the ferry.
The new Joe & Pat's just opened in the former East Village home of Lanza's, and has preserved not only its predecessor's stained-glass signage and dark-toned, Italian-themed murals but its old-world, red-sauce appeal. The walls are an ocher shade of Venetian plaster, the floor a brownish-gold poured concrete. All in all, the place oozes a sepia-toned charm that should warm the cockles of EV Grieve's and Jeremiah's Vanishing New York's hearts.
There is a full bar and a full menu of Italian-American staples: beef braciole, scungilli marinara, pasta fagioli. You can have your fried calamari with sweet, hot, or Buffalo sauce, and at lunchtime, a steak hero with sautéed onions and American cheese. But the name of the game is pizza, a textbook example of a style defined by its thinness, flatness, airlessness, and near brittleness — a cracker-crunch rebuke to Neapolitan's floppy doughiness and, say, Roman pizza al taglio's feathery crumb. This texture is achieved, according to partner Casey Pappalardo (nephew of the eponymous Giuseppe and Pasquale, or Joe and Pat), by a method of deep-tissue dough massage ("not stretching," he emphasizes) so arduous, it takes at least six months to master.
At the new East Village location, pies come in 10-inch individual or 16-inch sizes, with toppings like white clam and shrimp scampi. But here, as at Castleton Corners HQ, the biggest draws are likely to be the 1960 Original, named for the year of the restaurant's birth and simply adorned with a bright, sweet tomato sauce and carefully distributed splotches of mozzarella cheese, and the Vodka, which is creamier and tangier, the cheese cooked into the orange sauce.
These pies are baked in a J&P signature Fish-brand, revolving-floor gas oven behind walls plastered with old family photos depicting several generations of the Pappalardo clan throughout the decades tossing and saucing the dough. (The family has its fingers in many pies, with various factions independently owning, in addition to the original Joe & Pat's, Staten Island's Ciro's Pizza Cafe, Pier 76, and Molo, and Rubirosa in Nolita.) The new Manhattan location is a partnership among Casey, his father, Ciro, and his uncles Gennaro and John, and it feels very much like a family operation. When ordering wine, Casey came across a red from the commune in Naples where his father was born and now serves it by the glass, a link to a time and place that preceded the Pappalardos' lasting impact on New York City and its pizza traditions.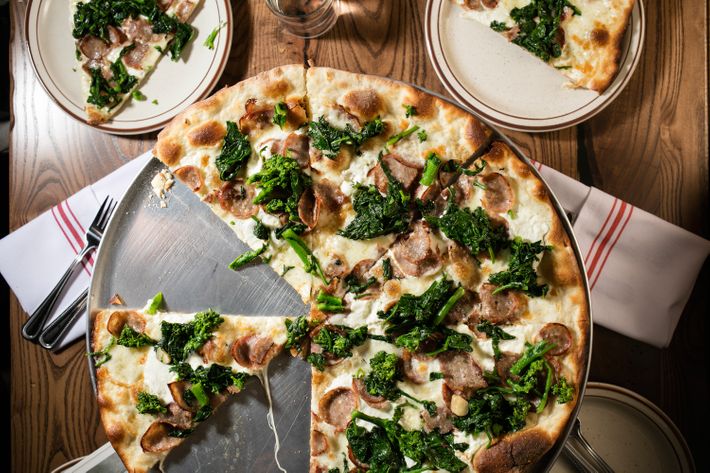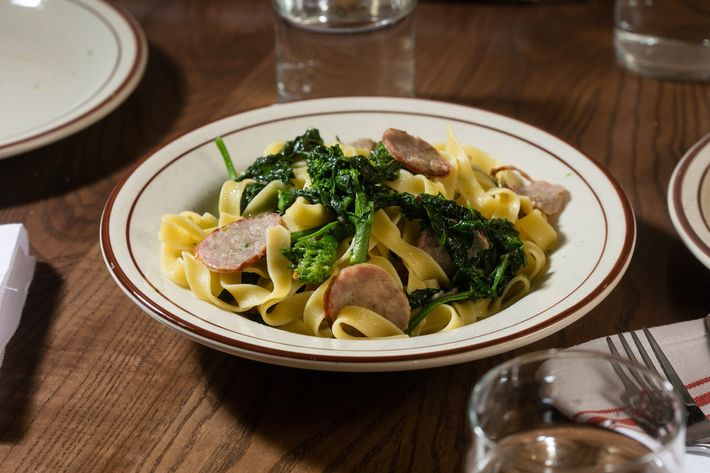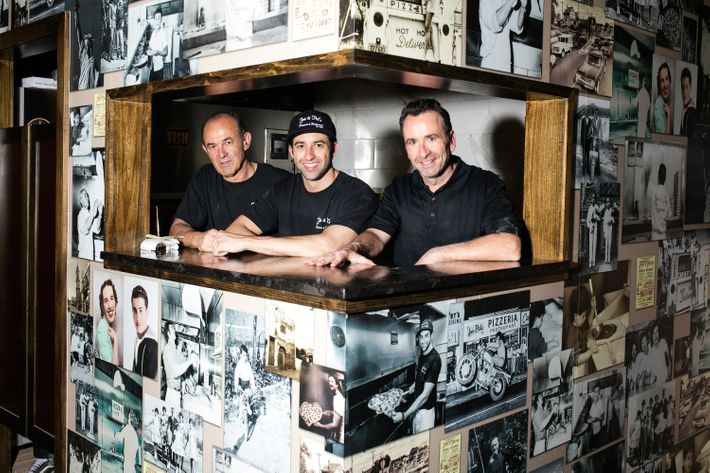 168 First Ave., nr. 10th St.; 212-677-4992