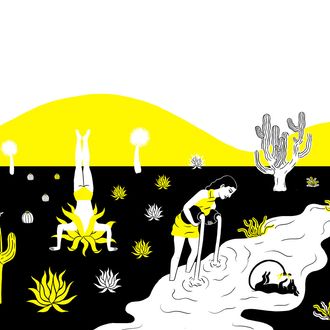 Scroll down to see details from the landscape.
Illustration: Rachel Levit
If you've dropped by Atla, the stylish brainchild of Enrique Olveras, Daniela Soto-Innes, and chef de cuisine Hugo Vera, you've definitely noticed the illustrations of Mexican artist Rachel Levit Ruiz prominently displayed on everything from the restaurant's menus and business cards to its bathroom walls and website. The images stand out for their combination of traditional Mexican symbols with Levit Ruiz's off-kilter style: Think blank-eyed maidens, figures with tiger heads, figures with no heads at all. "My characters are often depicted in ambiguous natural surroundings," she says. "The tension between familiar and surreal landscapes provokes unexpected emotions."And as it turns out, the images aren't just there to entice diners; they're part of a much larger landscape, which you can see above, from which Levit Ruiz plans to release new parts this summer. Grub spoke with Ruiz about the genesis of the project, and how she hopes her work will bridge the gap between Mexican culture and what we think is Mexican culture.
You lived in New York, but recently returned to Mexico City. Why was it the right time for the move?
I moved to New York for school, for college, and then I stayed for like three years after, so seven years total. Finally, I moved back last summer. My visa ended and I didn't want to renew it. And, after seven years, the honeymoon was over, so I needed to go back near my family. I can do the same thing because I work via email, but in a more chill place.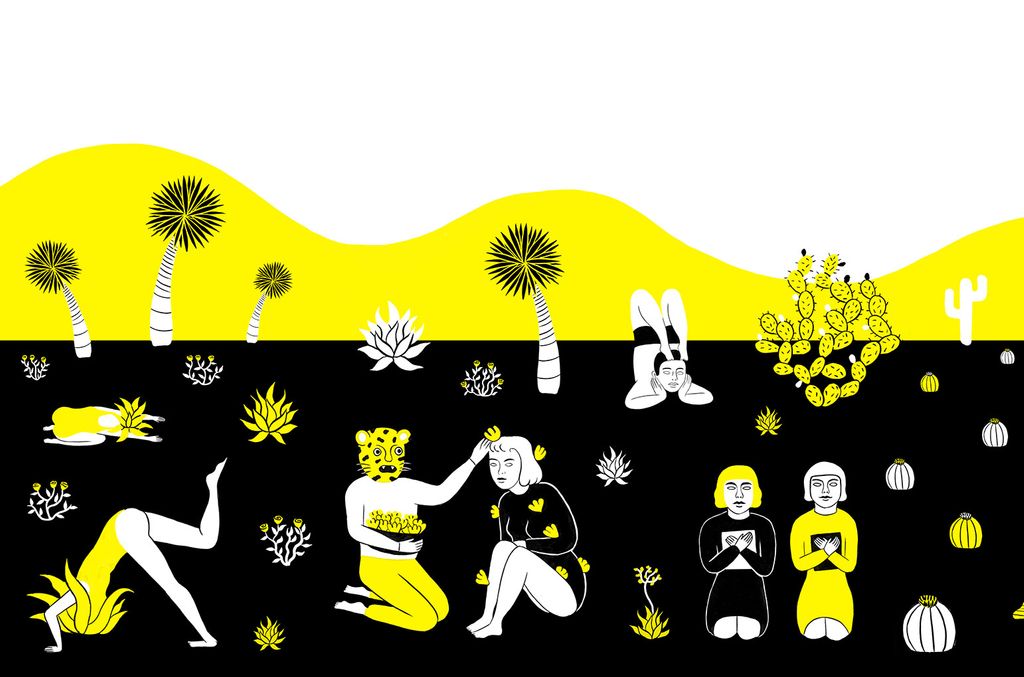 Your artwork is this wonderful combination of creepy and beautiful, with a touch of magical realism. How did you develop your style?
I thought I was going to go into fine art, so I moved to New York because I thought it was like the ultimate place to be. I ended up in illustration because I got a little scared of fine arts and just, like, the politics and all the conceptual things. I was more interested in traditional painting.
So, I ended up in illustration, and I just perfected the style I always had. It's something that I can't explain. It's just how my hands move. I went to Parsons in New York. It was a very ambitious culture and very unfriendly, but I had great professors. It was really easy to connect, like all of a sudden you can work for the New York Times, and it's not as big of a deal as it might seem if you're outside of New York.
Even though you're back in Mexico City, how did New York City influence you and your work?
I think it's necessary to leave the place where you're born to absolutely understand this, and understand the world better, and I think it just changes your worldview. Especially New York. I needed this perspective of the world that was more global and made me understand where I came from, and it made me, I don't know — I think it made me more confident in my work and just made me grow up faster.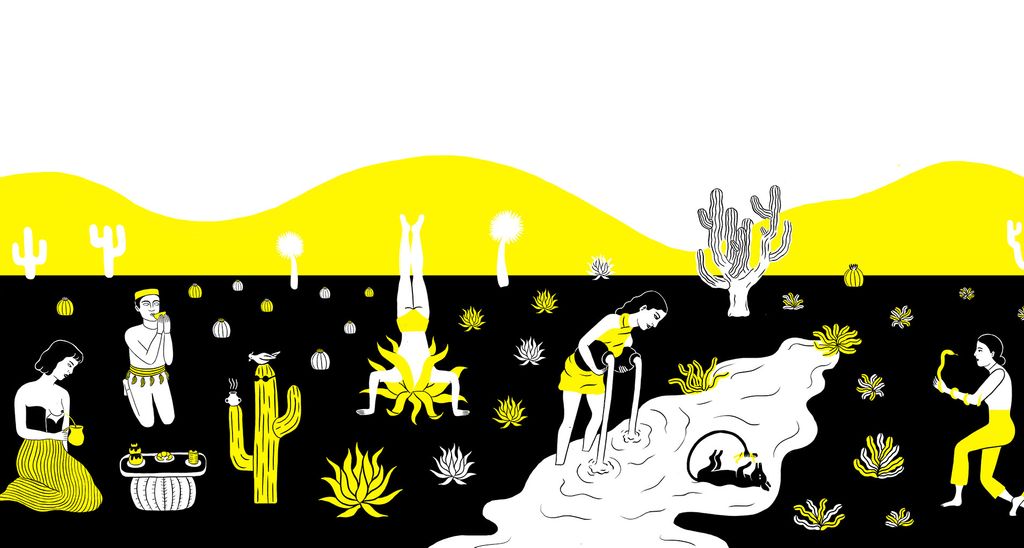 Your work has appeared in the Times, The New Yorker, the Smudge, and other editorial publications. How did you connect with the team at Atla?
Throughout all of my years in New York, I kept coming back home to Mexico City for pretty much every holiday. I always kept in touch with my friends here because they were doing very interesting things. One time I came and I decided to do a little zine with my friends; it was very Mexican-inspired because I had been just visiting with some American friends, showing them the pyramids and all the folklore. So, I made this personal project that was black, white, and yellow with all these characters, and I printed it here and I gave it to my friends. One of my friends, Carmen Cantú, was working on the design of Atla, and she basically asked if she could use some of those characters and illustrations based off that personal project, and that's how it started. It was very special because it was very organic, as opposed to commissioning something out of nowhere.
When you were designing the work for Atla, what kind of message did you want to convey to diners at the restaurant?
I mean, I grew up with all these designs of lucha libre and all of these cultures of Mexico, which was the norm, and, you know, people come here and then they get obsessed about Frida Kahlo, and they exploit it and it's very one-dimensional. I wanted to do something more unexpected and new, but also keep it very Mexican — just in a new way, and without being too obvious. So, that was my idea, and it's always something I think about because I think the clichés are very boring and they don't think about real Mexico, especially in New York, where I don't think there's a lot of Mexican food culture or even Mexican culture in general.
I noticed that when I was in school, like, people are a little ignorant about what's happening here, so maybe unconsciously that was it. And with Enrique, it's a good fit because he's very forward-thinking and takes from tradition, but is not close-minded. He is very open-minded to everything. And that's why he liked those drawings and it made sense.
Speaking of Frida, I've noticed that your art for Atla is very female-centric, but not in a way that's necessarily sexy or erotic. What inspired that aspect of your work?
In Mexico, we're overusing symbols like Frida and Iztaccihuatl, the mountain that looks like a woman. I just think we needed new symbols that were different and not easy to digest, very good-looking, or sexy, like you said. And I always tried to do that, find other more interesting ways to represent these things.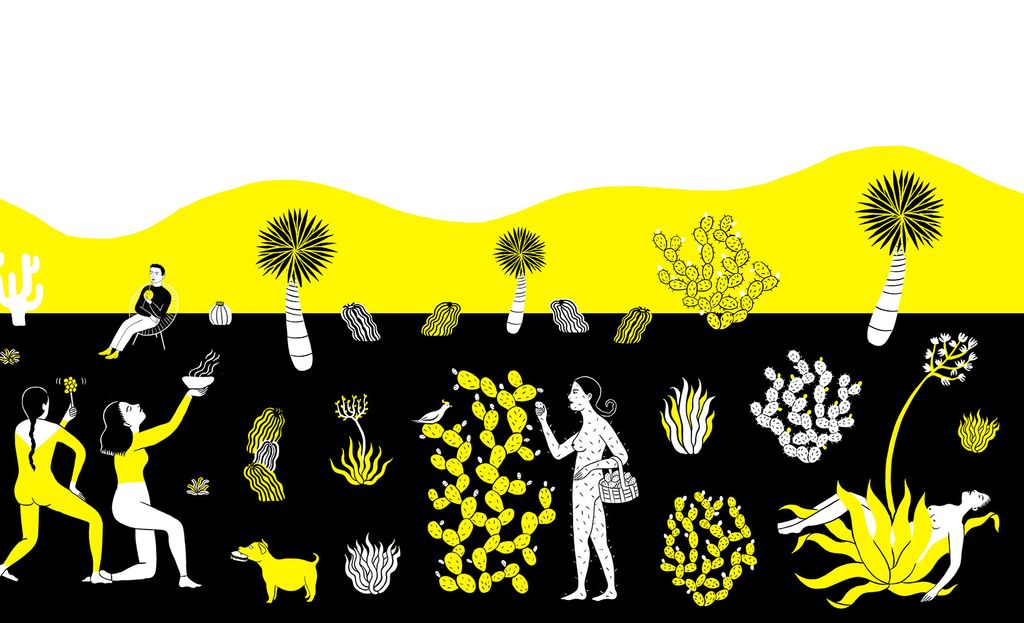 What are you working on at the moment?
I'm working on a possible big-scale mural in collaboration with a brand and another illustrator, which I hope happens in Mexico City because I'm trying to get more into physical spaces and big murals. And I'm working on a personal series because I've had the time to work for myself and that's usually what brings the coolest projects, like Atla. And I just had a meeting with my friend and we're going to do just a whole other round at Atla this summer. The drawings that I did for Atla are part of this landscape where these characters actually live. Then there's this whole story, and this whole world, and you can see parts of it, but the next round of designs that I will do will finally just land the story. So, this is just the beginning.