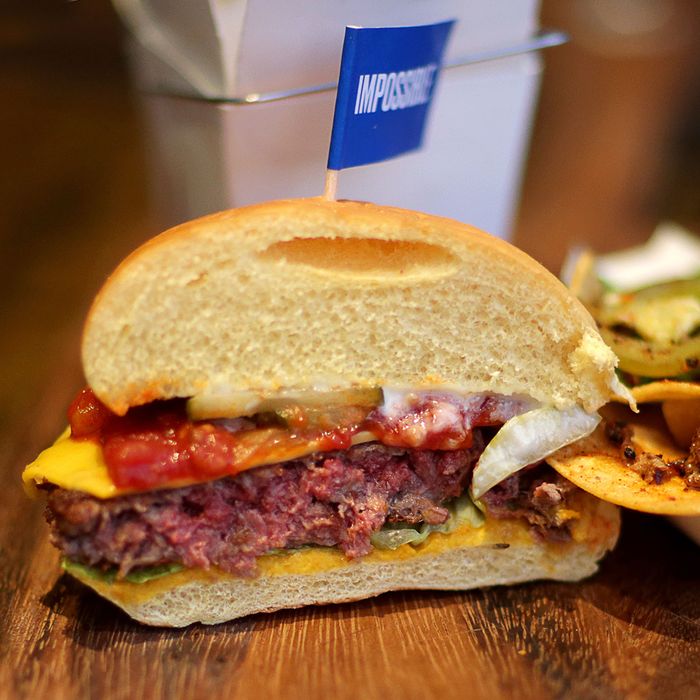 Shalom, veggie burger.
Photo: Jonathan Wiggs/Boston Globe via Getty Images
Silicon Valley food tech rests for no one, and that, in some ways, is the biggest hurdle facing cutting-edge start-ups like Memphis Meats and Impossible Foods. The FDA has already warned more research into the safety of high-tech veggie burgers is necessary (it's unsure about leghemoglobin, the legume protein that makes them "bleed"). But there's another set of strict regulators these companies have to satisfy: the groups that certify these groundbreaking foods meet different religious diets, and in this one area at least, the meat-substitute industry has scored a new victory.
The Orthodox Union, the Jewish organization that operates the largest kosher-certification agency, has given the Impossible Burger its official nod of approval. The group's database comprises more than 800,000 kosher-certified foods worldwide (you've almost certainly seen its hechsher symbol on jars and packages — it's that U with the circle around it). And now, that list includes the start-up's plant burgers.
Granted, it wasn't a controversial addition; the Impossible Burger is already vegan, so a good number of Jewish dietary rules (like the ones for slaughtering meat, or mixing meat and dairy) didn't apply. But Impossible's certification is still a watershed in the sense that it's another inroads for the beef-killer. "Getting kosher certification is an important milestone," CEO Patrick Brown says in a statement. "We want the Impossible Burger to be ubiquitous, and that means it must be affordable and accessible to everyone — including people who have food restrictions for religious reasons."
People who keep kosher have of course had veggie-burger options available for years, but Impossible Food's version — currently available in 1,500 restaurants, but a mystery to observant Jews up till now — right now is the one sucking up all the air in the room. The company adds that it also expects to receive halal certification later this year.