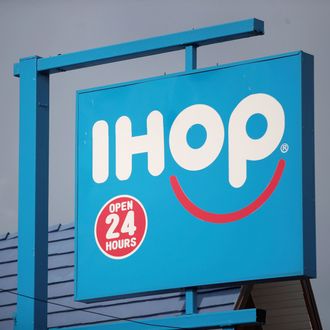 The customer's mother says it's left her "distraught and upset."
Photo: Scott Olson/Getty Images
A young black woman in Kansas City says she got a to-go order last month from her local IHOP, and discovered that staff had made use of the receipt's check-name feature. Maya Thomas collected her food without incident; only later, after leaving, did she notice what was written on her bill. "Printed squarely near the top," says the Kansas City Star, was "the N-word in capital letters."
Thomas reportedly called IHOP to complain. The chain connected her to a "senior-level manager," who told Thomas that the server in question's actions were "in direct violation of their policy," and apologized for what she'd had to deal with. A few days later, a letter arrived from IHOP. It contained one $10 gift certificate.
In case you're wondering, the gift certificate was worth less than even an IHOP pancake combo. "That's really what made her mad," her mom tells the Star. "Of all the things you could call someone, you call them that. And then the way you deal with it is by giving them ten dollars?"
IHOP adds that this server in question was black as well, just, you know, as an FYI. In any event, the chain's president, Darren Rebelez, issued a written statement calling the action taken by the server "inexcusable," and says that "IHOP and its franchisees do not and will not tolerate racism, bigotry, or harassment of any kind." The server has, of course, also been fired, although Thomas's mom tells the Star that's news to them, and they only heard because the paper's reporter contacted them.