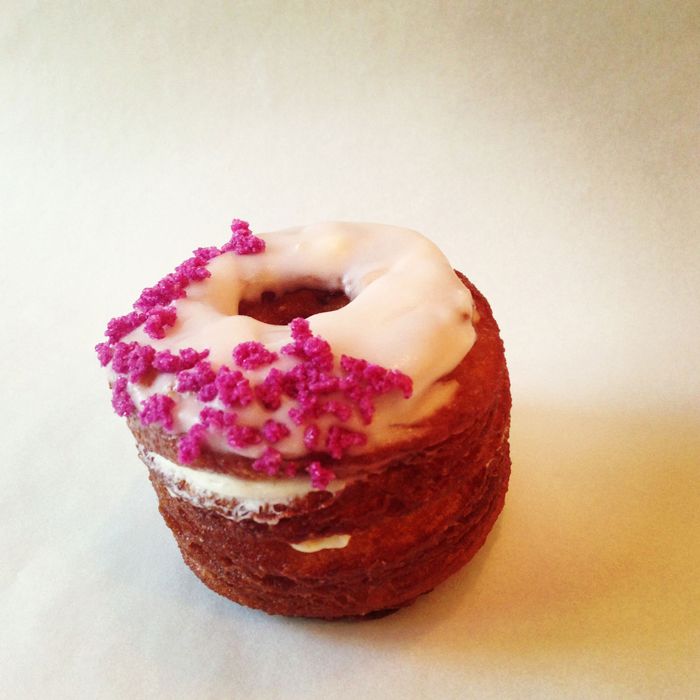 The first known photo of a Cronut in the wild.
Photo: Dominique Ansel Bakery
This week, the Cronut turned five years old. It seems so long ago, doesn't it? We were all so innocent then, and when Dominique Ansel's pastry hybrid hit the scene, everyone wanted to see it. Really, everyone. Hundreds of people lined up at Dominique Ansel Bakery, black markets and line sitters emerged. Ansel knew that together he and his Franken-pastry would do great things (he even trademarked it) — and that life would never be the same. The Cronut would prove to be the foundation for Ansel's ever-growing empire of restaurants, but unlike Dr. Frankenstein, Ansel has maintained control over his creation, and the bakeries will celebrate the anniversary tomorrow, when they offer free Cronut holes (in each city's original flavor) randomly throughout the day at every location. Naturally, these will also be available for purchase.
Even if it seems hokey now, the invention of the Cronut was a genuinely cool moment in pastry innovation: possible only because Ansel figured out how to properly fry laminated dough, something others had failed to master. When Grub introduced the world to the pastry the day before its debut, people bugged out. Little did we know that, five years later, we'd have to ask ourselves: Did Ansel release a Pandora's box of stunt pastries and crazy shakes, or was this inevitable with the rise of Instagram and other social media? Everyone and their cousin tried to cash in with a viral dish, from straight Cronut ripoffs to cruffins to transparent Jell-o shaped like a raindrop to — whatever, just name any two foods you can awkwardly mash together.
Since inventing the pastry, Ansel has not rested on his fried laminated dough. Every month, he's debuted a different flavor, branching out from more straightforward ones early on, like coconut, to more complicated ones, like this month's Strawberry Fior di Latte with Cocoa Nib Sugar. Here, every last Cronut flavor.
New York
May 2013: Rose Vanilla
June: Lemon Maple
July: Blackberry Lime
August: Coconut
September: Fig Mascarpone
October: Apple Crème Fraîche
November: Salted Dulce de Leche
December: Valrhona Chocolate Champagne
January 2014: Peanut Butter Rum Caramel
February: Raspberry Lychee
March: Milk & Honey With Lavender
April: Passion Fruit Caramelia
May: Blueberry Lemon Verbena
June: Strawberry Balsamic With Mascarpone
July: Morello Cherry With Toasted Almond Cream
August: Yellow Peach Black Tea
September: Bosc Pear and Sage
October: Pumpkin Chai
November: Caribbean Rum Raisin
December: Valrhona Dark Chocolate Raspberry Chambord
January 2015: Caramelized Malt Valrhona Milk Chocolate With Maldon Sea Salt
February: Cherry Blossom Sour Cherry
March: Matcha Golden Pineapple
April: Strawberry Rhubarb With Thyme
May: Sweet Clementine Ricotta
June: Key Lime Young Coconut
July: Rum Caramel Banana Brownie
August: Peach Bourbon
September: Bergamot Earl Grey
October: Horchata Caramel
November: Toffee Coffee
December: Gingerbread Pear
January 2016: Gianduja Blood Orange
February: Milk Chocolate Cassis
March: Raspberry Coconut
April: Burnt Vanilla Smoked Caramel
May: Brown Sugar Rhubarb With Lemon Thyme Sugar
June: Blueberry Elderflower Lime Sugar
July: Apricot Toasted Almond
August: Black Cherry Valrhona Milk Chocolate
September: Pear Honey Cream Cheese
October: Banoffe: Caramelized Banana With Dulce de Leche
November: Roasted Pecan Maple Caramel
December: White Chocolate Peppermint With Cherry
January 2017: Golden Honey Vanilla
February: Lychee Rose Pistachio
March: Blackberry Brown Sugar Toffee
April: Blood Orange Almond
May: Raspberry Earl Gray
June: Strawberry Lemon Verbana
July: Mirabelle Plum and Brown Sugar
August: Pineapple With Basil Chocolate Ganache and Lime Sugar
September: Fig Caramelia With Orange Sugar
October: Pumpkin Cranberry With Nutmeg Sugar
November: Banana Hazelnut With Hazelnut Sugar
December: Eggnog Caramel With Nutmeg Sugar
January 2018: Pear Chamomile With Lemon Zest Sugar
February: Raspberry Sugar Cookie With Vietnamese Cinnamon Sugar
March: Blackberry Buttermilk With Lime Zest Sugar
April: Rhubarb Rose Mascarpone With Raspberry Sugar
May: Strawberry Fior di Latte With Cocoa Nib Sugar
Tokyo
July 2015: Pineapple Jam, Sudachi Citrus Ganache With Okinawa Smoked Salt
August: Raspberry Shisho With Gianduja
September: Kona Coffee Ganache and Young Coconut Jam With Espresso Sugar
October: Sweet Potato Crème Fraîche With Spiced Maple Sugar
With Sake Lees Ganache
December: Strawberry Jam With Chocolate Champagne Ganache and Anise Sugar
January 2016: Milk Tea Chestnut With Orange Zest Sugar
February: Strawberry Red Bean With Kokuto Sugar
March: Honey Almond With Salted Sugar and Salted Sakura Blossom
April: Okinawa Pineapple Milk Chocolate With Ume (Sour Plum) Sugar
May: Matcha Cherry With Black Sugar
June: Passion Fruit Lavender
July: Pêche de Vigne Jasmine White Chocolate With Lemon Sugar
August: Mango Rose With Lemon Sugar
September: Kyoho Grape Mint White Chocolate With Lemon Sugar
October: Pear Caramel Flan With Cinnamon Sugar
November: Mandarin Hazelnut With Orange Sugar
December: Strawberry Chocolate Elderflower With Mint Sugar
January 2017: Honey Yogurt Lime With Lime Sugar
February: Rose Guava With Rose Sugar
March: Sakura Milk Chocolate Rooibos
April: Violet Lychee Jam With Lemon Sugar
May: White Chocolate Pistachio Apricot With Vanilla Sugar
June: White Chocolate Coconut Cherry
July: Hyuganatsu Honey With Lime Sugar
August: Apricot Caramel With Lemon Sugar
September: Honeydew Coconut With Lime Sugar
October: White Sesame Coffee Caramel With Ginger Sugar
November: White Chocolate Chestnut Rose With Rose Sugar
December: Green Tea Strawberry With Tea Sugar
January 2018: Kumquat and Wasanbon Sugar Ganache
February: Black Sesame Ganache, Cherry Jam, Toasted Black Sesame Sugar
March: Pomegranate and Kokuto Sugar
April: White Peach and Lavender
May: Amanatsu Orange and Pistachio
London
October 2016: Salted Butterscotch With Cocoa Nib
November: Sour Cherry White Almond
December: Gianduja English Rose
January 2017: Lemon Chamomile Vanilla Mascarpone
February: Raspberry Orange Blossom
March: Tea English Rhubarb Brown Sugar
April: Mandarin Orange With Valrhona Jivara Milk Chocolate
May: Blush Peach With Elderflower
June: Guava Toasted Honey With Lime Sugar
July: Strawberry With Lavender Clotted Cream
August: Raspberry White Peach
September: Caramelia Pear
October: Banana and Toasted Oat
November: Quince Jam With Crème Brulée Ganache
December: Roasted Plum Jam With Egg Nog Ganach
January 2018: Banana Dulcey With Espresso Caramel
February: Sour Cherry Jam With Muscovado Ganache
March: Passion Fruit With Toasted Coconut Ganache
April: Apricot Jam With Chai Ganache
May: White Peach Jam & Rose Ganache With Rose Sugar
Los Angeles
November 2017: White Peach Amaretto Jam, Muscovado Ganache, Muscovado Sugar
December: Strawberry Butter and Cinnamon Toast Ganache
January 2018: Sour Cherry Jam, Orange Blossom Olive Oil Ganache, Lemon Sugar
February: Hibiscus Rose Jam and Rice Ganache
March: Honey Jam and Genmaicha Ganache, Genmaicha Sugar
April: Clementine Jam With Cocoa Nib Ganache
May: Raspberry Jam With Toasted Oat Ganache