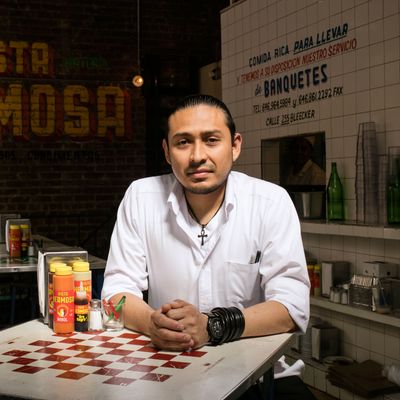 ESL Works student Jesus Mendieta.
Photo: Melissa Hom
Every Thursday at 8 a.m. — a group of six employees sit in the dining room of Tacombi in the West Village, even though some of them worked until 11 p.m. the night before to close the popular Mexican restaurant, and then commuted home to far-flung parts of the city. They've arrived back at work for a program known as ESL Works, which launched in 2016 and provides in-house English-language classes for companies in every part of the food industry. The concept isn't new, but ESL Works' approach is: Founder and CEO Rachel Nemeth emphasizes improvement of English as much as she does real-life job skills. For Tacombi owner and CEO Dario Wolos, signing on was a way to "help to build a more equal playing field" for his company's non–English speakers. "We just want to give them pathways to keep growing," he says.
When Jesus Mendieta —a 30-year-old native of Morelos, Mexico, who was working at the restaurant as a food runner at the time, heard about the program, he quickly signed on. Tacombi offered it to employees for free, but Mendieta's investment of time nevertheless paid off: "I practiced my English more, improved, and they saw I can do the job, so they gave me a chance to be a waiter," he says. The promotion meant he would work on the floor, and has allowed him to net more than $400 in additional income each week.
Operators who have used the program in their restaurants do so because they welcome the chance to help lower turnover rates and offer opportunities that employees might not have otherwise. "Some people will call us because they're facing 70 percent turnover and they want to find a way to train and grow their staff," Nemeth says. "Others are facing huge communications barriers and really need to find a way to become more efficient in their operation. And others, still, want to just be able to provide a work and life benefit for this particular population of low-wage workers who are looking for and need communications skills at work."
At present, the hospitality industry faces a staggering 70 percent turnover rate, according to the National Restaurant Association, compared to an overall turnover rate of 46 percent for the rest of the private sector. One reason for the huge discrepancy is hospitality employees who leave jobs in search of promotions and personal investment that they can't find in their current jobs. Nemeth's program is designed to eliminate many of the barriers that prevent people from advancing in their careers.
"Our industry has historically been amazing at having a low bar of entry for people who've got a work ethic and hopefully a heart for hospitality," says Danny Meyer, perhaps New York's most successful restaurateur. "You can pretty much get a job in our business, but we also have a very spotty record as an industry for providing opportunities for upward mobility."
Meyer says that a few years ago, Michael Anthony, the longtime executive chef at Gramercy Tavern, found himself in desperate need of ESL training for his staff, and through a mutual friend reached out to Nemeth in 2014. (Nemeth had previously worked for Meyer, as a people operations manager.) After a successful pilot program at other Union Square Hospitality Group restaurants, ESL Works officially launched in 2016. Meyer and his restaurant group signed on.
"Rachel's course is incredibly practical," Meyer says. "She's teaching you language via the kinds of things you actually talk about when you're working, which is kind of amazing. With each new word or expression or phrase or idiom that you learn, you get to feel more like you belong, and I do believe that that's what this conversation is ultimately about."
At present, the program boasts an 80 percent student-retention rate. One in six students reports that they've earned higher wages or been promoted as a direct result of taking the program.
Now, Nemeth employs three full-time teachers, who lead 20 classes throughout New York City. Current enrollment is 250 students, who are sorted into different levels by their English and job-training skills. As students complete each class, they move up a level until they eventually enroll in master classes. At that point, Nemeth says, "we're teaching leadership skills; we're teaching work skills."
The cost to operators is $825 to $975 per month. Nemeth points out that the cost-per-student is less than the average hourly wage of an entry-level food worker — $13 per hour — and that employee turnover can cost about $5,864 per lost employee, according to Cornell's Center for Hospitality Research. The money that goes to the program is also, of course, an investment in employee empowerment: "You have all of this untapped potential sitting in the industry," Nemeth says. "What a little bit of English can do is totally bring your personality to the surface."
According to Mendieta, that starts with instructions not to be shy or afraid about putting their budding English language skills to work, and instructors' dedication to putting lessons in usable terms. "My teacher doesn't try to speak Spanish," Mendieta explains. "She starts looking for different words and different ways to understand the meaning."
For Nemeth, the next step is continuing to grow ESL Works' online offerings that will be more affordable. "We do a lot of work in connecting with our students and figuring out what their existing or new needs are," Nemeth explains, "and when we asked them what they would change about the program, all of them were like, 'We want more opportunities to practice.'"
For Mendieta, the class, and promotion, also gives him a chance to focus on his own future in New York's restaurant world: "I want to have my own business," he says. "Before I can do that, I need to know everything about all the positions, from the server to the manager."