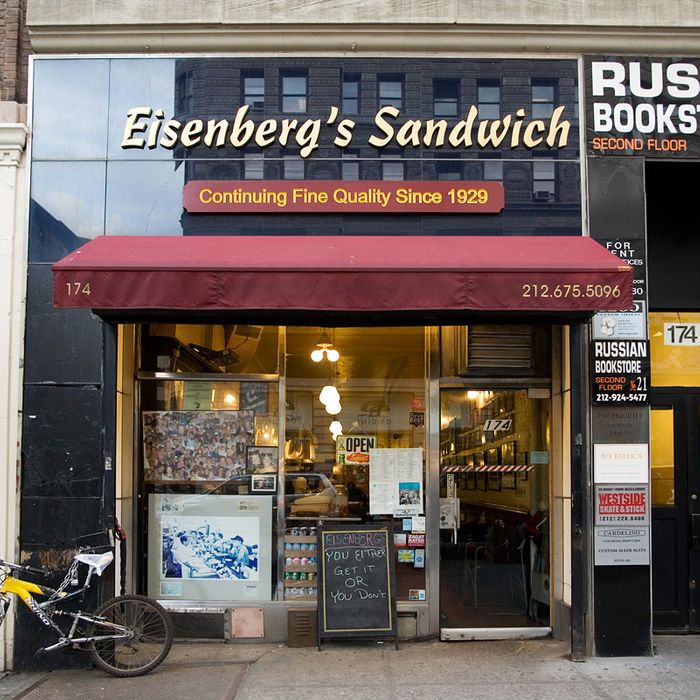 Will Eisenberg's go the way of its former neighbor, the Russian Bookstore, and close?
Photo: Konstantin Sergeyev
Eisenberg's, one of Manhattan's great old-school diners, has been sold. Its now-former owners Josh Konecky and Bonnie Taylor announced the news on Facebook and it was subsequently picked up by Jeremiah's Vanishing New York. The shop's manager, Jodie, tells the blog that the new owners "told me that Eisenberg's will be running just as is." Here's hoping that will be the case, but not much is known about the owner other than that his name is Warren.
Located across the street from the Flatiron Building, it's an anomalous, quirky place in a city increasingly remade in the image of chains. This is reflected in the menu, which features not only fine version of classics like the Reuben but the very odd cream cheese and chopped olives. (Please, name another place that serves this white-bread oddity!)
Despite the reassurance that Eisenberg's won't change, it's of course possible it will. Which would be a sad day for downtown. The sale, though, isn't all that surprising. It'd been rumored for a while now, after one of the landlords passed away. When New York's Adam Platt lamented the death of the diner, Eisenberg's Konecky told him, "We're trying to carry on the tradition, but there's not much left of it anymore."