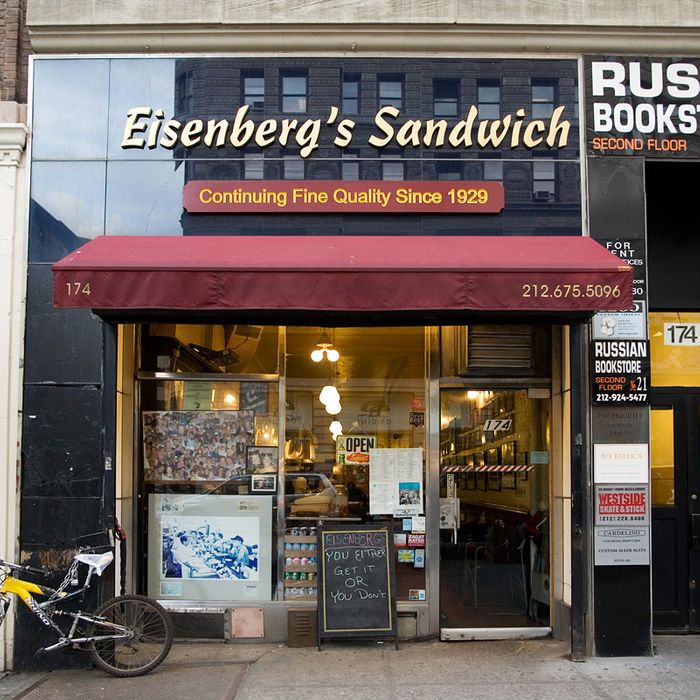 Eisenberg's will, its new owner says, remain Eisenberg's.
Photo: Konstantin Sergeyev
Earlier this month, the now former owners of Manhattan's classic Eisenberg's announced that they'd sold the restaurant. The news wasn't really a surprise as a sale of the 90-year-old Flatiron spot had been rumored for a few years, and it was in as precarious a position as any New York diner. The fear, of course, was that Eisenberg's would go the way of countless other New York old-timers, but a manager told Jeremiah's Vanishing New York that the new owner said nothing would change. And that new owner, Warren Chiu, is now reassuring people that Eisenberg's will remain Eisenberg's.
Speaking with local rag Town & Village, Chiu says that his "goal is to keep Eisenberg's the way it has been," and that the "main objective is to bring out the best of" the shop. The first-time restaurateur started going to the shop a few years back, and isn't exactly pressed for money: He's the vice-president of development of Warwick International Hotels, a company his father founded in 1980.
Whether or not he'll stick to his word will have to be seen — he says he might make improvements down the line — but he passes the litmus test on two important factors. For one, he's got a bit of New York grouch in him as he's a fan of "historic, old places like this one." Most importantly, he made a point to call out his taste for egg creams, lamenting that you can't find them anywhere but places like Eisenberg's.