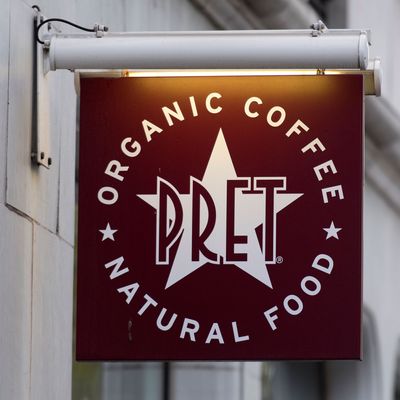 Photo: Justin Tallis/AFP/Getty Images
Many a New York lunch hour has been spent making a quick run to Pret a Manger, the British chain known for its ready-to-eat meals and ridiculously good cookies.
Today, CNBC reports that the whole operation will now come under control of JAB Holdings, a Luxembourg-based company owned by Germany's Reimann family, which has decided to purchase the chain from private-equity firm Bridgepoint for a reported $2 billion. JAB has been on a coffee shop–buying tear since 2014, purchasing Peet's Coffee & Tea, Keurig Green Mountain, Intelligentsia, Stumptown Coffee, Krispy Kreme, and Panera Bread in just four years.
Still, amid all this news of the rich getting richer, there is an actual silver lining: According to The Guardian, all 12,000 Pret employees will receive £1,000 should the deal go through, even if they just started working at the chain. Finally, a reason to cheer for a corporate takeover.