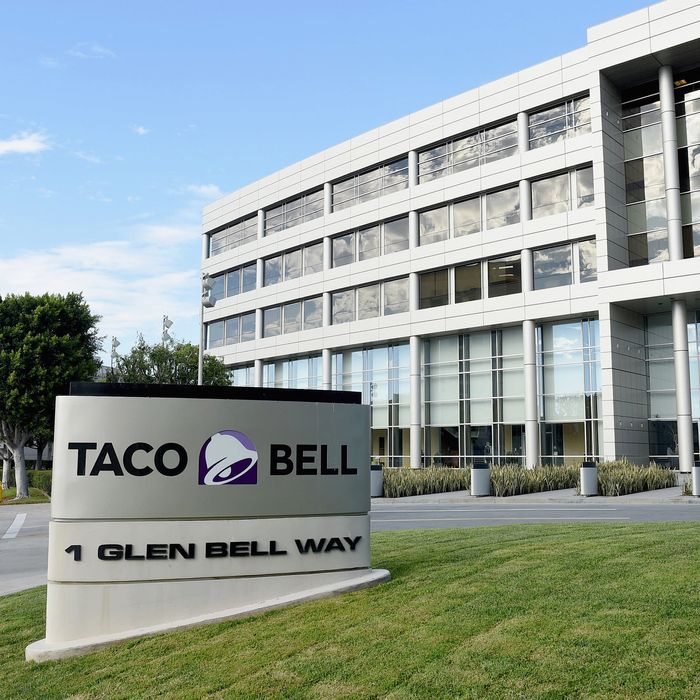 Looks like there's plenty of room right next door.
Photo: Joshua Blanchard/Getty Images for Taco Bell
Cynics were thrilled back in February when Chipotle announced that the long-awaited new CEO in charge of its turnaround was going to be … Taco Bell's Brian Niccol, head of a Tex-Mex chain that serves $1 Beefy Fritos Burritos and is definitely the place people think of when hearing the words "food safety." Niccol's Taco Bell chief-executive reign was short (three years), but he made his mark thanks to an onslaught of "foodie experiences": Doritos Locos Tacos, tacos made from waffles and flat chicken pieces, Cap'n Crunch doughnuts, Starburst slushies, nacho fries, etcetera. At the time, Chipotle founder Steve Ells reassured everyone that Niccol wasn't going to ride his Cool Ranch Dorito–dusted horse in and Taco Bell–ify Ells's precious burrito chain, and that his understanding, at least, was that "Food with Integrity" would remain an integral part of the company's future.
Perhaps Ells is still right. But since Niccol's takeover in March, he's started swapping out what you might call "Ells loyalists" for high-level employees brought over from his old employer of ten years, Yum! Brands. So it's possible that this could all be some sort of elaborate T. Boone Pickens–style hostile takeover by Taco Bell. The best evidence yet actually occurred yesterday, when Chipotle announced new plans to move its headquarters from outside of Denver — Ells's hometown, and site of the first Chipotle, a converted Dolly Madison ice-cream shop that brandishes Ells's signature on a basement rafter. Chipotle's new digs will be in SoCal's balmy Newport Beach, an area, it won't shock you to learn, that is less than ten miles from Irvine, the city Taco Bell's based in.
In Chipotle's statement, Niccol swears that they'll "always be proud of our Denver roots, where we opened our first restaurant 25 years ago." But it's clear that they're not that torn up about bailing: They're walking away from a 15-year lease that they inked just months ago for a swanky, five-floor headquarters in Denver's newest skyscraper. In the company's official announcement, Ells had noted that upgrading to this exciting "contemporary, collaborative, and modern space" in their hometown of two-and-a-half decades would "position us to look ahead to the next 25 years."
Chipotle hasn't said yet where in Newport Beach the new HQ will be, but its press release does put a timeline of T-minus six months on the transition. Also, the chain's big New York office is closing operations as well — a new one will be opening up in, of all places, Columbus, Ohio. Having this Rust Belt space will reportedly give Chipotle "access to high-quality talent" while, arguably more importantly, offering "cost advantages" that will be appreciated by shareholders.