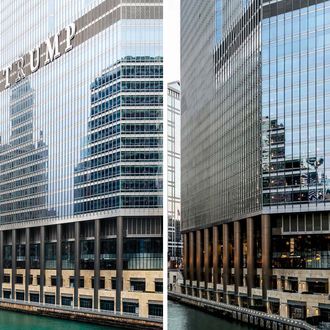 The brokers gave their listing photo a minor touch-up.
Photo: Getty Images; RKF Group Illinois
Last month, Sixteen, the acclaimed two-Michelin-star restaurant in Chicago's Trump hotel, bit the dust. It's of course only the latest Trump-owned eatery to go AWOL, but this spot's closing — for years objectively one of Chicago's best restaurants, with panoramic 16th-floor views of the skyline — was the Chicago equivalent of, say, Jean Georges vacating New York's Trump hotel on Columbus Circle.
People at Sixteen denied that the closure was because their landlord was scaring off business, claiming that the fine-dining space just needed to "re-concept" to be "more accessible" to "general diners." However, the brokers hired to rent 66,000 more vacant square feet inside the hotel seemingly beg to differ: Marketing materials used by billion-dollar real-estate firm RKF for the empty restaurant space on the building's bottom three floors (which it pitches as "the perfect entertainment + dining destination") have a very conspicuous missing piece — a literal missing piece of the building, actually.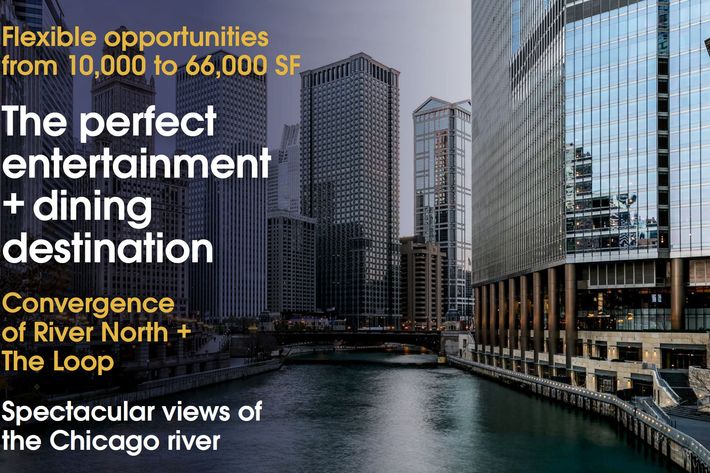 Crain's noticed the absence, and speculates RKF's photo either is one taken before 2014 — the year the building got branded with a 20-foot T, R, U, M, and P, much to Mayor Rahm Emanuel's chagrin — or has been Photoshopped to remove what RKF clearly sees as the property's biggest liability. The firm's listing also refers to the spot as "401 North Wabash Avenue," basically the equivalent of saying "350 Fifth Avenue" when what you actually mean is "the Empire State Building." (Trump's Chicago hotel is America's fourth-tallest building.)
The only time the word "Trump" appears in the flyer? On the second-to-last page, in a map touting what else is in Chicago's Magnificent Mile and Riverwalk areas (the sort of you'll-be-here pin had to let the cat out of the bag). Sixteen's replacement concept is still supposed to open next month, but looks like it won't have any downstairs company.