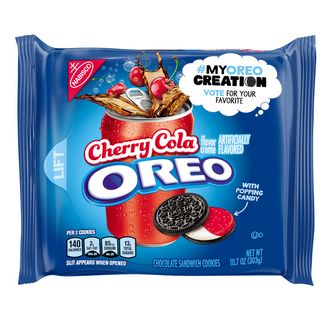 Whose idea was this?
Photo: Mondelez International
Zany Oreo flavors are nothing new, of course, and the Cherry Cola variety is easily one of the #MyCookieCreation contest's least-offensive entries, especially when compared to flavors like avocado, "millennial pink," unicorn, and whatever "Sunday morning/blueberry" technically was. (Something to do with pancakes, maybe?) But now one Denver woman says she submitted the winning Cherry Cola Oreo entry and claims the snack-maker is refusing to pay her the prize money she's owed.
Taylor Young saw Oreo's contest when it was being promoted last spring and summer via tweets like this:
She felt compelled to suggest a cherry-cola flavor, and several days later, Oreo recognized this submission by mailing her a custom two-pack of her cookies, along with a note that read: "Thanks for sending us your idea. We thought it was so delicious, we turned it into this one-of-a-kind creation just for you."
This looks like pretty solid evidence for Young. And now she tells ABC 7 that when official Cherry Cola Oreo packages materialized in December, she got no heads-up — just saw them in the store one day. "I reached out to them and I said, 'So I'm seeing that my cookie won?'" she explains. But Oreo reportedly told her that cherry cola was already a flavor the company had in development, meaning that the idea wasn't hers. (Also, does that mean Oreo picked its own flavor in a contest created to reward fans' creations?)
That argument was seemingly Oreo's grounds for disqualifying her from the prize money, too — which, per official rules, totals more than $575,000: One grand-prize cookie gets a $500,000 check and trip to Oreo's headquarters in New York, while all three finalists — Young's Cherry Cola, Twitter user Jessica Segarra's Kettle Corn, and a Piña Colada flavor — entitle their creators to $25,000 each for helping Oreo do however many months' worth of gimmicky cookie sales.
When Oreo announced the finalists in December, fans were definitely led to believe three people had won the company's contest. "Earlier this year, we asked our fans to tell us what to create next with the #MyOreoCreation #Contest and the three selected flavors are in!" the post said. It added, "While we're busy notifying the finalists, get ready for May 2018 when these three flavors will be available in stores for you to vote on."
If Cherry Cola ultimately gets voted the winner, it appears Oreo, very conveniently, may not be out a half-million-dollar grand prize. So far, neither the cookie-maker nor its parent company Nabisco has agreed to give any comment.