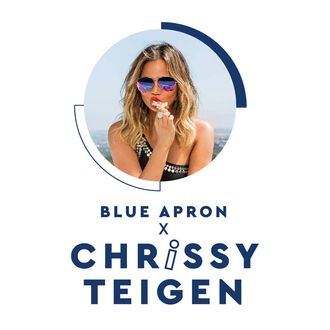 "A natural fit for Blue Apron," the company says.
Blue Apron — the meal-kit company whose shares were $1.80 a month go — has just announced a new partnership it hopes will convince consumers that the company's fortunes are turning around. It's rolling out a collaboration with long-time epicurean Chrissy Teigen: A series of six meal kits based on home recipes found in her best-selling cookbook Cravings (and one from her upcoming sequel, Cravings 2) will be available starting June 4. A different dish will debut every seven days, through the week of July 9.
Blue Apron says Teigen worked with its culinary team to adapt the recipes exclusively for use in the kits. It adds in a press release about their collab that her love of food "is absolutely infectious." For her part, Teigen says the kits give fans a chance to "cook with me in their home kitchens," and adds that novices should see them as an exciting learning experience, since she, too, is "constantly experimenting with new recipes and sharing both my hits and my misses!"
The six dishes they settled on include a garlic-soy shrimp with broccoli, sesame-chicken noodles with bok choy, a Chinese chicken salad, chicken lettuce cups with veggies, chipotle-lime chicken fajitas, and pork bánh mì sandwiches.
Blue Apron's history with partnerships is checkered, to say the least, but in March it teamed up with Airbnb for a "Best Home Cooking From Around the World" collaboration, and it's now clear that the company is trying to increase the brand's social currency. As Teigen's legion of online fans — who seem happy to hear this latest news — prove, she and her cook-next-door brand could finally be the thing that makes it cool to Instagram and Snap your meal kit.