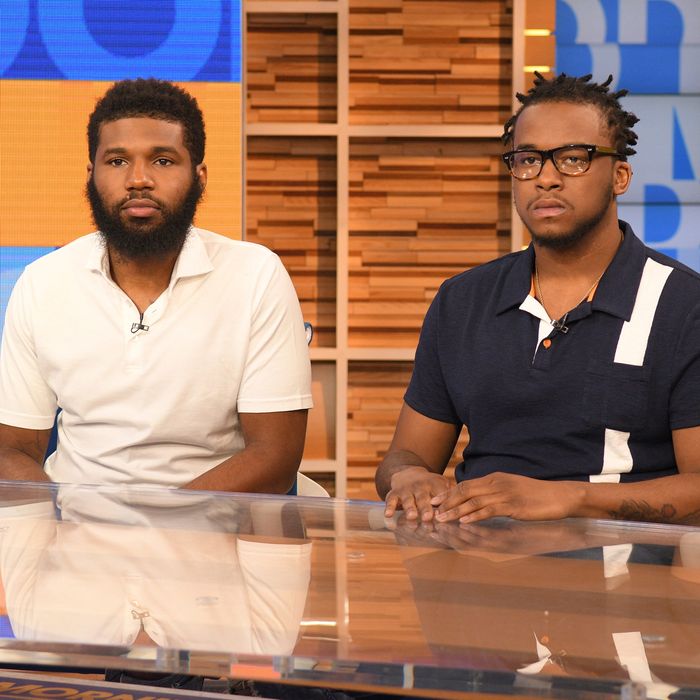 Both sides had agreed to "make something positive come of this."
Photo: Lorenzo Bevilaqua/ABC
Rashon Nelson and Donte Robinson, the two black men arrested for sitting at a Philly Starbucks without ordering, have settled with the city for what the AP today calls "a symbolic $1 each," plus a promise to set up a $200,000 program benefiting young entrepreneurs in Philadelphia's public schools.
In a statement made alongside Nelson and Robinson's lawyer, Mayor Jim Kenney tells the wire service that he's "pleased to have resolved the potential claims against the city in this productive manner." He adds, "This was an incident that evoked a lot of pain in our city and put us under a national spotlight for unwanted reasons."
Of course, it was Nelson and Robinson's April 12 arrest that dragged them and the coffee chain into the national spotlight. The two men said in the days following the incident that they were still mulling their legal options; meanwhile, Starbucks was hit with boycotts, scrambled to dispatch its CEO Kevin Johnson to meet with the duo, and ultimately pledged to shut down cafés for the entire afternoon of May 29 so that nearly 129,000 employees can have racial-bias training.
Mayor Kenney explains today that Nelson, Robinson, and their lawyer entered discussions saying that they wanted to work with Philly to "make something positive come of this." The high-school entrepreneur program is apparently what the two sides agreed was best. Robinson tells the AP that they "thought long and hard," and feel as if "this is the best way to see that change that we want to see." He says a chunk of change for a school program obviously isn't an immediate solution, but that the city "will see the true change over time."