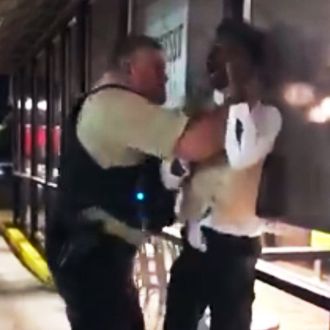 Anthony Wall in the middle of being arrested.
Photo: Anthony Wall via Facebook
This week, yet another report emerged of a black customer's violent arrest at a Waffle House — the second to go viral since April 22. As video from this most recent incident shows, customer Anthony Wall got manhandled by cops at a Waffle House in Warsaw, North Carolina, last Saturday after he got into an argument with staff. The officer, Frank Moss, put 22-year-old Wall in a choke hold and body-slammed him to the ground, before arresting him on charges of disorderly conduct and resisting arrest.
An observer captured the incident in a video that Wall posted to Facebook on Tuesday. You'll notice he's wearing a tux because he had just escorted his little sister to her prom:
Why staff called 911 initially is still unclear, but Wall's unnecessarily rough arrest has now caused critics to demand a full-scale boycott of the chain. Bernice King, MLK's daughter, yesterday called for everybody to "stay out" until the corporate office commits to instituting some anti-racism employee training à la Starbucks:
Gerald Griggs, a civil-rights activist in Atlanta, where Waffle House is based, says that all of these recurring incidents are "an epidemic of the culture around Waffle House." The company is "insensitive to people of color and it needs to be addressed immediately," he argues, and also tells the Atlanta Journal-Constitution that people should engage in some form of "economic disruption" to send Waffle House a message.
Meanwhile, other critics like writer Shaun King, a key Black Lives Matter figure, say they're also "done with" the chain, but want Officer Moss held accountable, too:
Last night, the NAACP Legal Defense Fund put out its own statement calling Moss's actions "grossly inappropriate" and demanding the Warsaw Police Department and DA to release any body-cam footage that was obtained, plus audio of the police call.
Waffle House has responded that it prides itself on being a diverse and welcoming diner chain, as "anybody knows who has eaten with us." The only problem, according to critics, is that lots of black people who've recently patronized the chain would strongly disagree. The same night of the tragic shooting at a Nashville location, a black woman 400 miles south in Alabama was being violently arrested after disputing a store's charge for to-go plasticware. In video footage, police can be seen choking her as well, and her shirt rips off in the fight.
And in a third video that went viral two weeks ago, another black woman said staff at a Waffle House had simply locked her out before she reached the door. She filmed the restaurant from outside a glass window. Inside, she noted it seemed to be business as usual for several customers who "happen to be white."