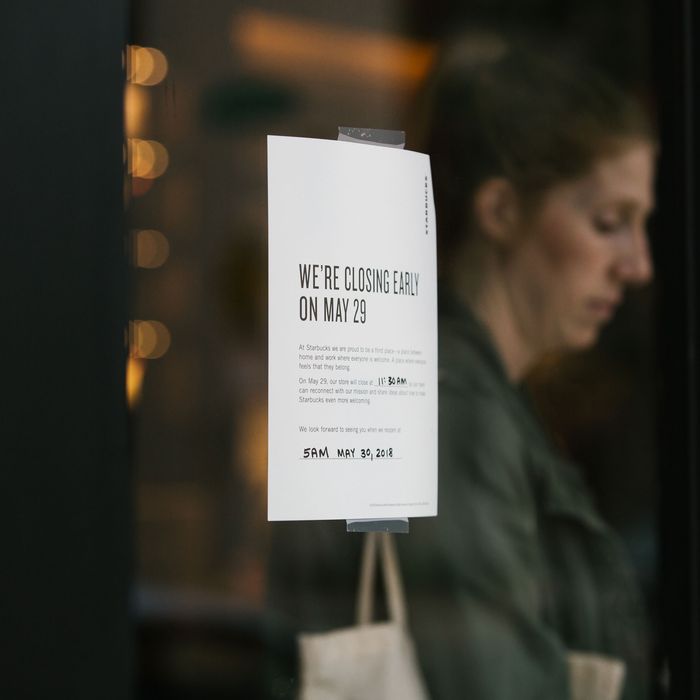 You've got alternatives.
Photo: Michelle Gustafson/Bloomberg via Getty Images
As you've by now heard, today is the day Starbucks closes its 8,000 company-run U.S. stores for "racial bias training." The afternoon-long closure is estimated to cost the coffee chain about $12 million in lost revenue, but as Starbucks's own execs have pointed out, this is merely "a start" to solving this problem, as biases won't suddenly disappear after employees complete the last page of their "Team Guidebooks." Regardless, black coffee-shop owners see the closure as an opportunity to serve some newly under-caffeinated customers, while also politely reminding them it shouldn't take Starbucks mistreating customers in the first place for people to patronize local businesses like theirs.
• Sites that promote black-run small businesses like Shoppe Black have curated lengthy lists of alternatives for the next time "you feel the need for some Starbucks." (Shoppe Black's list — which has now been shared 180,000 times — encompasses 47 businesses nationwide and commenters have added dozens, maybe hundreds, more.)
• A group of black café owners in Philly, meanwhile, is holding a roundtable discussion today to stress how inclusivity and racial justice have been core parts of their business models for years. Ariell Johnson will host the discussion at her Amalgam Comics and Coffeehouse. Among the participants is café proprietor Blew Kind, who worked briefly for Starbucks, but has run coffeehouses in Philly for a decade, and now operates Franny Lou's Porch — a spot named after an abolitionist and civil-rights activist that serves drinks like the Sojourner Truth (a vanilla-mint latte) and Cesar Chavez (featuring cinnamon, cayenne, and cocoa).
• Also in Philadelphia, the café and roastery Quaker City Coffee is about a ten-minute walk from the Rittenhouse Square Starbucks where the original 911 call and subsequent customer arrests took place. Co-owners Bob Logue, who's white, and Christian Dennis, who's black and has been incarcerated himself, explain to NBC that they've seen the other side of the racial-bias equation here: For the past year, they've made a point to hire people recently released from prison. So far, all three such new employees are black; since bringing them aboard, Logue and Dennis claim half of their customers have left, even though the food and beverage quality hasn't suffered.
• In Sacramento there's also Tiferet, a three-café mini chain run by sisters Sabrina and Makeda Berhane. They say they've seen a "trickle-down effect" since Starbucks's gaffe last month, but tell NBC News they believe the outpouring of support isn't because Tiferet is black-owned, but because they treat everyone with "kindness and respect."
• A café in D.C. — aptly named Uprising Muffin Company — is also hoping to break people's Starbucks obsession, post–Philly arrests. The shop belongs to Donnie Simpson Jr., the famous radio DJ's son who also briefly managed a Maryland Starbucks. Simpson says sales are up since the arrests, and he's encouraged green-mermaid defections in social-media messages that ask people to avoid the megachain: "Do I want the entire city to skip Starbucks and come to Uprising? Yes," he's written. "But I want that to happen because you love us and you want to support local black-owned businesses, not because of the ripple effect of one idiot's actions."