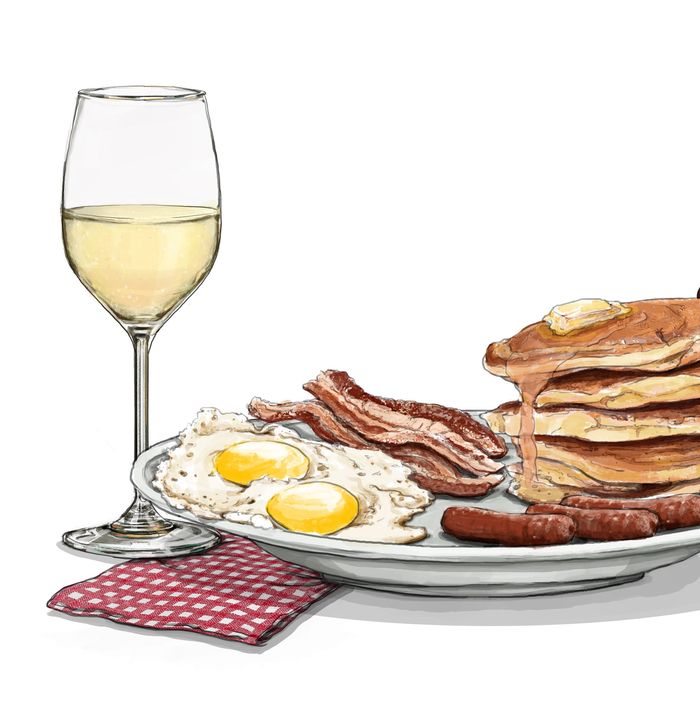 This is how you want to start your day.
Photo: The Ellaphant In The Room
The lumberjack breakfast is one of the world's great feasting opportunities, some combination of eggs, ham, bacon, sausage, and pancakes, all of which get drowned in maple syrup. It's every flavor, texture, and smell imaginable.
In that way, it's sort of like Thanksgiving, if Thanksgiving dinner happened in the morning and you could eat it anytime you wanted. But like Thanksgiving, it's also something of a celebration: You're eating a breakfast like this for a reason, so you may as well go all-in and have some wine with it, too.
Please do not drink a mimosa with a lumberjack breakfast — that's just not the way things are done. Still, you do want something light, fresh, and ever-so-sweet. As it happens, the best wine to have with a morning blowout like this is actually Moscato d'Asti.
If you're wondering what Moscato d'Asti actually is, just look at the name. It is wine made with the grape of Moscato from the town of Asti in Northern Italy. Moscato Bianco is also an exemplary grape, packed with citrus flavors and distinctly floral notes. These wines are also fermented to be lightly sparkling and low in alcohol — about 5.5 percent — making them perfect for day drinking.
Here's why it works so well: 
The syrup: Because the whole plate should be swimming in syrup, we have to think about sweetness first. Higher sugar content in food can make a wine taste bitterer. To counteract that, you need a wine that is just as sweet, if not more so.
The eggs: Champagne and eggs is a classic match, so this is an extension of that same idea. Moscato's fizz will work to make sure the eggs' yolky heft is washed away with every sip.
The pancakes: It's simple, really, the fluffiness of the dough will mirror the light crispness of the wine, and the dough flavor will match nicely with the fruitiness of the wine.
The sausage and bacon: The wine's freshness and crisp edge will help to lighten everything. Sweet white wines work well with savory foods — especially pork — to create a nice sweet-salty balance.
The other thing to know about Moscato d'Asti is that there can be a big difference in quality from bulk producers and bottles where a little more care has been given. Luckily, the prices are never outrageous. Here are three bottles to get you started.
Michele Chiarlo Nivole ($11 for a 375 ml bottle)
This is an easy-to-find classic interpretation of this appellation. If you want to know what Moscato d'Asti is all about, this is it.
Elio Perrone Sourgal ($12 for a 375 ml bottle)
This producer is shaking things up at home with ideas on where to plant and how to farm. The result, as far as this bottle is concerned, is a light, skillfully crafted style.
Oddero ($20)
Oddero is a historically well-respected name in the region of Piedmont. Today, the house is run by sisters Mariacristina and Mariavittoria Oddero, which is noteworthy in a mostly patriarchal industry.