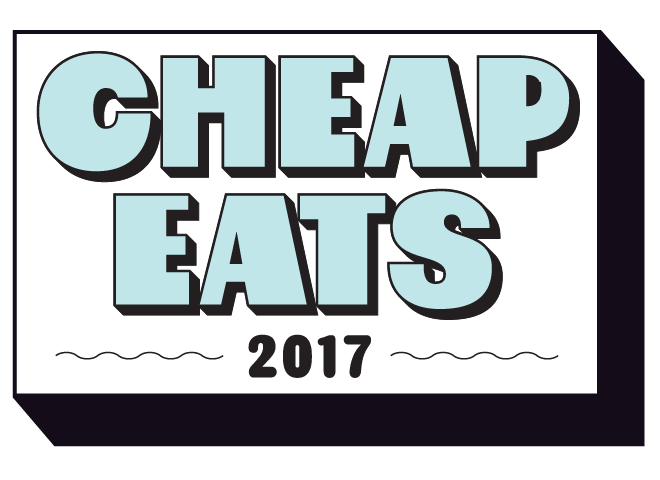 Now more than ever, New York food lovers recognize the value of diversity in their communities and on their plates, and in this year's edition of our annual guide to the city's best budget dining, we celebrate what ensues when culinary cultures meet. Namely: bacon-and-cheese tamales, Franco-Japanese bar food, Mexican-Turkish döner kebabs, and chocolate-drizzled Indonesian avocado shakes. This sort of thing used to be called fusion, and that wasn't a compliment. But today's growing acceptance that all cooking is, to some degree, fusion — or whatever you want to call tradition colliding with new ingredients and modern tastes — has engendered some mighty delicious things to eat. Further proof that immigration only enriches the cheap-eats catalogue came in the forms of tapioca crêpes from Brazil, rice-noodle soups from Yunnan, seaweed from Wales, and Nepalese thalis from … Jackson Heights. Read all about it straight ahead, then go tuck in. After all, a cheap eater's appetite knows no borders.
Empanadas, Tweaked
Che Café
86 E. 7th St., nr. First Ave. 212-420-1250
Before there was Chipotle, there was Harry's, an East Village Cal-Mex burrito joint that begat Benny's and outposts from the Upper West Side to Nyack. Thirty years later, founder Mark Merker has returned to the neighborhood with new partner Mike Davis and another handheld Latin American–inspired fast food, this one of his own invention. The "chechenita," or "che" as he calls it ($4 to $4.50), is a modified empanada, reengineered to improve upon the ratio of filling to dough. The result is a thin-skinned, deep-fried orb, cut in half to reveal its contents. The two-ches-and-a-soda lunch special lets you mix and match, and we recommend one chicken cheesesteak and one grilled chicken with sun-dried tomatoes.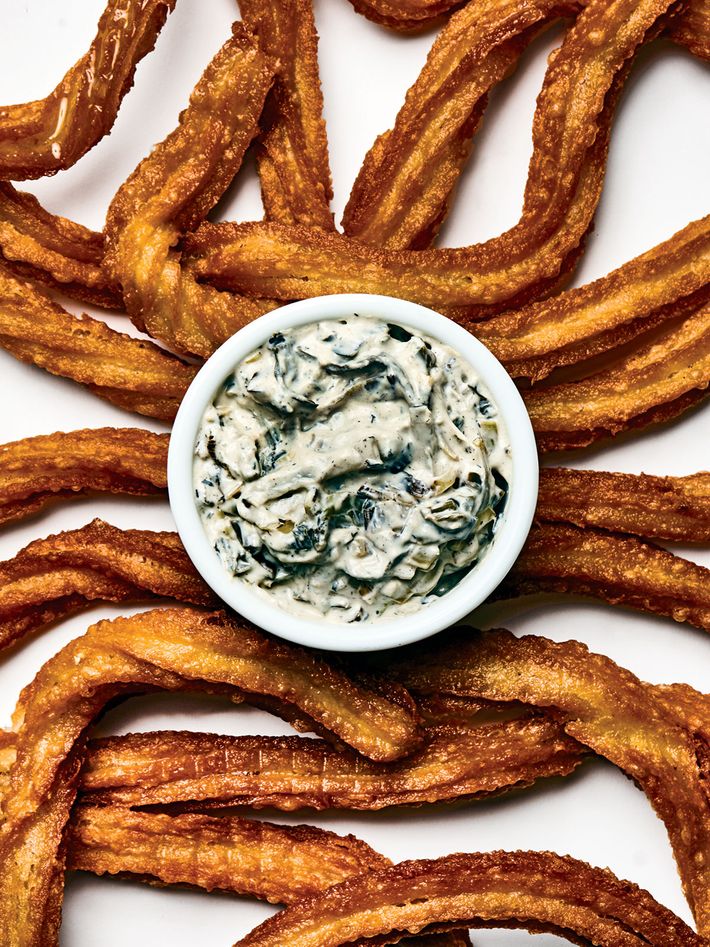 Welsh Pub Grub
Sunken Hundred
276 Smith St., nr. Sackett St., Carroll Gardens; 718-722-1069
If the Welsh brothers who own this Brooklyn pub succeed in their mission as ambassadors of their ancestral cuisine, you will leave the cozy premises with a renewed appreciation for leeks and an intimate knowledge of seaweed, an ingredient that shows up in cocktails, Cheeto-like bar snacks, fish soups — even the house ketchup. Other surprisingly satisfying oddities include fish churros, which are basically hake doughnuts. But the menu is far from a tourist-board stunt: You need a serious kitchen to achieve such a flaky crust on your lamb pasty ($9) and balance of flavors in your ffagodau (pork-and-lamb meatballs with minted peas; $16). Sunken Hundred proves there's more to Welsh cookery than excessive consonants and rarebit.
Classic Slices
Brooklyn Pizza Crew
758 Nostrand Ave., nr. Sterling Pl., Crown Heights; 718-363-1122
Grandma. Sicilian. Upside-down. Sfincione. Even old-school slice-joint, a.k.a. regular. No one works in so many pizza and flatbread styles with such spectacular results as Williamsburg Pizza's Nino Coniglio. Wait a minute: We forgot to mention Detroit style. Coniglio does that, too, but calls it "Not-Detroit" to keep the pizza scolds at bay. You can find the whole shebang at his new shop, Brooklyn Pizza Crew, but probably not all at the same time. To say that the place runs like a Swiss watch would be to overstate it. One thing you can always count on, though, is a good old plain slice, with its cheese and sauce merging into one glorious red-yellow-and-orange splotch, a Jackson Pollock drip-and-splash on a crisp but pliant crust ($2.50). Coniglio says it's the pizza he'd choose for his proverbial desert-island shipwreck stay. Dare we suggest it would beat the almighty Joe's in a side-by-side taste test? We do.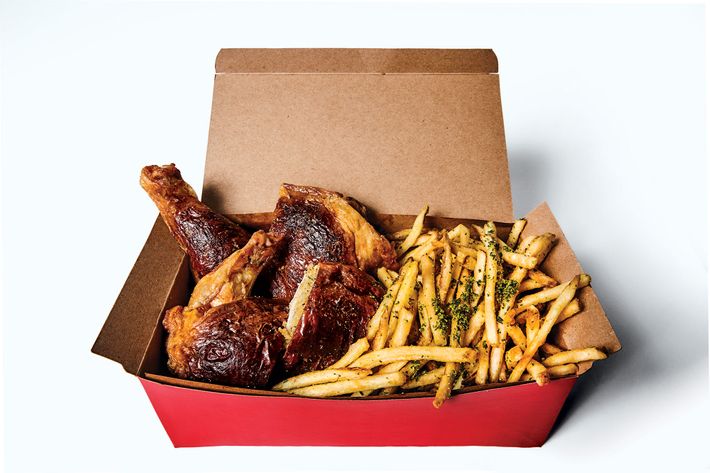 Cheffy Fast-Casual
Made Nice
8 W. 28th St., nr. Broadway; no phone
The gimmick behind Daniel Humm and Will Guidara's answer to the fast-casual, sorta-healthy, everything-looks-good-in-a-bowl trend is that regular folks and crusty old food misers can finally get a taste of what they've been missing at the dynamic duo's Eleven Madison Park and also its less formal but still swanky sibling the NoMad. Blame it on bowl fatigue, but we were skeptical. And we were wrong. Everything we've tried on chef Danny DiStefano's ten-item menu (except for a desiccated piece of fish in the cod Provençal) has been thoughtfully conceived, gorgeously plated (bowled?), and awfully tasty. The salmon rösti salad is like Russ & Daughters meets Dimes. The chicken rice is a worthy if toned-down tribute to the city's halal carts. The curry cauliflower tastes as great as it looks. And the quinoa falafel could give Mamoun night sweats. If you're feeling flush, go after 5 p.m. with a friend and split the $22 stuffed chicken and frites, a junior-executive version of the NoMad's signature $89 roast clucker minus all the pomp, foie gras, and black truffles, but every bit as crisp-skinned and succulent.
Hot Tamales
Factory Tamal
13 Essex St., nr. Canal St. 917-691-5524
Mexico native Fernando Lopez has been working in New York kitchens for 14 years, cooking Chinese, red-sauce Italian, Thai, and practically everything else but Mexican. Now, he makes tamales for a living, nixtamalizing corn into masa right on the 13-seat premises and steaming the rolled and stuffed husks in a contraption that monopolizes almost his entire workspace. Tasty as they are — and of the five on offer, the rajas con queso ($2), with its flare of jalapeño and soft strips of chile and onion, is tastiest — tamales represent only a fraction of Lopez's repertoire. The man turns out to be a deft short-order cook in a floppy chef's toque, pressing pastrami panini, tossing salads, and frying eggs to order for breakfast sandwiches slicked with chipotle-mayo "special sauce" on squishy brioche buns. There's even a bacon-and-cheese tamal. But don't ask for American cheese: It's a point of pride for the house not to stock it, or ketchup.
Manhattan Nepalese
Dhaulagiri Kitchen
124 Lexington Ave., nr. 28th St. 917-675-7679
Nepalese cuisine is nothing unusual in the section of Queens that's come to be known as Himalayan Heights, but in midtown Manhattan's Curry Hill, it's a bit more exotic. That's part of the reason why Kamala Gauchan moved her restaurant from Jackson Heights to Lexington Avenue, gaining 15 seats in the process. They're often filled with homesick cabbies and Uber drivers, plus families and couples sharing wai wai sandheko, which tastes like Indian chaat made from uncooked instant ramen noodles; aloo dum, a spiced Nepalese home fries of sorts, coated in tomato-onion gravy; and thali platters ($11 to $15), those round trays outfitted with the grilled, sautéed, or curried meat of your choice, plus all the fixings. Of these, the bracingly bitter, sour, and inscrutably seasoned pickled vegetables called achar almost steal the show.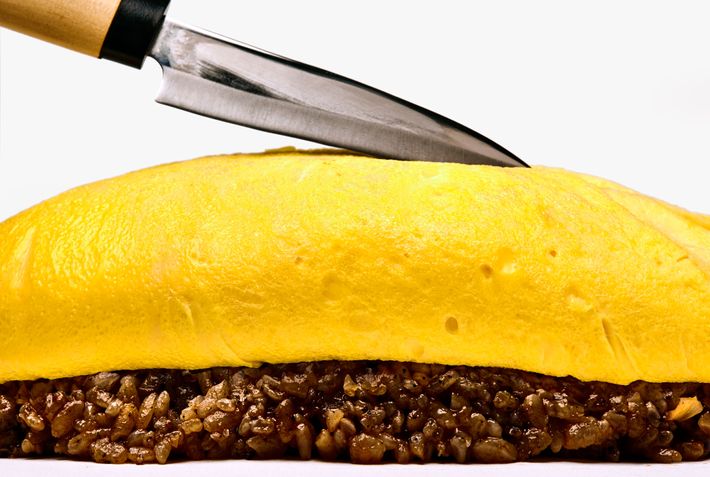 Japanese Bar Food
Bar Moga
128 W. Houston St., at Sullivan St.; 929-399-5853
Everything is good at this "1920s Japanese cocktail bar," including the drinks; actually, the drinks are fantastic. And the bar snacks, like fried fingerlings with housemade ketchup, and a zingy potato salad mingled with mustard and Berkshire-pork sausage, are as addictive as tater tots. But the indisputable scene-stealer on the 12-item yoshoku (or Japanized Western cooking) menu is the omu rice: a Goodyear Blimp of an omelet perched atop a bed of chicken-fried rice ($16). It arrives at your table along with two grinning fellows dressed in chef's jackets, both of them apparently delighted to have been granted a furlough from the kitchen and given a chance to greet their public. One carries the egg zeppelin on a plate and a gravy boat, the other wields a ten-inch chef's knife. Like a Scotsman unleashing the haggis on Burns Night, the guy with the gyuto runs the tip of the saber lengthwise across the top of the omelet, revealing its molten insides. Then his cohort drizzles the plate with demi-glace from the boat. One bite, then another, and you think to yourself: Chalk up another one for fusion cuisine.
Italian Heros
Regina's Grocery
27 Orchard St., nr. Hester St.; 347-680-4361
Italian sandwiches in the Alidoro vein, but built more along the lines of a Chevy pickup or the stuff that comes out of the kitchen at Defonte's. In a break from tradition, Bensonhurst-born co-owner Roman Grandinetti named the heros not after Italian-American celebrities (no Joe Pescis or Steve Schirripas here) but members of his own family. You figure you can't go wrong with the Roman (smoked chicken, fresh mozz, broccoli rabe; $14) because the guy in charge named it after himself, and you're right. But if you're celebrating something — the completion of a cabbage-soup diet, say — or if you're throwing a dinner party for ten, then get the Uncle Jimmy (prosciutto, mozzarella, hot soppressata, smoked ham, roasted peppers, hot-pepper paste, and so on and so forth). "He was a big guy," says Grandinetti regarding the late Uncle J. "He had tattoos."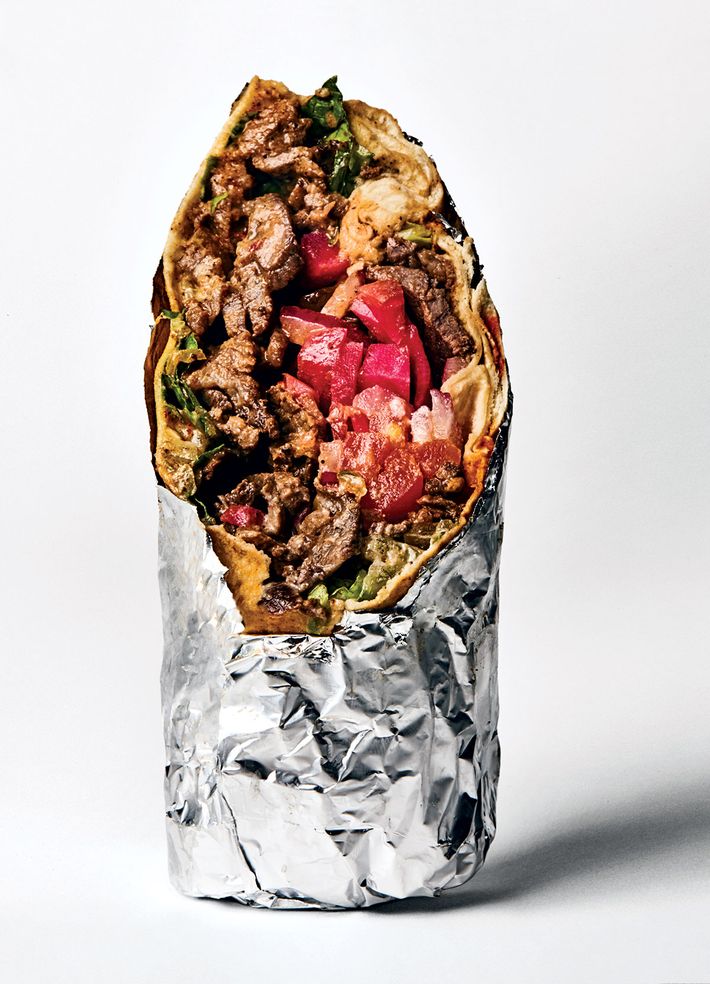 Return of a Lebanese Legend
Wafa's Express
812 Grand St., nr. Bushwick Ave., East Williamsburg; 718-576-3547
If you consider yourself a connoisseur of smoky baba ghannouj, pickle-packed lamb shawarma sandwiches, and crispy-creamy kanafeh scented with flower blossoms, then Wafa Chami's reappearance on the New York Middle Eastern–food scene is reason to celebrate. As at her two previous Forest Hills locations, Chami channels her mother's Lebanese home cooking to produce food far more flavorful and fresher than the modest display-case setting might suggest. The meze and grilled-meat standards all surpass expectations, but don't neglect outliers like the orange-hued tomato bulgur, flecked with peppers, and the walnut-stuffed baby eggplants called makdous, cured in olive oil until they develop the texture (and even, somehow, the flavor) of a green olive.
Vietnamese Chicken Noodle Soup
Bep Ga
70 Forsyth St., nr. Hester St.; no phone
There are only four items on the menu at this Chinatown storefront, all revolving around succulent Vietnamese poached chicken ($10 each). But four's all you need when the meat is so tender and flavorful, the ginger-smacked pho broth so aromatic and bright, the turmeric rice so gently glossed with schmaltz, and the raw herbs so fragrant and profuse. The façade might be lacking a sign, but inside, grace notes abound, from the pastel-pink paint job to the creaminess of the quail-egg yolks. And the modest setting — counter service, low-slung plastic stools, communal seating — only adds to the charm, especially if you find yourself sharing a table with a well-fed world traveler regaling you with reminiscences of similarly transporting noodle soups slurped in the back alleys of Paris and Ho Chi Minh City.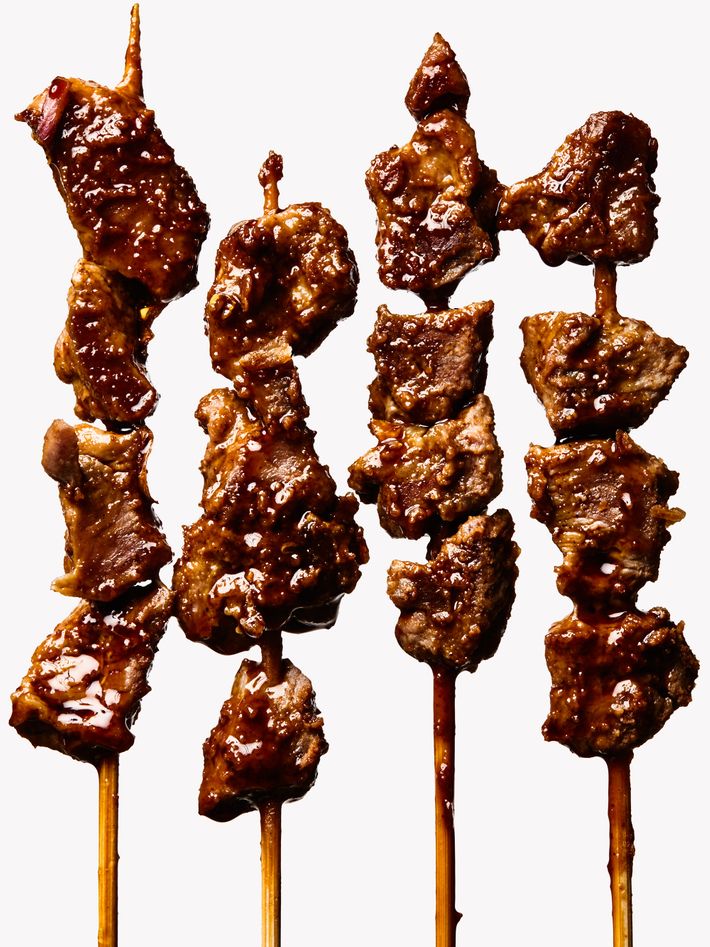 Indonesian Home Cooking
Awang Kitchen
84-05 Queens Blvd., nr. Van Loon St., Elmhurst; 347-492-9264
"Do you like spicy?" asked our server one night. "If so, you're in the right place." Indeed: Chiles are a foundation of Indonesian cuisine and of much of the menu at this cheerful little restaurant and de facto social center for the expat community. But there is also coconut milk, and ground nuts, and soy sauce, and palm sugar, all combined in recipes that meld Chinese, Indian, Dutch, and Portuguese influences. (There is also a sushi bar, and a few puzzling interlopers like corned-beef fritters and pizza dip.) Unfailingly friendly waiters will help you navigate the extensive menu, steering you to the archipelago's most famous dishes: satay strung with chewy bits of chicken or young goat; the coconut-curry stew called beef rendang; nasi goreng tek-tek, a dome of fried rice and noodles mingled with bits of chicken and egg; ayam goreng, Indonesia's ultracrisp, spice-infused contribution to the fried-chicken canon. Tropical drinks double as dessert—an avocado shake embellished with chocolate syrup, say, or es teler, a confection of Asian fruits floating in coconut and condensed milks that turns pink when you stir it up.
Texas Breakfast Tacos
Jalapa Jar
100 Henry St., nr. Clark St., Brooklyn Heights; no phone
There are nicer places to eat breakfast. Rikers Island, a live-poultry market in Queens, and the back of a Greyhound bus headed to Pittsburgh all spring to mind. We kid! Inside the Clark Street subway station, where this Smorgasburger recently began peddling its Austin-style breakfast tacos ($4), is actually one of those atmospheric settings that only serve to enhance the cheap-eating experience. The tacos, which the stand's owners devised as a vehicle to promote their salsa business, are pretty good — carefully made, fairly compact — and shouldn't give notoriously picky Texpat taco inspectors too much cause for alarm. Among the fillings, there's one with scrambled eggs, mashed sweet potatoes, and chopped steak, and another with eggs, sautéed spinach, and feta. But our motto, as always, is stick to the classics, interpreted here as scrambled eggs, mashed pinto beans, crumbled housemade chorizo, and queso fresco. Gobble some down at a wobbly table across the way from an old shoe-repair shop. And why not get your Florsheims shined while you're at it?
Grandma Pies
Corner Slice
600 11th Ave., at 45th St.; 212-956-9339
If you grew up in the greater metropolitan area, as Bergen County native Mike Bergemann did, the slice joint holds a special place in your heart. As do Entenmann's coffee cake, pepper-and-egg heros, meatball sandwiches, Greek diners, and lard bread that soaks through the bag before you get to your car. At this Gotham West Market stall, Bergemann and his Ivan Ramen partners pay homage to those culinary touchstones, using high-quality flour, Fleishers meats, and house-pulled mozzarella. His grandma pies benefit from a crisp-chewy crust, garlic-tinged tomato sauce, seasonal Greenmarket toppings, and a finishing touch of grated Pecorino and Grana Padano, à la Dom DeMarco and the few remaining carriers of the old-school pieman torch.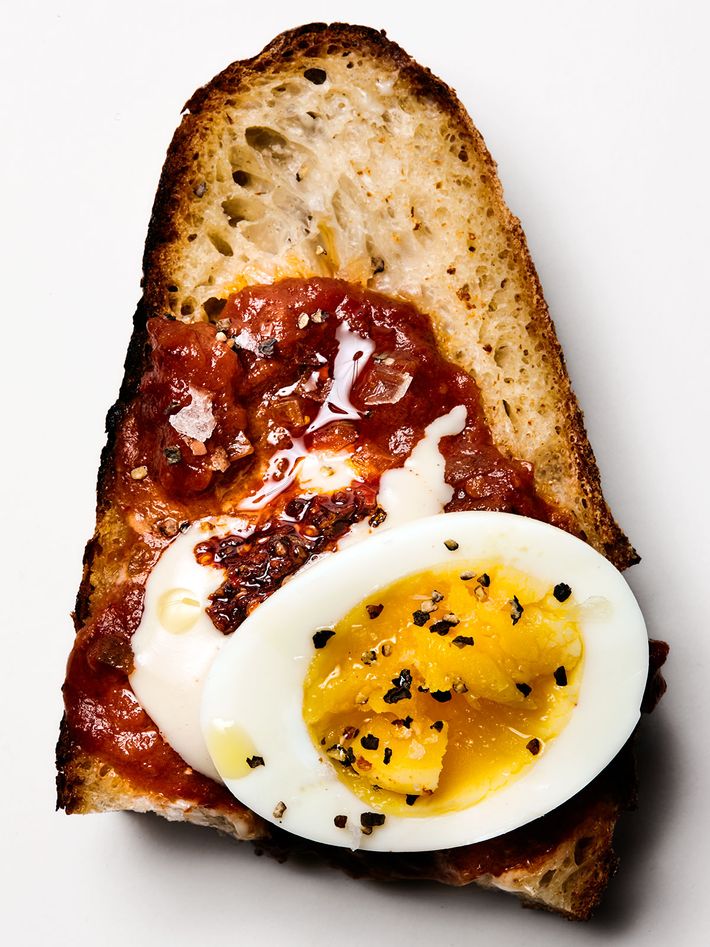 Eclectic Hipster Lunch
Lighthouse Outpost
241 Mulberry St., nr. Prince St. 646-912-9422
This pint-size spinoff of Williamsburg's bustling Lighthouse is a lunch counter for the healthy-hipster set, with a creative global approach and a flair for plating (Jono Pandolfi ceramics and all). The soup is Mexican tortilla, with a limey broth and pedigree chicken; the crusty sourdough is baked in-house; the signature sandwich is pulled duck mixed with mustard aïoli and stuffed into warm, puffy pita. In place of a humdrum baked Idaho with sour cream there's a jumbo sweet potato with smoked labne, and although the shakshuka ($10) might rankle purists (the egg is soft-boiled and plopped atop a reservoir of tomato sauce instead of cooked inside it), the construction works and the flavors cohere, aided no doubt by a slick of harissa and the unexpected but canny addition of tahini.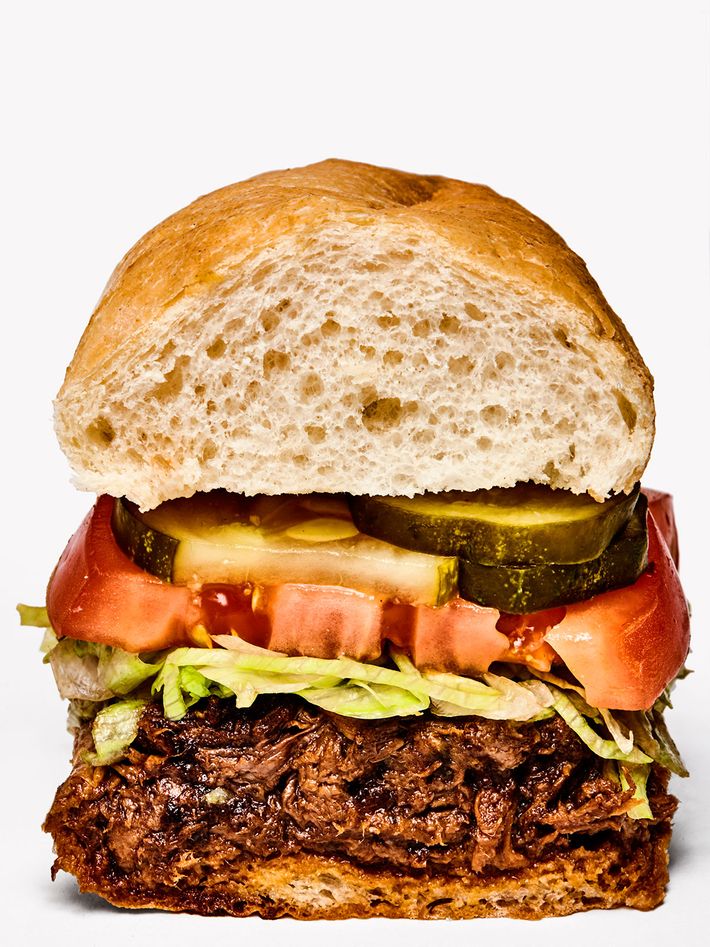 Louisiana Soul Food
The Gumbo Bros
224 Atlantic Ave., nr. Court St., Boerum Hill; 917-909-1471
Two self-described laid-back southern dudes who met at Louisiana State University opened this slim-as-a-submarine snack shop when they found themselves pining for their native grub. That would be gumbo in a handful of permutations, including Cajun — a heady bowl of stew brimming with smoked andouille sausage and poached chicken, served with a scoop of steamed white rice, and capable of curing not only homesickness but pretty much whatever else ails you ($12). Also restorative: fried green tomatoes with rémoulade dipping sauce, dirty rice and beans, and an exquisitely sloppy roast-beef po'boy that doesn't stint on the tidbits of stray meat and pan drippings New Orleanians call debris.
Southwestern-Chinese Mixian
Little Tong Noodle Shop
177 First Ave., at 11th St.; 929-367-8664
When someone writes the book on the Asian-noodle scene of 21st-century New York, as someone surely will, Simone Tong, who was born in Chengdu and cooked at wd-50, might be remembered as the woman who liberated noodle soups from centuries of patriarchy, or at least proved there was East Village life (and worthwhile slurping) beyond ramen. In her chosen arena — the mixian noodles of Yunnan province — the noodle is rice, the broths are long-cooked but not excessively rich, and the varied toppings summon flavor and freshness from spice oils, pickled and fermented vegetables, bushels of herbs, and edible flowers ($14 to $16). The pork wontons are Sichuanese, not Yunnanese, but don't hold that against them.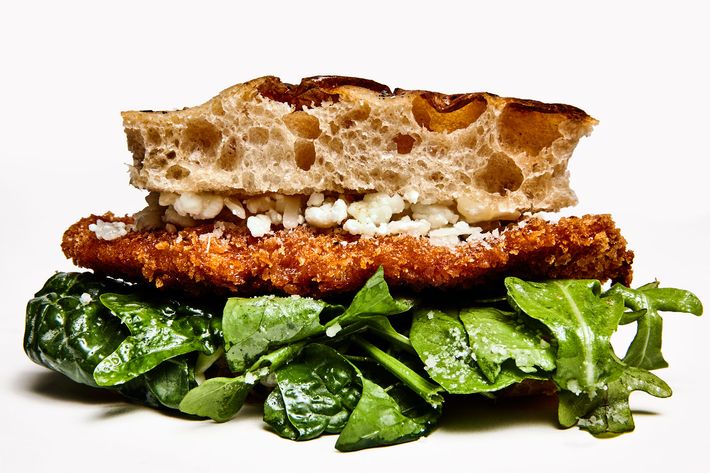 Souped-up Sandwiches
Daily Provisions
103 E. 19th St., nr. Park Ave. S. 212-488-1505
Everything you could ask for in a Danny Meyer all-day café: casual, delicious, affordable food; a cheery little brass-and-marble-accented space; and service of the sort that thinks nothing of comping a glass of Empire Builder rosé when it takes too long for someone to lug a fresh keg up from the basement. Then there are the sandwiches: The Italian breakfast number is a knockout, the dry-aged patty melt is abundantly gooey, and the vegetarian broccoli melt ought to come with instructions on how to use a defibrillator. Go early in the morning before they run out of what must be the world's finest French crullers ($3.50) and get a growler of cold-brew coffee to take to the office. There is no sounder method of sweetening the boss before you ask for a raise.
Lalito
104 Bayard St., nr. Baxter St. 646-998-3408
It isn't easy to define Gerardo Gonzalez's style of cooking: Cali–Mex–Ashkenazi–Middle Eastern–hippie doesn't exactly have a ring to it. But in this lively homage to New York's old-school lunch counters, dishes as disparate as kasha varnishkes, pork carnitas with fresh flour tortillas, and a vegan Caesar dappled with nutritional yeast co-exist peacefully, united by Gonzalez's trademark bent for fresh, fragrant, sweet-sour flavors. (This extends to cocktails like the Sumac Sour and hibiscus punch.) Vegetables shine, as befits the age, but don't dismiss meats like the small but satisfying dry-aged "baby steak" ($15) and a chicken-and-lamb "Mexican döner" ($13) that's an edible dissertation on the intersection of Turkish and Mexican cuisines.
Food-Court Finds
Canal Street Market
265 Canal St., nr. Lafayette St. 646-694-1655
It's hard keeping up with food courts these days. Just as you find your bearings at one gourmet feeding trough, another appears seemingly out of nowhere, as if beamed down from some Planet of Misfit Smorgasburg Concepts. Not so Canal Street Market, which benefits from a bright and airy design that situates the meticulously maintained stand-up seating under an actual skylight instead of in a dungeonlike basement. Here, the best things to eat that you won't see everywhere else: Oppa's bulgogi steak sandwich, like a Korean cheesesteak or maybe an uptown chopped cheese but about ten times more savory and addictive; Nom Wah Kuai's braised-pork-belly rice bowl with cabbage, pickles, and a tea egg; and Izakaya/Samurice's ochazuke, the Japanese rice soup whose mushroom-bonito broth is steeped here like a cup of third-wave pour-over coffee and may be even more therapeutic than a 2nd Avenue Deli chicken in the pot.
Fancy Filipino To-Go
Tamà
147 Lewis Ave., nr. Lafayette Ave., Bedford-Stuyvesant; 347-533-4750
The guy working the counter of this unassuming, mostly takeout Filipino joint warns anyone who orders the adobo that it's not the traditional brothy chicken dish, so as to avoid disappointing Pinoys expecting an unvarnished taste of home. But the fact that expats are making pilgrimages to this Bed-Stuy spot is a tribute to chef Aniceto Reña Jr. and his menu, which is as affordable as it is refined (nothing costs more than $12). That adobo involves chicken thighs cooked in duck fat, its traditional surfeit of vinegar absorbed into the savory rice it's served with. Bicol Express, another classic, applies the standard coconut curry to sous-vide pork belly. And Reña Jr., who previously worked at Cosme, suffuses cocoa rice with mole spices and treats it as a base for house-smoked mackerel. The dishes are compostable, the drinks come in cans, and the focus seems decidedly on delivery, but from the very first biodegradable-bamboo forkful of food, there's no mistaking the talent in the kitchen and the finesse on the plate.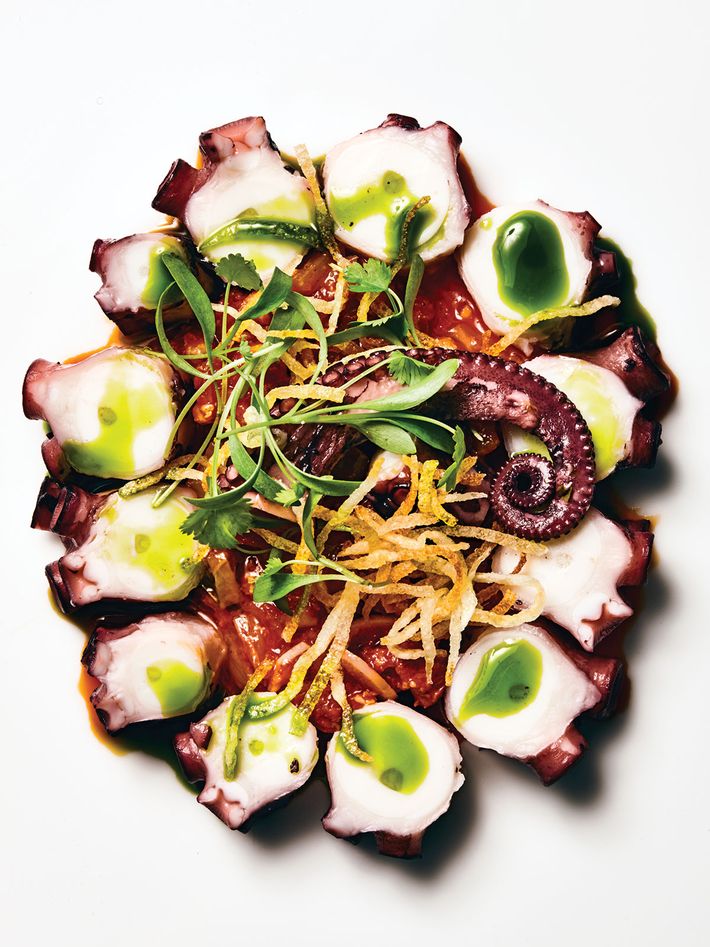 Korean Prix Fixe
Atoboy
43 E. 28th St., nr. Park Ave. S. 646-476-7217
The radical concept behind Atoboy is to offer its customers the opportunity to build a three-course meal around the typically free Korean side dishes called banchan, but — and here's the radical part — they charge you $36 for the privilege. Why, then, you ask, is it on this Cheap Eats list? Because these aren't the plates of pickled vegetables and tiny fermented fish you get on 32nd Street or in Flushing. Rather, they're little miracles of perfection, like corn leavened with Taleggio, bacon, and soybean paste, or octopus cut into precise nuggets, dusted in cornstarch, fried, and plated like a wagon circle around a chorizo-and-kimchee centerpiece. It's all so impressive and such a bargain that when the check arrives, you feel guilty, like you ought to fork over some extra dough.
Ramen From the Ramen-Burger Dude
Ramen Shack
13-13 40th Ave., Long Island City; 929-522-0285
You may not know Keizo Shimamoto by name. But if you've ever stood in an hour-long line in a shadeless Smorgasburg prison yard under a hot Brooklyn sun while muttering the phrase Never again, then you know his work. Shimamoto is the man behind the Ramen Burger. But before he was a stunt-food superstar, he was a ramen freak of the first order, obsessively studying his craft while apprenticing for Ivan Orkin in Tokyo, and that is the reason to visit the permanent ten-seat pop-up he runs inside this Long Island City commissary kitchen. Of the dozen or so soups that Shimamoto offers, we recommend the Triple Threat, a potent blend of fish, pork, and chicken broths plus extra-springy noodles that lie beneath a nicely composed arrangement of slow-cooked pork shoulder, fried onions, and raw scallions ($13). If you still want a Ramen Burger, you can get that, too, but without running the risk of sunstroke.
Brazilian Crêpes
Oca
250 Mott St., nr. Prince St.; 212-966-0622
The tapioca crêpes of Brazil have begun to infiltrate New York, thanks in no small part to their inherent lack of gluten in a world that increasingly recoils from the stuff. This stylish Nolita nook calls its brittle-chewy, cassava-starch pancakes "ocas" and stuffs them with all manner of sweet and savory fillings. Of particular interest are the No. 4 (grilled pineapple with red pepper, feta, and mint), and the No. 6 (a good-fats feast of wild salmon, avocado, pumpkin seeds, and cashew-nut cream). You can wash them down with another Brazilian "health food": the strawberry-cashew-milk smoothie.
Yunnanese Noodles
The Rice Noodle
190 Bleecker St., nr. Macdougal St.; 646-649-3906
Yunnanese-style rice noodles are the thing at this no-frills 16-stool spot, where Yao Tang, erstwhile banker and native of Yunnan's capital city, Kunming, serves up five varieties in plastic bowls. Ground seasoned pork (which Tang calls a sauce) is the highlight of the shop's two best dishes: the pork noodle soup and Mrs. Tang's Noodles, made with wheat noodles stir-fried with Sriracha. And who is Mrs. Tang, you ask? None other than the proprietor's ex-wife. "This is awesome," Tang remembers telling the future Mrs. Tang the first time he tasted it. "If I open a restaurant, I'll put it on the menu." A man of his word.
International House of Tacos
Único
31-31 Thomson Ave., Long Island City; 718-433-3888
Yes, there's a Halal Guys chicken-and-rice cart right down the block, and as every connoisseur of cheap eats knows, the Halal Guys are hard to beat. But this seemingly generic, post-Chipotle mix-and-matcher, strategically positioned directly across the avenue from LaGuardia Community College and its hordes of broke and hungry students, is surprisingly good. Most everything that comes out of chef Xavier Gomez's kitchen is much better than you'd expect — the ingredients fresher tasting, the vegetables more uniformly chopped, the flavor combinations more carefully considered. The theme is globally-inspired tacos, each named for a different city, and each also available in enchilada, wrap, or the now-compulsory bowl form. The vegetarian Shimla combines spicy smashed potatoes with kachumbar, raita, and salsa verde; the decidedly non-vegetarian Incheon renders short ribs Korean with kimchi and gochujang. The rice is black and the beans masala-spiced, the green salsa comes in two hues and heat levels, and a recent fish taco special, brightened with lime and crunchy with cabbage, makes a strong case for adding Ensenada to the roster.
*A version of this article appears in the July 10, 2017, issue of New York Magazine.