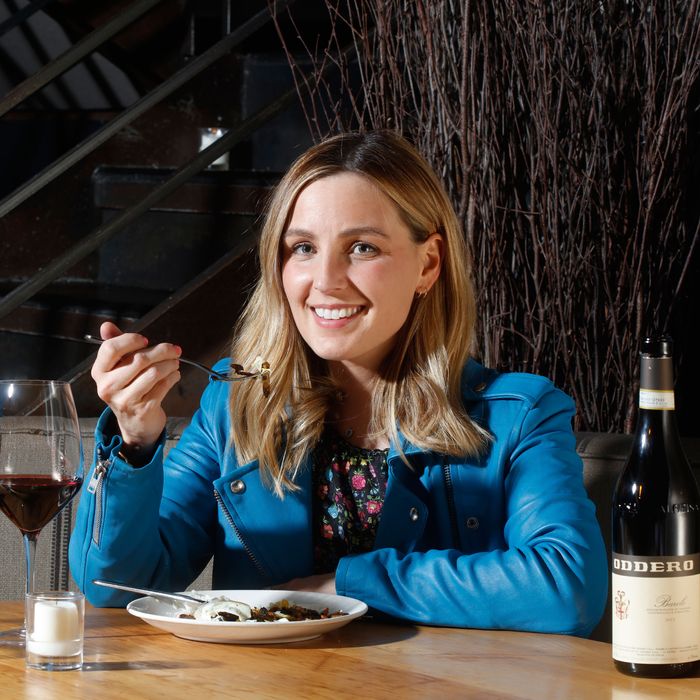 "I would be lucky to marry any one of these perfectly chewy, glossy bowls."
Photo: Melissa Hom
Jessica Knoll's debut novel Luckiest Girl Alive was, to put it mildly, a huge success: It immediately landed on the New York Times best-seller list, sold over 450,000 copies, and got optioned by Reese Witherspoon. This week, Knoll published her latest book, The Favorite Sister, a thriller about a murder on a feminist-branded reality TV show. The New Yorker turned Angeleno, unsurprisingly, had a lot on her plate leading up to pub day, but she still found time to snag two bags of macarons at Vicente Foods and hit Rustic Canyon in Los Angeles, before heading to New York for her book party and a meal at her favorite Manhattan restaurant, L'Artusi. Read all about it in this week's Grub Street Diet.
Thursday, May 10
Woke the doggy. My husband and I moved to L.A. last year and adopted a six-year-old English bulldog from Southern California Bulldog Rescue. We named her Beatrice and she is the apple of my eye. Sweet, stubborn, and lazy. This morning, she moved at the pace of the iPhone camera's slo-mo feature, as though she knew I had a full day of press ahead of me, starting with NPR.
I fed Beatrice a better breakfast than myself and did a quick Peloton bike ride, showered, and answered the door to my Glamsquad hairstylist, apologizing in a towel. (I was not getting a blowout for radio; I was due at the Entertainment Weekly offices for a video.) While the stylist set up, I opened the refrigerator drawer where I keep my precious Stumptown cold-brew bottles. Crestfallen was the word that came to mind when I discovered it empty.
I had just enough time afterward to run down to Vicente Foods, a local grocer open since 1948 — for L.A., that's the Colosseum. I spoke to my husband at length about how to describe it because I'm obligated to do it justice. Here is what we came up with: It's a place where Jeff "the Dude" Lebowski would go and likely cause a scene upon discovering what they charge for Jif extra-crunchy peanut butter. I continue to be surprised that they carry anything as bougie as Stumptown — it's old-school.
Vicente Foods also has a fantastic bakery, with complimentary self-serve coffee, the requisite hazelnut-flavored Coffee Mate creamer, and the chewiest chocolate-dipped coconut macaroons that frequently sell out. A tanned gentleman in thick white Bermuda socks nodded his approval as I purchased two bags.
I wolfed down a banana and a spoonful of Justin's vanilla almond butter and headed to NPR. I normally have a much more substantial breakfast, but my nerves were too frayed. I felt really great after the segment, and my hunger traded places with my anxiety.
Back home, I ordered lunch from Mendocino Farms, something I try very hard not to do often because it's all too easy as a writer to become a housebound sad sack in dirty jeans. I got the Study of Heat sandwich with roasted turkey, smoked Gouda, smashed avocado, chili aïoli, jalapeño relish, tomato, and romaine lettuce panini-pressed on thick white bread. They forgot my side of salsa quemada, which was mildly heartbreaking. A friend once observed that food is just a vehicle for condiments, and I stand by this statement.
The side of curry couscous mostly made up for having nothing to dip my sandwich in. I do not know what they put in it, and only recently discovered that it's somehow vegan. It has chunks of carrots and cauliflower, and it's creamy and kicky and this gorgeous mustard-yellow color. I left half for my husband, expecting my medal in the mail later.
After Entertainment Weekly, I got home around five and we took the dog for a "walk" along the water. This "walk" covers less than two-tenths of a mile and takes 20 minutes. Her laziness might be the thing I love most about her.
We stopped at Whole Foods on the way home. I love to cook under normal circumstances and, thankfully, I was in the mood. So I grabbed provisions for fish tacos: halibut, avocados, mango, red cabbage, red onion, limes, Greek yogurt (which I mix with peppers in adobo for a chipotle drizzle), and corn tortillas.
My husband makes great cocktails, and his copy of PDT is dog-eared. Last weekend, he watched an episode of Barefoot Contessa where she made Southsides with gin. He made me one while I pan-fried the halibut in two-inch chunks and made a quick pickled slaw with the cabbage, red onion, mango, and pepitas. I mashed up avocado with lime juice, salt, and pepper, and blended my chipotle drizzle. I set the condiments out and my husband and I built our own tacos. We cleaned up and had a Vicente Foods cookie and watched Southern Charm, under Beatrice's watchful eye.
Friday, May 11
I managed half a Rudi's English muffin topped with Justin's vanilla almond butter and banana before doing KTLA. Mornings before a TV or radio interview are a challenge because I'm too nervous to eat, but also don't want to pass out on air. The Rudi's, almond butter, and banana combo tided me over until lunch with my motion-picture agent. We decided to try the Sycamore Kitchen. It has been on my list since I moved. There was so much that appealed to me on the menu, but I panicked at the register and placed the most basic order: a turkey sandwich with Camembert cheese, cherry jam, and arugula. It was good — I loved the cheese-and-cherry combo, and the bread was exceptionally soft and chewy. I was also glad that we ordered a side of crispy Brussels sprouts. I have been over them since winter 2015, and they are so rarely done well, but these hit all the right notes. The leaves were flaky and charred, and the hearts were glazed in a maple marinade. I washed it all down with a hibiscus iced tea and we split a toffee oatmeal cookie.
Back at home, more interviews and errands. Fatigue claimed me, and I thought seriously about canceling our Rustic Canyon reservation before I decided I couldn't stand the idea of takeout. Once dressed and across from my husband with a beautiful glass of Barolo, I was glad I went. It was the eve of my book tour, and it felt like something to celebrate. We started with the lettuces with slivered shallots and turnips and a tart, vinegary dressing. My East Coast friends are so tired of hearing me talk about lettuce in L.A., but I can't help myself! It's so fluffy and fresh! You know how sometimes you're eating a salad in New York and a slimy, sour piece of lettuce gloms on to a fresh piece, and you bite down and the experience is so unpleasant that you stop trusting salad? Just me?
We followed that with salt-cured beets with anchovies, hard-boiled egg, blue cheese, and endive. Then, white yams. Last time I went to the restaurant, I asked the server about his favorite dish, and he told me the white yams. I made a face because … white yams? He asked me to trust him, and this time I asked my husband to trust me when I told him that they are out of this world. Pillowy on the inside and firm and caramelized on the outside, crunchy with sea salt and tossed in celery and pickled onions.
We struggled with the main. The menu is set up to share, but I've been very much in an anti–red meat and pork stage. I was vegetarian for seven years, and I can't help but notice Beatrice's physical similarity to a pig or small cow.
Greg has no such reservations, and ordered the hanger steak. My options were chicken or halibut, and I really didn't feel like chicken. Was I really going to do halibut two nights in a row? I guess so, and, truthfully, mine was better. But I was promised a rock-crab sauce and all I got was a rock-crab broth! I grew up outside of Philadelphia, but my whole family is from Baltimore, and I have Inner Harbor standards when it comes to anything crab-related. My mom loves to tell this story about the time I ordered Maryland crab soup as a 6-year-old and asked her in a 6-year old's decidedly not inside voice where the crab was. I sort of felt like asking this waiter the same thing: "Mister, where exactly is the crab in my $38 crab sauce?"
Saturday, May 12
The tour started in San Diego. Greg and I decided to make it a day trip. Before we left, I made my famous egg sandwich: eggs stirred over the lowest heat setting in butter, with whatever cheese I have lying around (Comté), and avocado smashed with lemon and Trader Joe's everything-but-the-bagel seasoning (the best thing of all the things I put on my sandwiches!) housed between a Rudi's whole wheat English muffin. I added leftover broccoli rabe with mouth-puckering "Little Mama's" peppers from Farmshop in the Brentwood Country Mart to the mix, along with a few shakes of Cholula. It was the first non-rushed, proper breakfast I'd had in a few days.
We brought Beatrice to San Diego because it was her birthday weekend! (Sunday was one year to the day we brought her home.) I called Mysterious Galaxy earlier in the week to find out if they're a dog-friendly bookstore, and the woman on the phone responded, "Extremely!"
After, we went to lunch with my assistant and her fiancé. None of us knew where to go in San Diego, so I pulled up the Diners, Drive-Ins and Dives website. Judge me harshly; I deserve it.
The place was Blue Water Seafood Market and Grill and there was a long line, which I took as a good sign, but my husband got that telltale wild look in his eye that meant he was starving. I talked him out of stopping at Chick-fil-A on the way. We got way too much food; some of it not so good, and some of it very good. I got a cup of the seafood soup, but the chunks of fish were gray and somewhat indeterminable, so I just slurped the broth until my blackened mahimahi fish sandwich arrived. It was excellent. The fish was flavored nicely and — so sorry to do this to you — was very moist. We split waffle fries and mussels, too, and I washed it down with a California Amber Ale. Beatrice was an absolute monster, and got twisted in her harness while she tried to scavenge.
It was seven at night when we plodded up the stairs to our house. I had no idea how this turned into a ten-hour day. We weren't hungry after our large late lunch, so we split a Coolhaus chocolate chip and Tahitian vanilla ice-cream sandwich, and I picked on some pistachios and cherries, which are not quite in season.
Sunday, May 13
Woke up too early again, but just rolled with it. I ate a Rudi's English muffin with vanilla almond butter and banana and hopped into an Uber to LAX. I lived in New York for ten years, and I miss it desperately.
A cross-country flight makes for a bleak moment for the food diary, but it gave me room to say something I've been wanting to while thinking critically about what I eat: The Delta menu's three options for lunch included zucchini noodles with tomato sauce and mozzarella. There was a time when I would have ordered a watery nest of zoodles without a moment's hesitation. There was also a time when I couldn't write or participate in life because I was so hungry and unsatisfied and obsessed with foods I didn't allow myself to eat. I finally sought help last year, and now I see how problematic it is, this movement to pass off "healthy" foods as "unhealthy" foods. It sends the message — that lands particularly hard with women — that our hunger and appetites are things that must be controlled and manipulated and tricked by vegetable-shaped noodles and liters of water. I've used my voice as a writer to reclaim my dignity and self-respect, and one day it just clicked that the way I talked about myself to myself, and the way I ate in response to that nasty and unforgiving voice in my head, was about as far from empowered as it gets. I will no longer participate in a system that tells women we should eat less and weigh less and be less, and it is my dream for all of us to stop doing penance for eating pizza and to stop berating our perfectly fine bodies because it just makes it okay for guys to berate our perfectly fine bodies. You know the Bechdel test for movies and books? I want to create my own test that challenges women to have conversations about anything but our bodies.
All this to say, fuck you, zucchini noodles. And you, too, cauliflower rice.
The only thing on the Delta lunch menu that didn't make me want to flush myself down the plane toilet or involve an animal that resembled my dog was the little gem salad with poached chicken, green-goddess dressing, coconut milk, and carrot soup. It was plane food, but better than decent, partly because I asked for an extra piece of the dense, oniony focaccia bread. The perfect Dixie-size cup of McConnell's salted caramel-chip ice cream raised the meal's average, too.
It was raining and chilly in New York, and when I got to Soho House I ordered my favorite mixed-greens salad with spicy peppers, olives, cherry tomatoes, red onion, basil, oregano, chick peas, and a zesty Mediterranean vinaigrette, plus a cheese platter and a glass of Cab. I felt like drinking and picking. There were four cheeses and I rotated around until I found my favorite: a delightfully pungent blue. There were plenty of things to doctor it up: pickled carrots, grapes, and a cherry compote, sweet crackers, plain crackers, garlicky crackers, and salty crackers. I needed something sweet, so I called downstairs and ordered a chocolate-chip cookie, which arrived warm on a plate with a fork and knife. I didn't use the utensils, but I appreciated their inclusion, as the cookie was of the "fall apart, ooey-gooey" variety.
Monday, May 14
Jet-lagged and foggy, I headed out for fresh air and coffee. I figured I'd have luck in the Chelsea Market, but the morning took a turn into Stefon territory.
I located a black sign with a white coffee cup. No name. Three people were working both the reclaimed-wood counter and the '90s normcore look. I embarrassed myself for the first time when I ordered from the guy with the ironic mullet who directed me to order from the guy with a glorious head of curls. I wanted cold brew, and embarrassed myself a second time when I asked if the menu's "cold coffee" was, in fact, cold brew. "That's right, girl," he told me, and I ordered that with almond milk. "Oat or soy," he returned, bolstering my theory that almond milk has gotten too ubiquitous for hipster coffee places.
The cold coffee with oat milk was absolutely delicious, and I will return in sunglasses and a brunette wig.
This was not an exciting eating day. I ran around all day, and sustenance came from a banana, Justin's almond butter, a Lärabar, and pure Colombian anxiety. The good news was that dinner was at my favorite restaurant in the city, and with a few nerve-jangling interviews behind me, I actually enjoyed the food and company.
L'Artusi is truly a special place for me. It features prominently in my second book, and it's where I went to celebrate when I found out that my first book made the best-seller list. I've had rowdy group dinners there and intimate meals at the bar with my husband on random Tuesday nights. It's our metric for measuring Italian food in L.A.
Dinner was with my dear friends, Cait and Alyssa. The three of us met as 22-year-old assistants, and it's so cool to reminisce and think about how far we've come.
We started with a bottle of dangerously drinkable Scarzello Barolo. I forced myself to sip and savor. I never know how I'll feel after a night with red wine. Sometimes I'm fine, and sometimes I'm hungover after a single glass.
To start, we ordered the red-kale salad with walnuts, Bartlett pears, and dried cherries, snowed in by slivered Parmesan. I don't care about kale, but this made me. The lettuce was like a ripe piece of fruit. They also gifted us a dish of homemade ricotta with rosemary crackers and cured peaches. "It's like ice cream," Alyssa sighed.
I did my best not to demolish the ricotta, and saved myself for the pièce de résistance — which for me was the roasted mushrooms with fried egg, chilies, ricotta salata, and pancetta. I especially loved the hon shimeji, which resemble tiny, spongy umbrellas. Their stems cook up and absorb flavor like strands of angel hair. Cait and Alyssa showed respect for my fungal love and took only the smallest of bites.
A beet salad that we didn't order arrived, and was a zippy foil to the earthiness of my mushrooms.
Full already, and we still had three pastas and a roasted chicken. Thankfully, we got a nice long break. By the time the garganelli with mushroom ragù and ricotta salata; the spaghetti with ramps, chilies, and Parm; and the spring-pea culurgiones with ricotta, morels, mint, and Pecorino arrived, I was ready to play. I would be lucky to marry any one of these perfectly chewy, glossy bowls, but we all agreed that the spaghetti with ramps was the simple standout.
I'm definitely more of a carbs person. I was just never someone who's like, Oh I want a burger. I'm just always like, Oh, I want a great dish of pasta.
After all that, I couldn't enjoy the roast chicken the way it's meant to be, but it was packed up for Alyssa's husband and son. I was at peace knowing that it found a happy home.
They brought us a tasting of digestifs, including Fernet-Branca, which made me miss my husband, who was on a red eye as I sipped his favorite after-dinner amaro. We also got a plate of chewy almond cookies, studded with pignoli. I made room for one.
Tuesday, May 15
Game day. I set my alarm for 10:15 a.m., but I woke up at 7:04 a.m. Even though my body thought it was 4:04, I felt well-rested.
I didn't have anywhere to be until noon, so I booked a Physique57 class and took my time strolling into Soho. After tucking and air-humping to Rihanna for an hour, I stopped at Olive's for an iced coffee and suppressed a squeal when I noticed that they sell my Stumptown cold-brew bottles. They poured one over a cup of ice and some whole milk. I sipped that and listened to a Bitch Sesh episode on my walk back to Soho House.
I'd just missed breakfast, so I ordered the avocado toast from the lunch menu, plus a side of deviled eggs. If they wouldn't add an egg for me, I'd find my own way. The deviled eggs were maybe the best I'd ever had, though the bar for that is low — creamy, elegantly piped, and smattered with chives. The avocado toast was drizzled with chili oil. My lips burned after I finished it, and that was not a bad thing.
I went to the Refinery29 offices to do a Facebook Live, then back to the hotel to change before the launch event with Books Are Magic at Warby Parker in Cobble Hill. It opened right after I moved to L.A., and I'm in awe of the space Emma Straub, the owner and accomplished novelist in her own right, has created for the community.
I stuffed a Lärabar into my mouth as we headed out the door. There was a beautiful charcuterie board at the event, as well as an open bar, but I did not get to enjoy any of it. The night felt more chaotic than my wedding. I got to see everyone, but I did not get to spend enough time with anyone. It was also end-of-days raining outside, and I only hope that I sold as many books as times I made the terrible dad joke of the monsoon being on brand (there's an umbrella on the cover).
I was ready to get off my feet and grub by the time we got to French Louie, where I made arrangements for a late dinner with my nearest and dearest. They had prepared the cutest little menu that wished me a happy publication day. Thank you, French Louie! We were a large party, so there was somewhat of a prix fixe menu going on. To drink: Pinot or Sancerre. It really did feel like a wedding. I went with Sancerre, and started with the Frenchie salad with little gem lettuces, blue cheese, hold the bacon, and French dressing. I mostly order this salad because I hadn't had French dressing for about 20 years, and French Louie showed me what I had been missing. I dragged the lettuce leaves around the bottom of the bowl like you would a piece of bread in leftover pasta sauce. For my main, I did cast-iron roasted chicken with raisins and lemon-caper vinaigrette, mostly for the bed of celery-root creamed spinach on which it was served. I stole a few of my father's frites. Dessert was bananas-Foster profiteroles, with banana ice cream and butterscotch and chocolate shavings. It was all perfect: the food, the company, the reason we were all together.
My head was practically in my plate by the end of the evening, but by the time I got back to the hotel and into bed, I couldn't fall asleep. For the first time in weeks, anxiety had nothing to do with it. I was just excited.