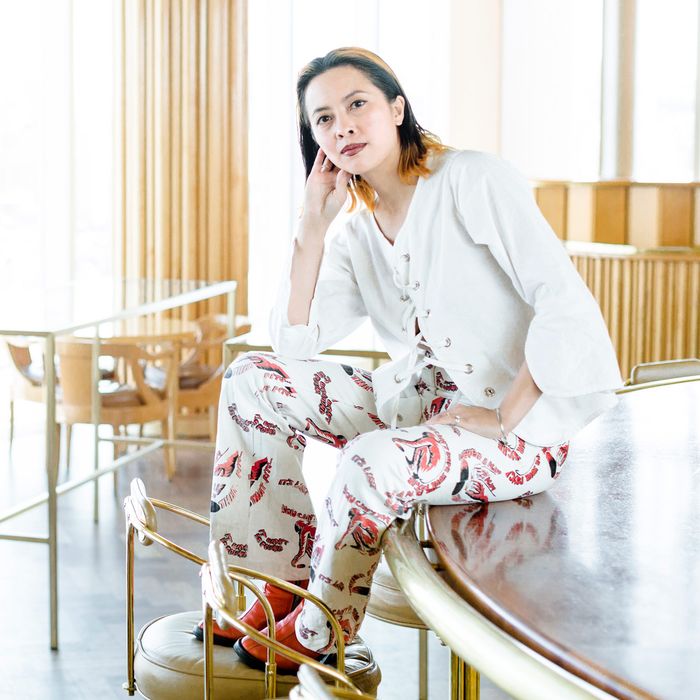 Angela Dimayuga is the new creative director of food and culture for the Standard.
Photo: Mark Abramson
Angela Dimayuga made her name as the executive chef at Mission Chinese Food, where she worked for six years before resigning last October. Now, she's back, with a new job as creative director of food and culture for the Standard International, a gig she started last week.
It's a big upgrade in visibility for Dimayuga, who joins the company as the Standard gears up to expand overseas for the first time. Now, she'll oversee not only the hotel's restaurants but create programming that blends food, music, and art — or, as she puts it, she'll be doing "anything you might think of that I might do."
Tell me about the new job!
I started last week, so everything's still new. But I'm really excited because I'm able to create a title and role that didn't previously exist here, as far as I know. That was through meeting [CEO and managing partner] Amar Lalvani through an Art Basel dinner for the ACLU back in December. We met again in New York after that and kind of just started talking.
After you left Mission Chinese Food, you said you weren't sure about opening your own brick-and-mortar. Has anything changed since then?
I'd opened a lot of restaurants and worked like crazy, and as a chef it was really exciting to think about my work in a different way. The work that I've done over the last few years really morphed into thinking about this as a multidisciplinary job. I'd been working with farmers and activists, designers — food can relate to anyone. I was really excited that I was working in a world that chefs normally aren't part of. To be honest, when I thought about next steps, "Angela Dimayuga to open her own restaurant" was too linear. I wanted to do a lot more exploration. When I talked to Amar, he told me that they're expanding to London, but also potentially San Francisco, Milan, Phuket, and Mexico City — that really excited me. Growing my vision with a company that celebrates these things, and in a role that's purely creative.
To work with a super-talented team that has a lot of infrastructure in the kitchen and event production really excited me, too. Coming up with a crazy idea and doing it all by myself or with a small group, it's something that I feel really confident about. Now, I get to do this with a core team of really experienced people. I was also super excited about the opportunities to learn about foundational culture in cities that I have not been to before.
What I'm really excited about are the special projects I've been doing, creating programming that includes music and art and really thinking about that. It's lifestyle-connected and that's what I've always been drawn to. It's an opportunity to take my interest in hospitality as a cook to the next level. You can really surprise somebody with the experience in a restaurant, but if a friend of mine or my mom is staying at a hotel, it's totally next level.
I know the job is still very new, but what are your plans for the food?
I'm still meeting everybody, figuring out what I'm excited about, and how I can find myself. What's really important to me is that food and beverage must be tied with culture, so again it's bringing my ethos and thinking about working with people that might not traditionally be in the restaurant. I want to bring that all with me, and it excites me, too, that I'm with a brand that cares about activism and culture that way.
London will be a big project for me, but existing properties will also get renovations, so I get to dream up some ideas for each location. Enhancing the food-and-beverage concept, I'm going to work with the chefs running the restaurant kitchens now. I have yet to meet them all, but I'm excited to. If I have an idea for, say, plating or a dish, I can work with them on creating new menus. I'm going to see some things happen really quickly with programming, and get to think about forecasting what might be relevant for a concept that might happen next year. And I'm excited about continuing to grow partnerships that I've had for many years. The type of work that I do and friendships that I have, they're always related to what cool projects we're going to work on together.
What projects?
In the last few months, I've been working with Performance Space New York and was given the title of culinary curator. In October, I met Lyn Pentecost, who runs the Lower East Side Girls Club. I really like what they do there for girls in the neighborhood. There's a kitchen, but it hadn't really been activated so I did; I had the opportunity to interview Alice Waters for the girls. I got to cook out of their kitchen for a fundraising gala a few weeks ago, and that's when I got the offer letter from Amber [Asher, president and general counsel for the Standard International]. I was excited to think about my new world where I could really integrate all these things and the different organizations that I care about. Then finding out later that Lyn already has a relationship with the Standard, it just felt like everything fell into place for a new chapter in my life.
Can you tell me anything else about London?
It's pretty far off for me. We plan on opening early in 2019; I'm just getting acquainted. I think it's a big deal because it's the first time that the Standard is opening internationally. It's really close to the Eurostar, and it's a big, very futuristic-looking property that's a lot different than others in the immediate neighborhood. The Standard is super excited about chef partnerships, so it's also continuing to think about other chefs that we want to work with. Either through programming or selecting a chef for the new location in London. Anything you might think of that I might do, I'm probably going to do that.
Is there anything else you can tell me about what your vision for the food would be, or the kind of people you would be looking for for the chef partnerships?
When thinking about programming in New York or Miami, I want to think about people that I know who are already expressing themselves in a way that a pop-up or special event would enhance what they do. For example, doing a crazy event in Miami on the water with a chef I really love who is, maybe, Jamaican-American. It's just putting together a big jigsaw.
Some of these things I've decided already. But in the next few months, I'm going to be able to give opportunities to people that maybe have never been to Miami or done a huge event with musical programming. So I'm kinda just thinking about all the chef friends and artists I know that I could put together.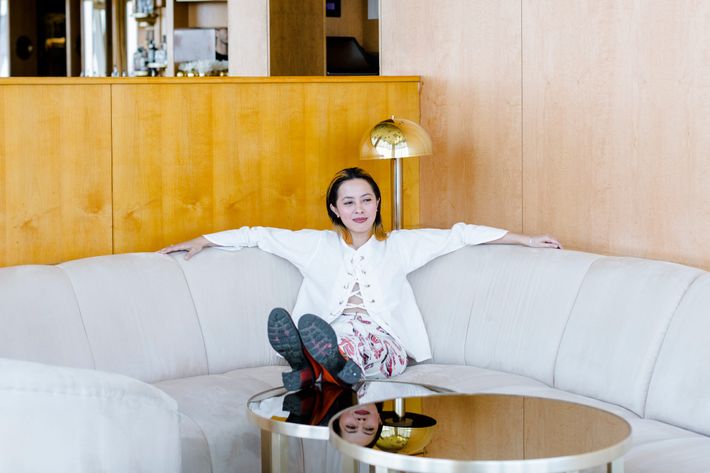 You were talking about shared values, and I'm wondering how you are going to try to reflect it in events.
Anytime I approach anything, I consider my own personal activism. With the Standard dinner I did for Art Basel, that was a huge draw for me. That I was getting to participate in making a site-specific menu, playing with tropical ingredients, and knowing that I was establishing my name and my food with the ACLU.
I was just excited that there was a hotel or a brand that cared about these issues and art, nightlife, and culture.
When you left Mission, there was some tension in your departure. Did your experience there clarify what you want, and perhaps make you realize you wouldn't ultimately find it there?
With Mission, I was able to be extremely creative, and I think that's what really gave me the confidence to do and be interested in the work I'm doing now. But that all feels very instinctual. It feels like it's coming from trusting myself. At Vinegar Hill House, I worked for a female chef, Jean Adamson, who really helped me move myself from a young line cook to an exciting chef there. With Mission, I really focused on my creativity and serving food in the context that I think made the most sense.
Thinking about design, partners, and friends that continue to inspire me, working with the Standard also just feels very me. So, I wouldn't say that it's specifically about Mission. The way that I've thought about my work in the last few years, or anything that I wanted to participate in, I realized it needs to be holistic.