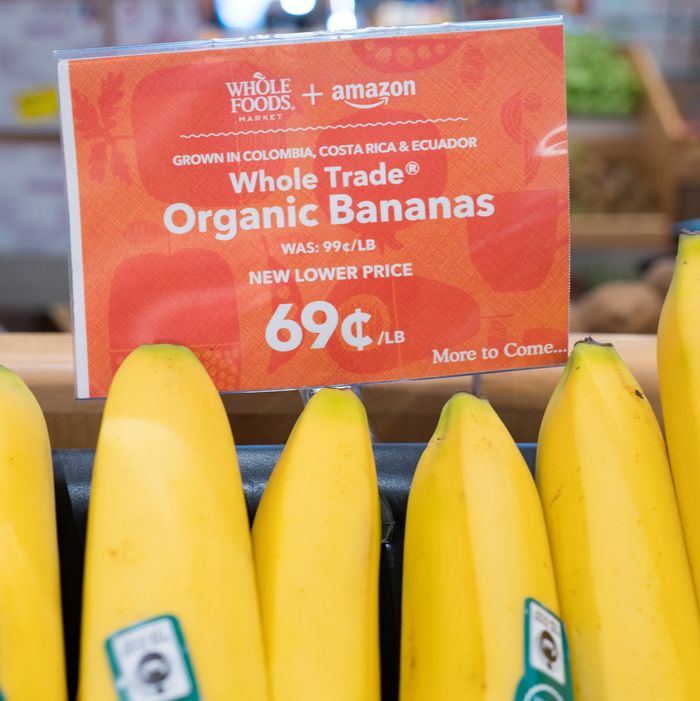 Amazon says this is Prime's biggest day "since Prime Video."
Photo: Smith Collection/Gado/Getty Images
Whole Foods has made it official: The estimated 60 percent of store shoppers who also have Amazon Prime memberships will now be rewarded with bonus perks for their loyalty to Jeff Bezos. As has been predicted for months, Amazon's announcement, made late last night, was that all Prime account holders are now eligible to receive 10 percent off sale items in stores — potentially hundreds of products at any given time. The only catch is that, for the time being, the discounts only apply at the state of Florida's 28 locations. But Amazon assures everyone that they'll roll out nationwide this summer at all Whole Foods locations, including at the lower-cost 365 spinoff stores. In the meantime, you're always welcome to drive to Tampa to get your baby-kale markdown.
That extra 10 percent off was the big perk everyone was expecting, but there's a second discount that could actually mean more immediate money in your pocket: sales that rotate each week on popular products. The examples the company gave are what Florida shoppers can take advantage of today if they want: Wild-caught halibut steaks are half off, or $9.99 a pound; organic strawberries are $2.99 a pound, a $2 discount; 16-ounce cold brews at Allegro coffee bars are 50 percent off; and it's buy one 12-pack of Whole Foods–brand sparkling water, get one free.
To get these savings, shoppers have to download the Whole Foods app. They'll log in using their account info, then get a bar code to scan at checkout. Since the goal here is to lure more of America's 90 million Prime customers into Whole Foods stores, members can also apparently just ask cashiers to look up their info with their phone numbers.