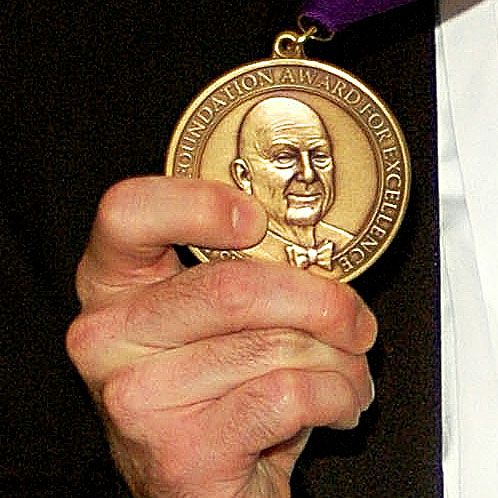 Photo: Rob Loud/WireImage
The Met Gala isn't the only big event that went down Monday night. Over in Chicago, some of the country's most talented chefs, restaurateurs, mixologists, and other food folks gathered at the Lyric Opera for the biggest night in food: the 2018 James Beard Awards Gala. Among this year's winners are Missy Robbins, the chef behind Lilia in Williamsburg; Seattle chef Edouardo Jordan who won one award, including Best New Restaurant, for each of his eateries, Salare and JuneBaby; and Gabrielle Hamilton of Prune, who took home the award for Outstanding Chef nearly 20 years after opening the East Village restaurant. Scroll down to see the rest of last night's honorees, and then start booking your reservations.
Best New Restaurant
JuneBaby, Seattle
Outstanding Baker
Belinda Leong and Michel Suas, B. Patisserie, San Francisco
Outstanding Bar Program
Cure, New Orleans
Outstanding Chef
Gabrielle Hamilton, Prune, NYC
Outstanding Pastry Chef
Dolester Miles, Highlands Bar & Grill, Birmingham, AL
Outstanding Restaurant
Highlands Bar & Grill, Birmingham, AL
Outstanding Restaurateur
Caroline Styne, The Lucques Group (Lucques; a.o.c.; Tavern and others), Los Angeles
Outstanding Service
Zuni Café, San Francisco
Outstanding Wine, Beer, or Spirits Professional
Miljenko Grgich, Grgich Hills Estate, Rutherford, CA
Outstanding Wine Program
FIG, Charleston, SC
Rising Star Chef of the Year
Camille Cogswell, Zahav, Philadelphia
Best Chefs
Chefs who have set new or consistent standards of excellence in their respective regions.
Best Chef: Great Lakes (IL, IN, MI, OH)
Abraham Conlon, Fat Rice, Chicago
Best Chef: Mid-Atlantic (D.C., DE, MD, NJ, PA, VA)
Jeremiah Langhorne, The Dabney, Washington, D.C.
Best Chef: Midwest (IA, KS, MN, MO, NE, ND, SD, WI)
Gavin Kaysen, Spoon and Stable, Minneapolis
Best Chef: New York City (Five Boroughs)
Missy Robbins, Lilia, Brooklyn, NY
Best Chef: Northeast (CT, MA, ME, NH, NY State, RI, VT)
Karen Akunowicz, Myers + Chang, Boston
Best Chef: Northwest (AK, ID, MT, OR, WA, WY)
Edouardo Jordan, Salare, Seattle
Best Chef: South (AL, AR, Commonwealth of Puerto Rico, FL, LA, MS)
Nina Compton, Compère Lapin, New Orleans
Best Chef: Southeast (GA, KY, NC, SC, TN, WV)
Rodney Scott, Rodney Scott's BBQ, Charleston, SC
Best Chef: Southwest (AZ, CO, NM, OK, TX, UT)
Alex Seidel, Mercantile Dining & Provision, Denver
Best Chef: West (CA, HI, NV)
Dominique Crenn, Atelier Crenn, San Francisco
2018 James Beard Foundation Outstanding Restaurant Design Awards
75 Seats and Under
Firm: The MP Shift
Designers: Amy Morris, Anna Polonsky, and Julie Nerenberg
Project: De Maria, NYC
76 Seats and Over
Firms: Aidlin Darling Design with a l m project
Designers: Joshua Aidlin, David Darling, Adam Rouse, and Andrea Lenardin Madden
Project: In Situ, San Francisco
America's Classics
Dong Phuong Bakery, New Orleans
El Guero Canelo, Tucson
Los Hernandez, Union Gap
WASun Wah, Chicago
Galleria Umberto, Boston
Design Icon
The American Restaurant
Kansas City, Missouri
Humanitarian of the Year
José Andrés
Lifetime Achievement
Paula Wolfert